All New Isuzu D-MAX 2022-2023 4×4 Double Cab Vcross Exporter All New 2022-2023 Isuzu MU-X facelift export,
Here is the all new ISUZU D-MAX 2020 model and price engine Specs Photos
After the current pickup truck has been sold for a long time, it is time to change the look. Isuzu launches the All New D-Max, the latest pickup truck from the DNA of product development under the concept of BOLD, EMOTIONAL and SMART. The original engine 1.9-3.0 DDi Blue Power improves horsepower. New platform New security system Additional functions Will be available for sale in the Isuzu showroom on October 19 at the same time nationwide.
Isuzu All New D-MAX Pricelist


Isuzu New D-Max 2020 is born with a new face, LED headlights, Bold but Emotional concept, new front bumper grille, redesigned to be more aggressive. Bigger body Improve the air friction coefficient by testing in the Japan Railway Research Institute's wind tunnel, which is the test site for the Japanese bullet train. Improve soundproofing New functions such as the Isuzu Vision Bi-LED headlights with auto on-off, multifunctional daylight, built-in fog lights and LED taillights, dual-sonic LED rear bumper, Integrated Bumper.
The cabin is designed to have a wider living space. Sharp Horizontal Layers front console, full function functions, adding a large 4.2 inch Smart MID, piano touch air conditioning control panel, 4-way adjustable tilt and telescopic seats, front seats AVEC (Anti Vibration Elastic Comfort). Absorb vibration Reduce fatigue With 8-way power adjustment in the driver's seat, ISUZU Ultimate Entertainment 9-inch HD infotainment display with support for Apple CarPlay and Android Auto, Dynamic Surround Sound 8, sun visor with mirror and Vanity Mirror & Light.
Power
engine version 3.0 DDi Blue Power, code 4JJ3-TCX, cylinder capacity 2,999 cc, 16 valves, double overhead, sharp cam Fueling with common direct injection system, VGS Turbo compressed air system, cylinder width 95.4 mm, stroke 104.9 mm, compression ratio 16.3: 1, power 140 kilowatts or 190 horsepower at 3,600 rpm Maximum torque of 450 newton-meters at 1,600–2,600 rpm with E-VGS TURBO compressed air system using variable turbo adjustment. With a set of intake and lower temperature intercooler
Engine version 1.9 DDi Blue Power Gen 2, newly developed RZ4E-TC code, cylinder capacity 1,898 cc, 16 valves, double overhead, sharp cam Fuel is supplied by the common direct injection system. Cylinder width 80.0 mm Stroke 94.4 mm Compression ratio 16.5: 1 Power 110 kilowatts or 150 horsepower at 3,600 rpm Maximum torque of 350 Newton-meters at 1,800–2,600 rpm

Gear systems are available in both 6-speed manual transmission and 6-speed automatic transmission.
Developing a new transmission system to be able to transfer torque at full efficiency. New 6-speed automatic transmission, adjusting the gear shift smoothly With a sport driving mode Rev Tronic. The 6-speed manual transmission model is suitable for the upcountry market that focuses on the truck.
New D-Max uses the new ISUZU DYNAMIC DRIVE PLATFORM platform. The chassis structure, engine chassis and suspension work together for balance by positioning the passenger's engine with the chassis, new steering control, and improved suspension. Independent front Double wishbone, coil spring, stabilizer bar. The back is a pair of tweezers. With gas shock absorbers, alloy wheels, rims 16-17-18 inches, new designs, tires 215 / 70R16 / 255 / 65R17 / 265 / 60R18
Dimension of the Hi-Lander model, length 5,265 millimeters, width 1,870 millimeters, height 1,790 millimeters, wheelbase length 3,125 millimeters, front-rear wheel spacing 1,570 millimeters, height from the ground to the ground 240 millimeters, weight 1,885 kilograms, fuel tank capacity 76 liters.
The Space Cab model dimensions are 5,195 millimeters long, 1,830 millimeters wide, 1,690 millimeters high, wheelbase length 3,125 millimeters, front and rear wheel spacing 1,555 millimeters, height from floor to floor 190 millimeters, weight 1,735 kilograms, fuel tank capacity 76 liters.
Technology details and improvements

Chassis reinforced ULTRA - HIGH TENSILE

chassis, new large torques up to 23%

lower new independent wishbone 2 DOUBLE WISHBONE with COIL SPRING

Rear suspension, long-LONG SPAN technology WSSP
of THE POTENTIAL OF THE ALL-. TERRAIN EXPEDITION
Isuzu New D-Max V-Cross, 4-wheel drive, 3.0 DDi Blue Power engine with improved suspension, Terrain Command system and Electronic Diff-Lock, electric rear axle lock Increase the water up to 800 mm. ACTIVE SAFETY

safety

system, pre-accident safety system,

ABS (Anti Lock Brake System) Electronic Brake Lock

EBD (Electric Brake-force Distribution) system to help distribute braking force in relation to weight.

Load of BA (Brake Assist) system to help increase the braking force automatically When braking suddenly,

320 mm front disc brake,

ESS (Emergency Stop Signal), the emergency brake system automatically flashes. When using the brakes suddenly,

TCS (Traction Control System) system prevents wheel spin while starting.

ESC (Electronic Stability Control) Stability Control System

HSA (Hill Start Assist) Hill Start Assist System

HDC (Hill Descent Control) Slope Speed ​​Control System

Blind spot monitoring system for lane change By warning at the corner of the mirror.
Parking Aid System with 8 phase shift sensors around the car.

Rear Cross Traffic Alert Blind spot warning system while reversing.

Automatic Rain Sensing Wiper with Integrated Wiper Blade, Blade Type


PASSIVE SAFETY, sprinkler
system for safety during accident
The cabin structure is reinforced with ULTRA - HIGH TENSILE steel. Ensure the
new chassis is 23% stronger,
increase the cross member (Cross Member)
SRS Airbag, 6 airbags.
3 point seat belts in every seat. Front seat belt seat, automatic pull-back (Pretensioner Safety Belts) and change the seat belt anchor in the new rear seat
Crash Unlock automatic door unlock When the airbag is activated,
the keyless entry with the Remote Engine Start function starts the engine with the remote key within 20 meters

. The IR Cut windscreen filters infrared rays, prevents UVA and UVB rays, reduces the cabin temperature.
Welcome Light. The light in the passenger room automatically opens. When approaching the car within 2 meters of
Walk Away Auto Lock, automatic door locking system When walking more than 3 meters away from the car,
Follow Me Home turns on the light for 30 seconds after turning off the engine.
Auto Light Off The system automatically turns off the headlights and passenger lights. When turning off the engine and opening the car door
Smart Touch turn signal control system
High Efficiency Filter Air filter into the cabin Trap dust particles smaller scale, PM2.5

the All the New Cross, the D-the MAX the V-model 2-door and 4-door 4x4
All New D-MAX Hi-Lander 2-door and 4-door versions of
the All the New Cab is the D-4, the MAX
the All the D the New-the MAX. Space Cab
All New D-MAX Spark, 2 wheel drive and 4 wheel drive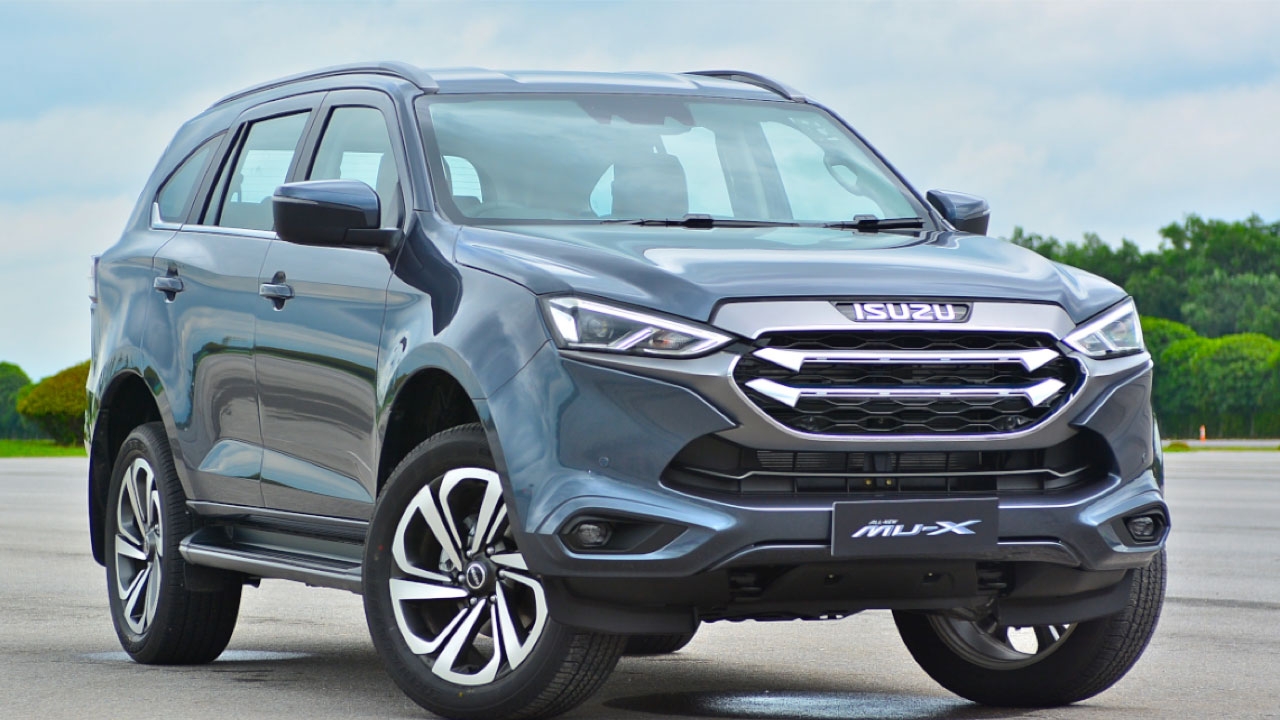 First experience: ISUZU NEW MU-X

model and price
Isuzu New MU-X is available in 4 models with sub-models
Isuzu New MU-X Ultimate 1.9 A / T 4x2
Isuzu New MU-X Ultimate 3.0 A / T 4x2
Isuzu New MU-X Ultimate 3.0 A / T 4x4
Featured News
Isuzu New MU-X Elegant 1.9 A / T 4x2
Isuzu New MU-X Luxury 1.9 A / T 4x2
Isuzu New MU-X Luxury 1.9 M / T 4x2
Isuzu New MU-X Active 1.9 A / T 4x2

Isuzu New MU-X is available in 6 colors:
Marrakesh Brown
, Dolomite Pearl White
, Etna Red
, Bavarian Black Mica
, Iceberg Silver
, Bohemia Silver Bohemian Silver Metallic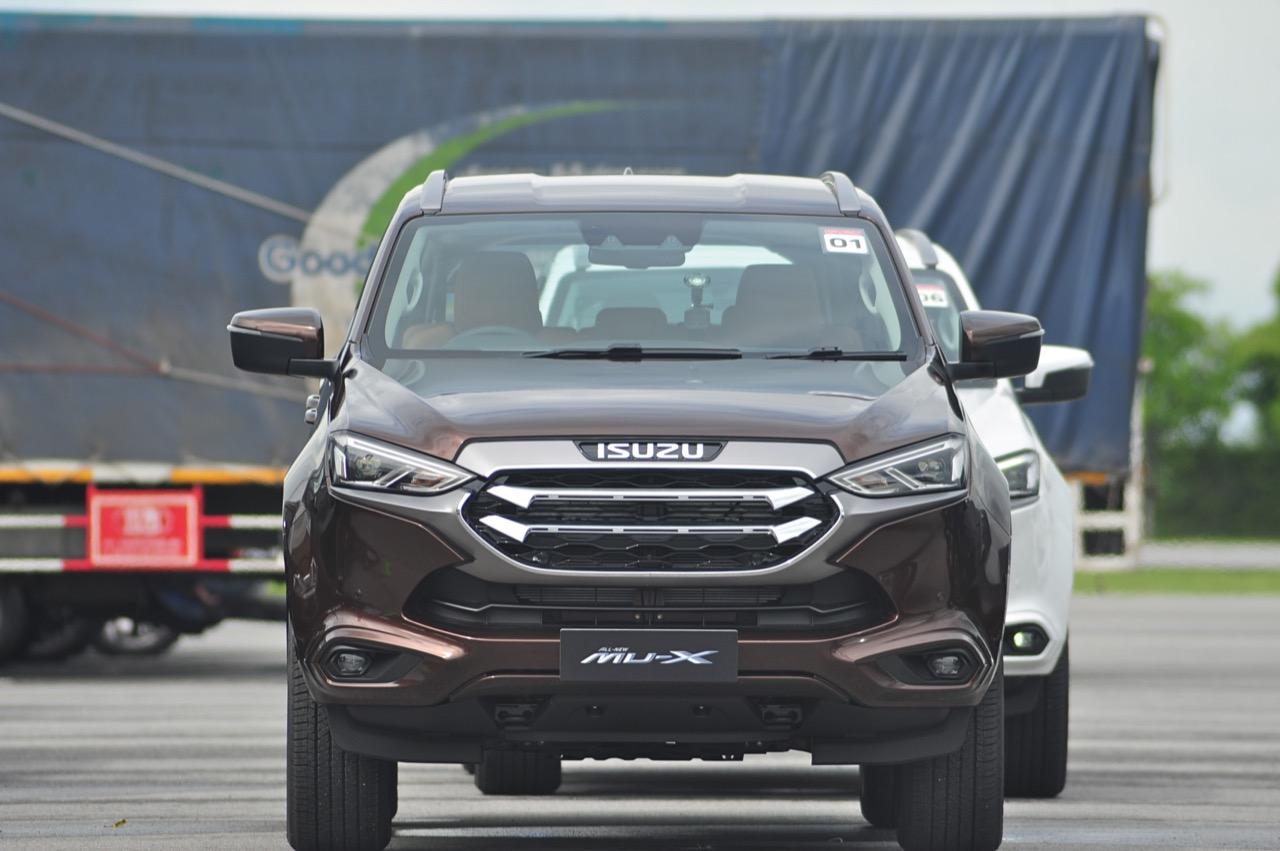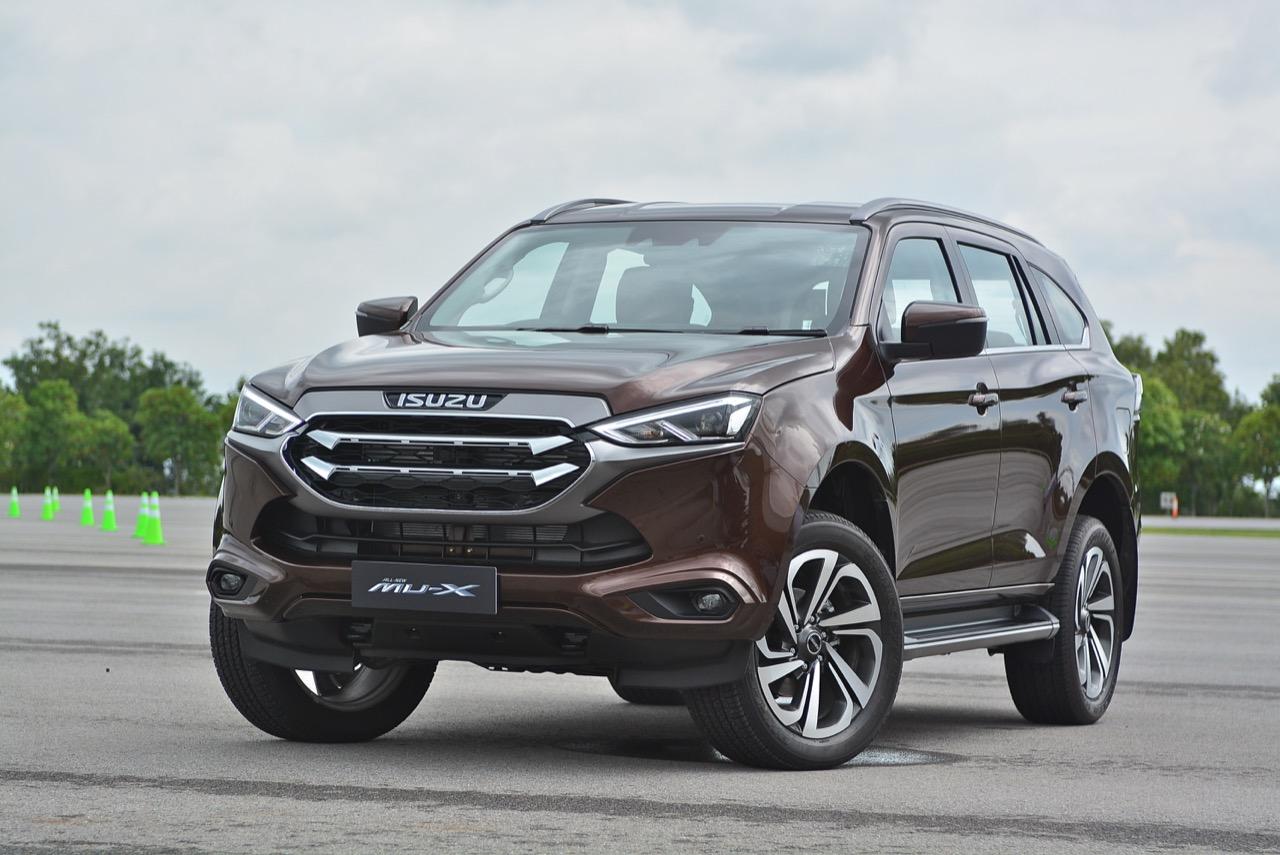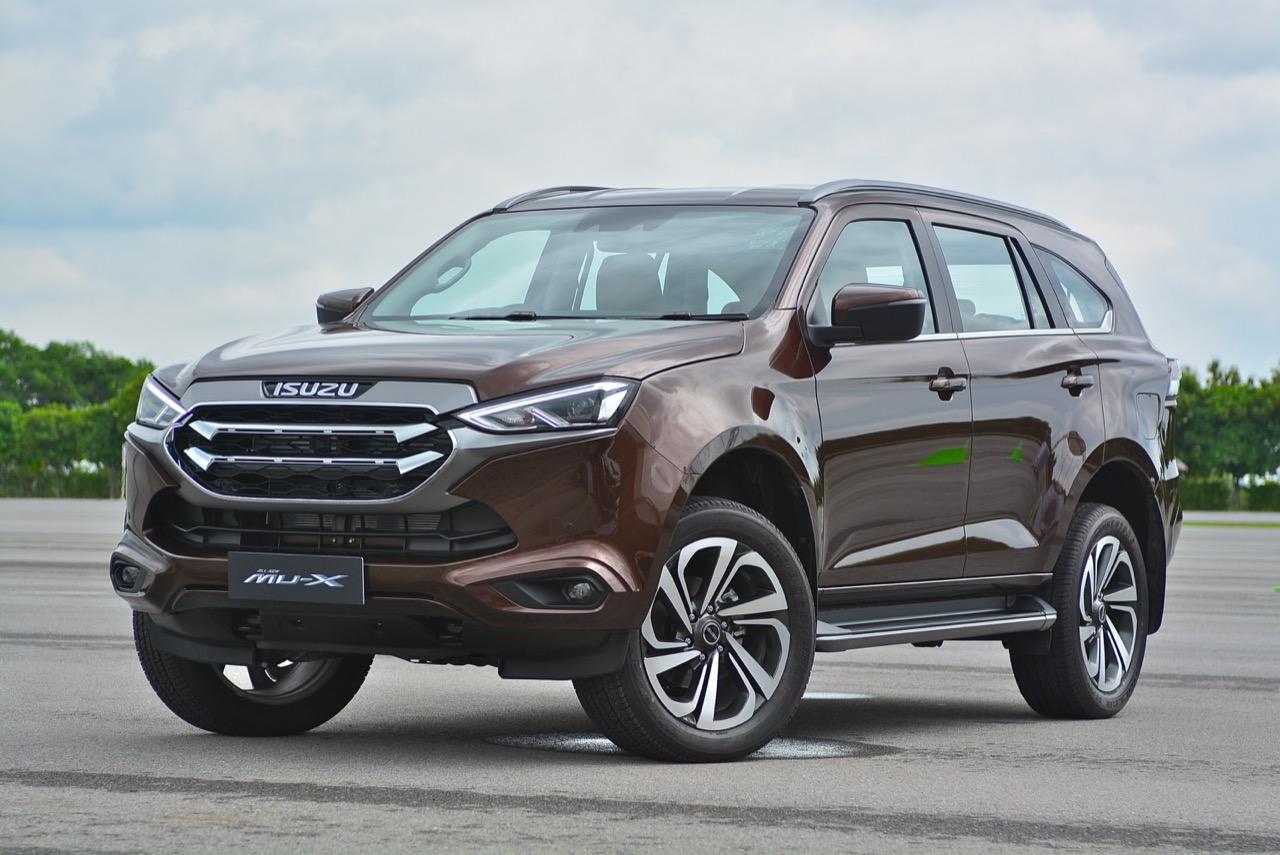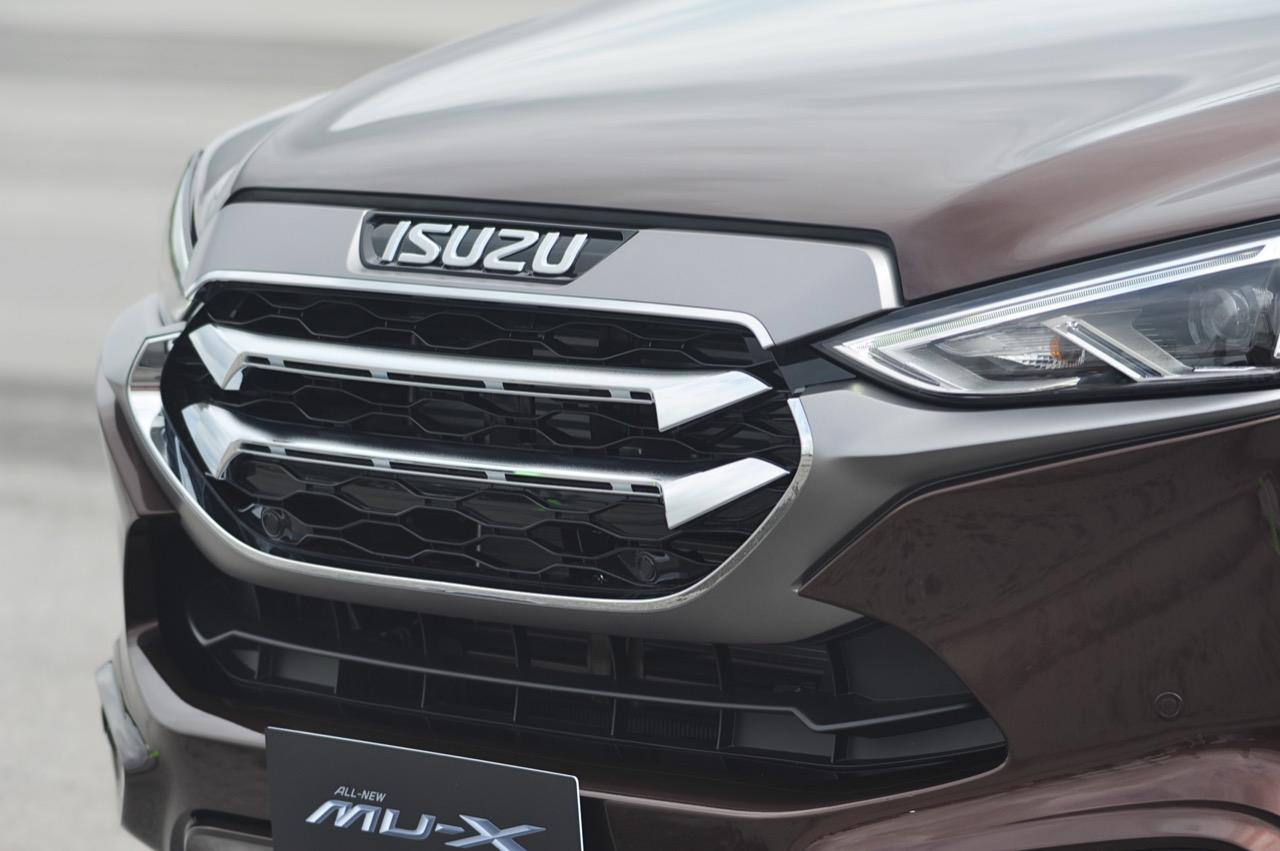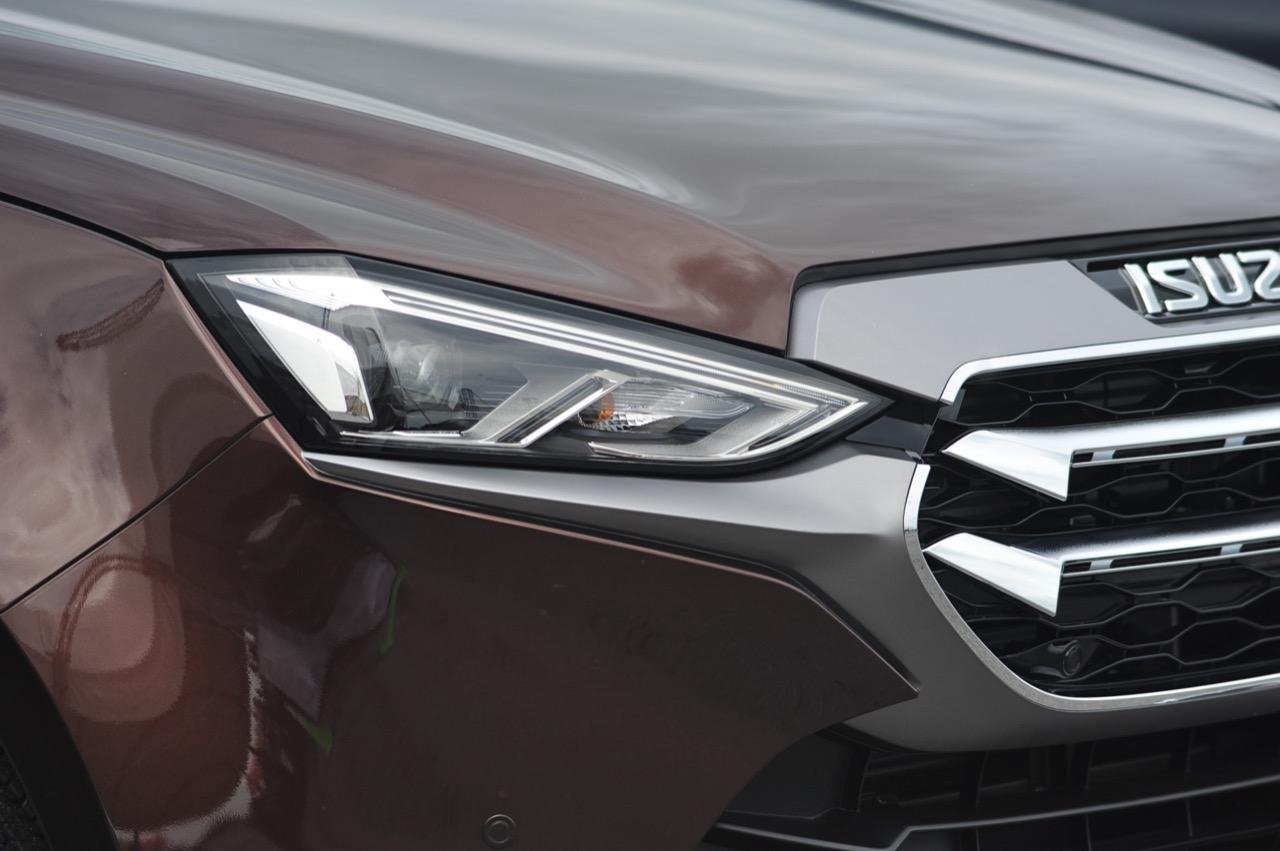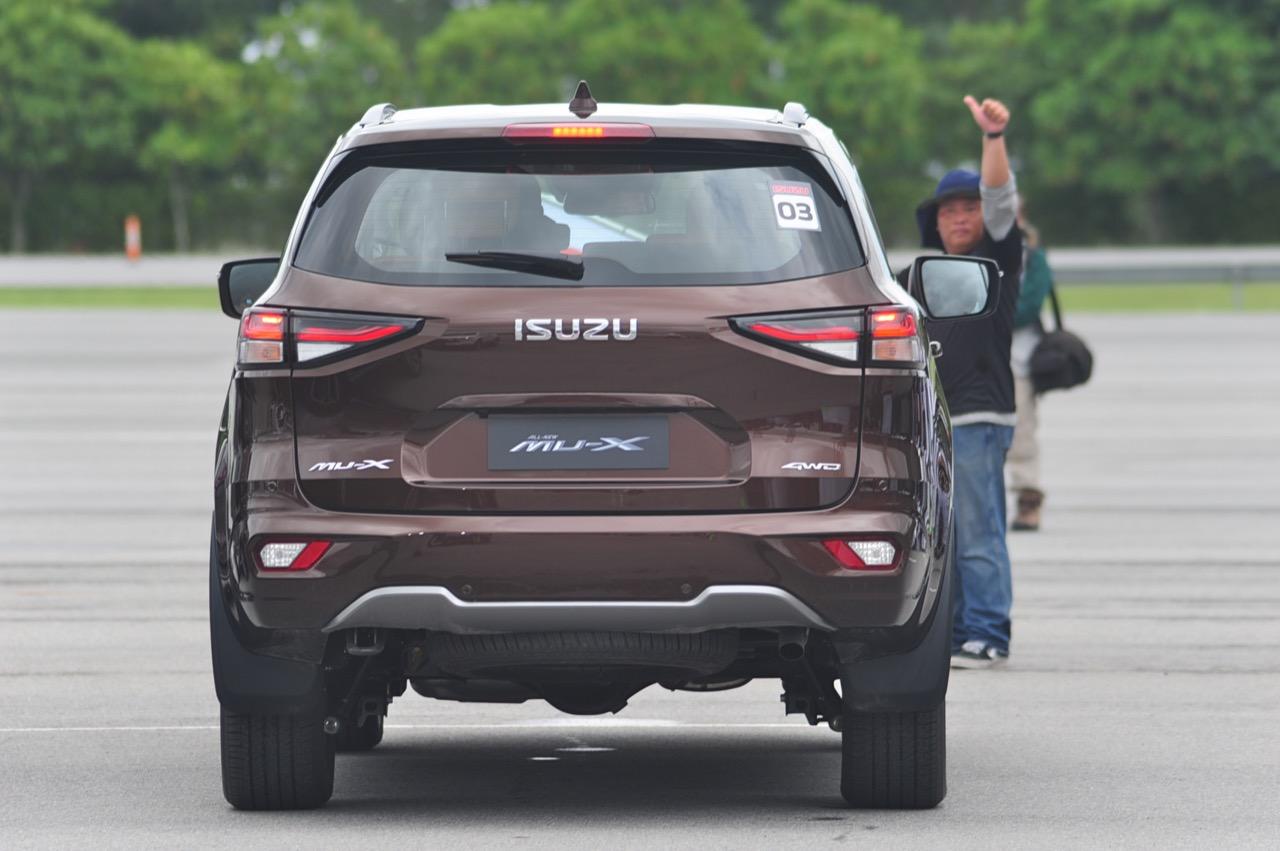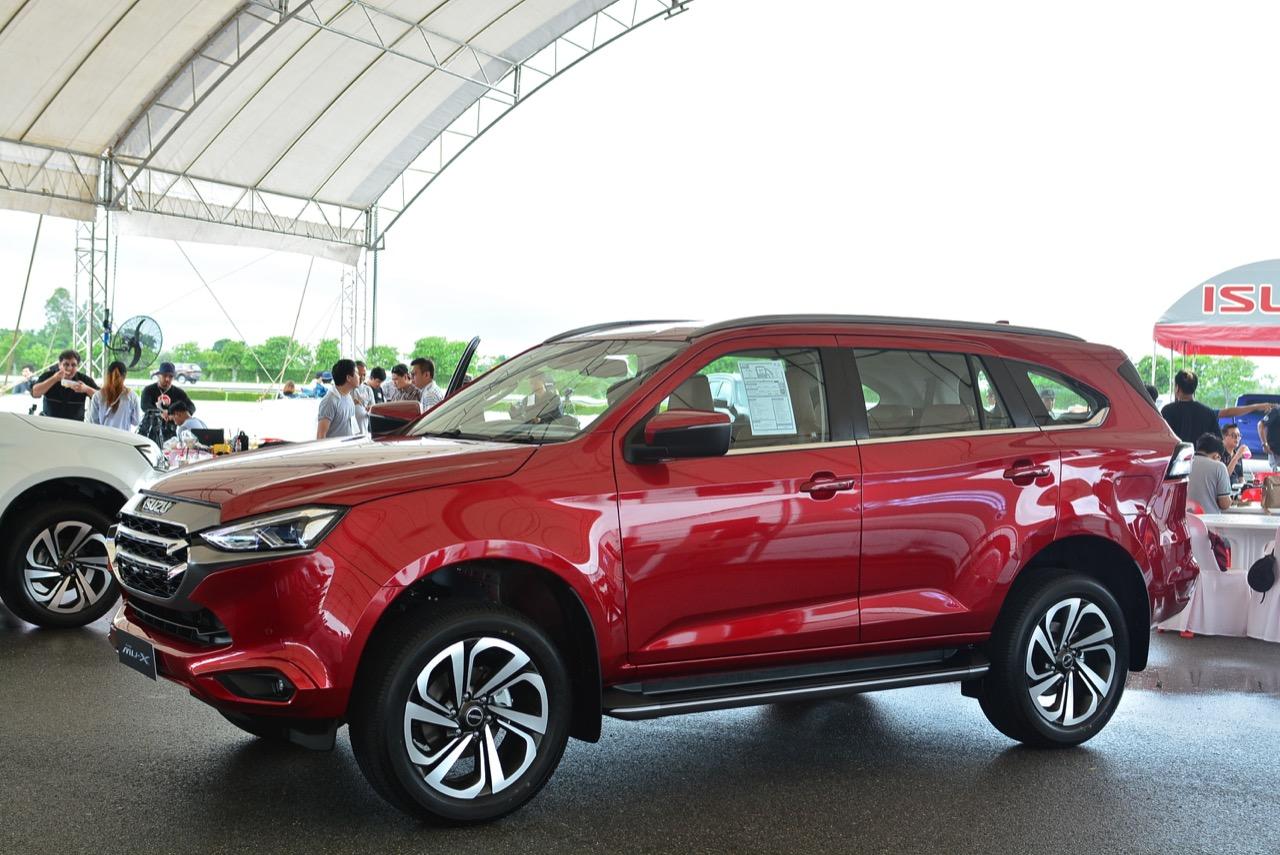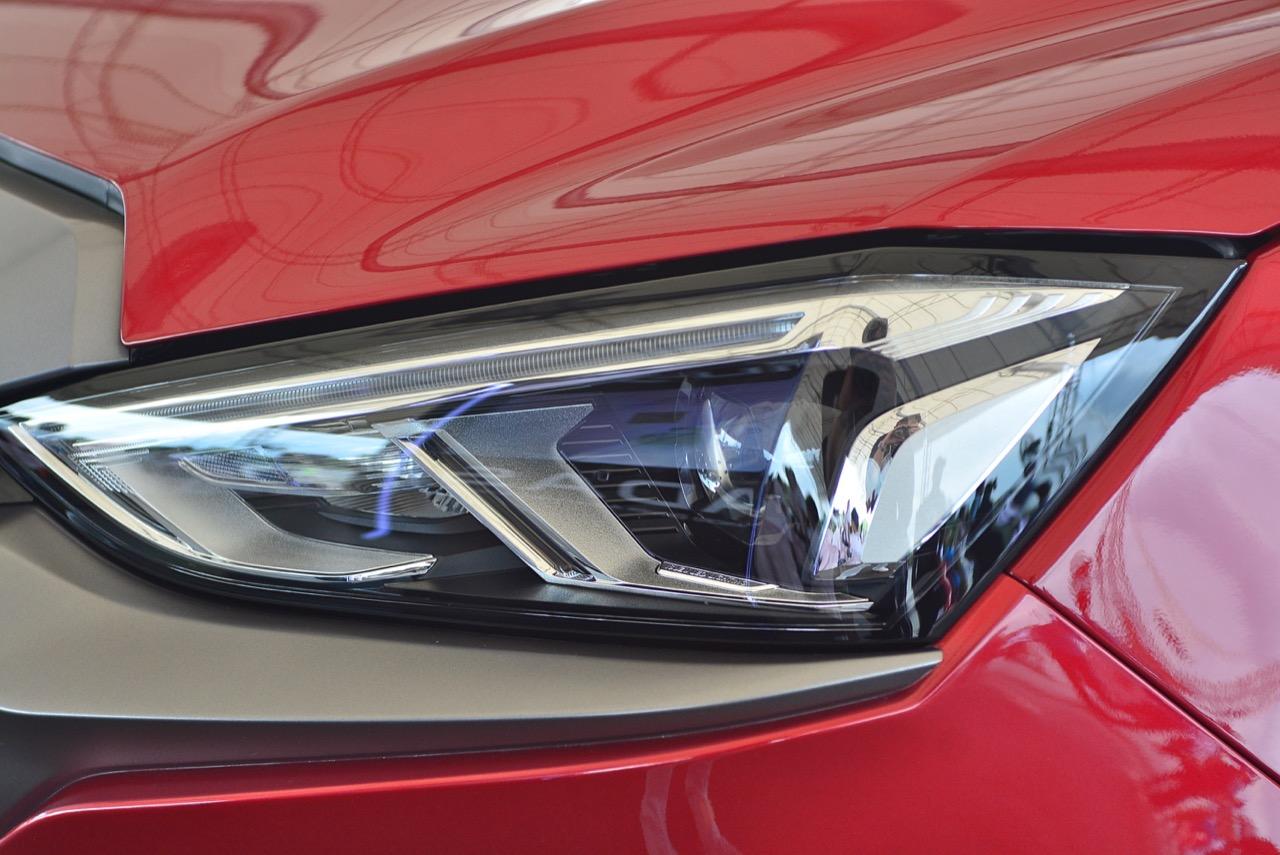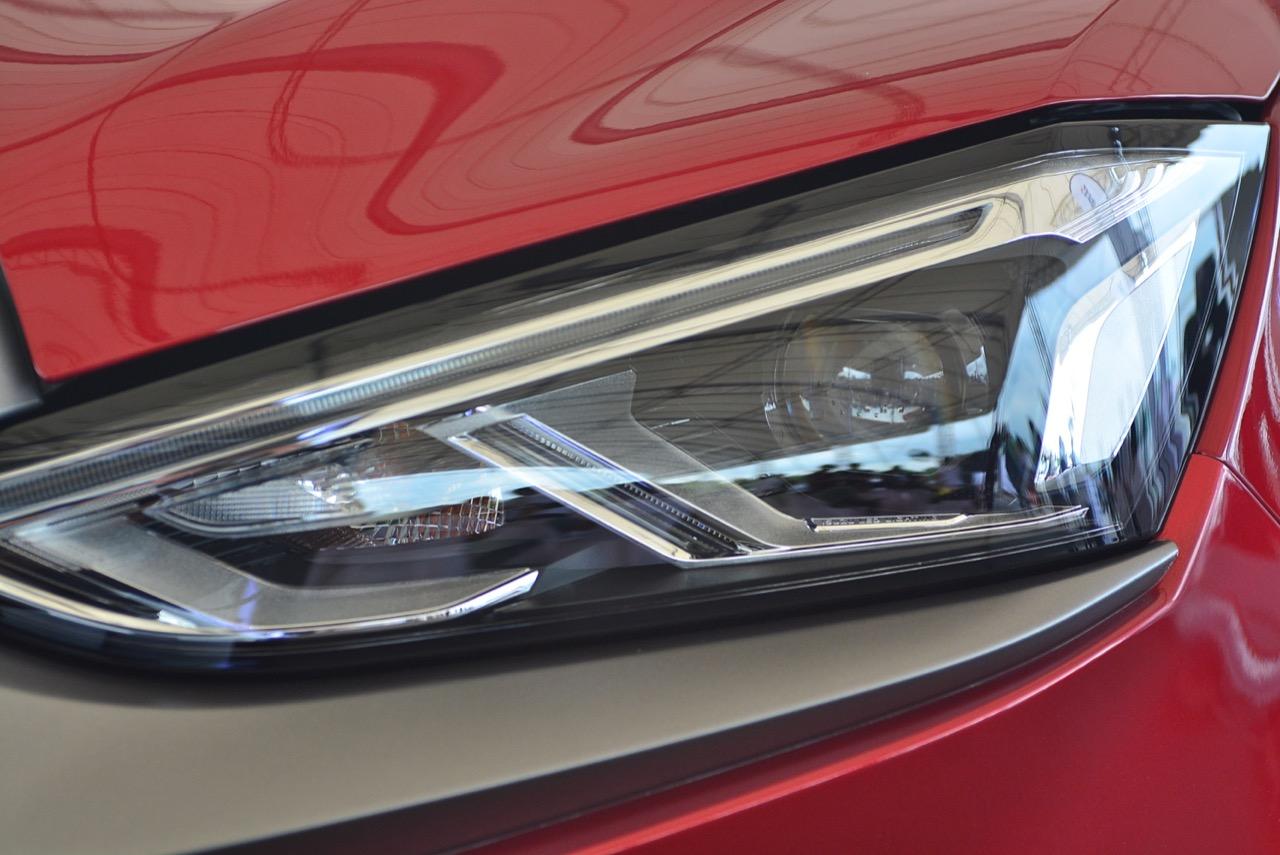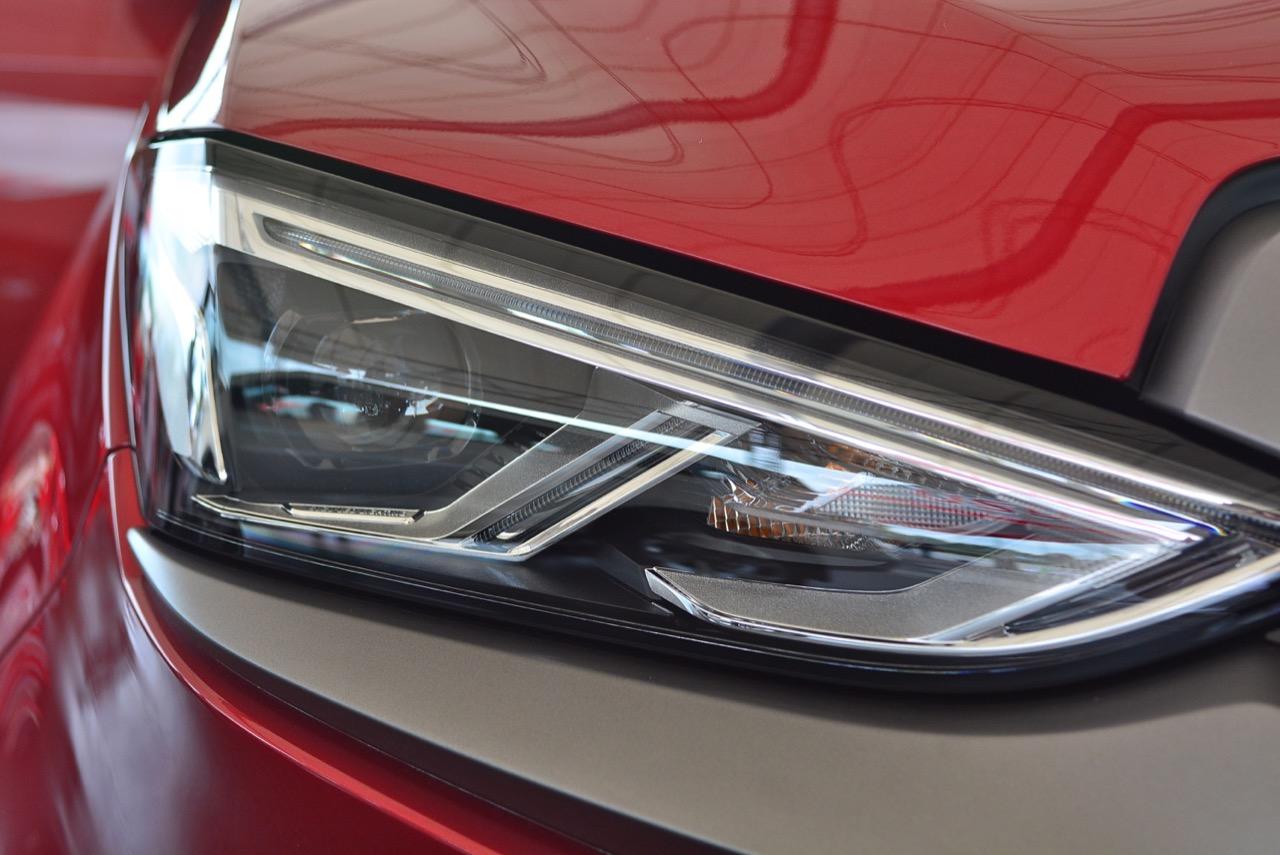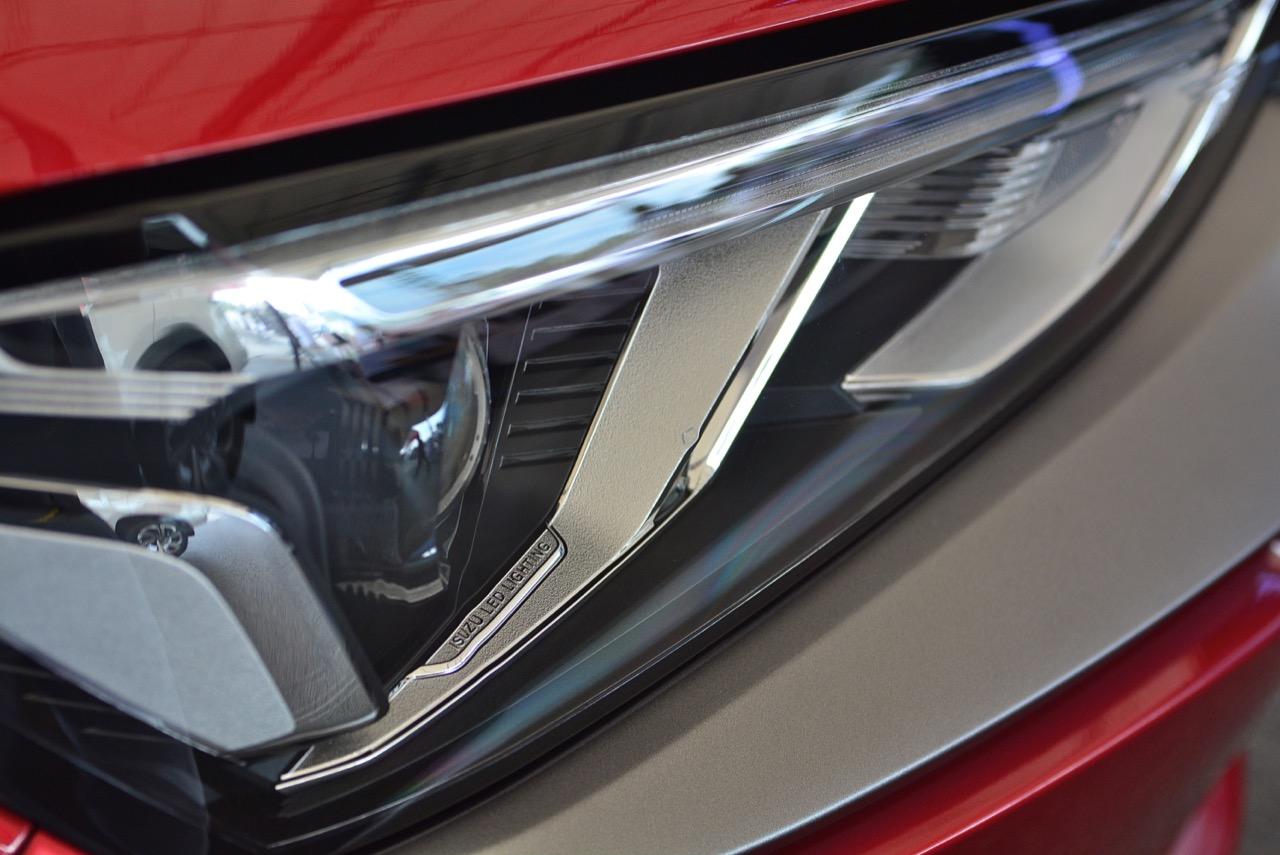 With the big change that Isuzu's management hopes to push the Isuzu brand PPV to sell better than ever before. Two-layer grille It uses chrome plastic in silver for a versatile automotive style that is often designed with a large front grille, Projector Lens Bi-Beam LED headlights with LED Day Time Running Light, headlights with Follow-me- system. home Lighting system Welcoming Light LED front fog lights including LED turn signals around the door mirror frame The front bumper is another point that is perfectly designed. The large air intake under the grille helps cool air to cool the engine compartment. The bonnet raised to the edge of the headlights. The side cheeks are linked with the line of the bonnet. It's a really better new face.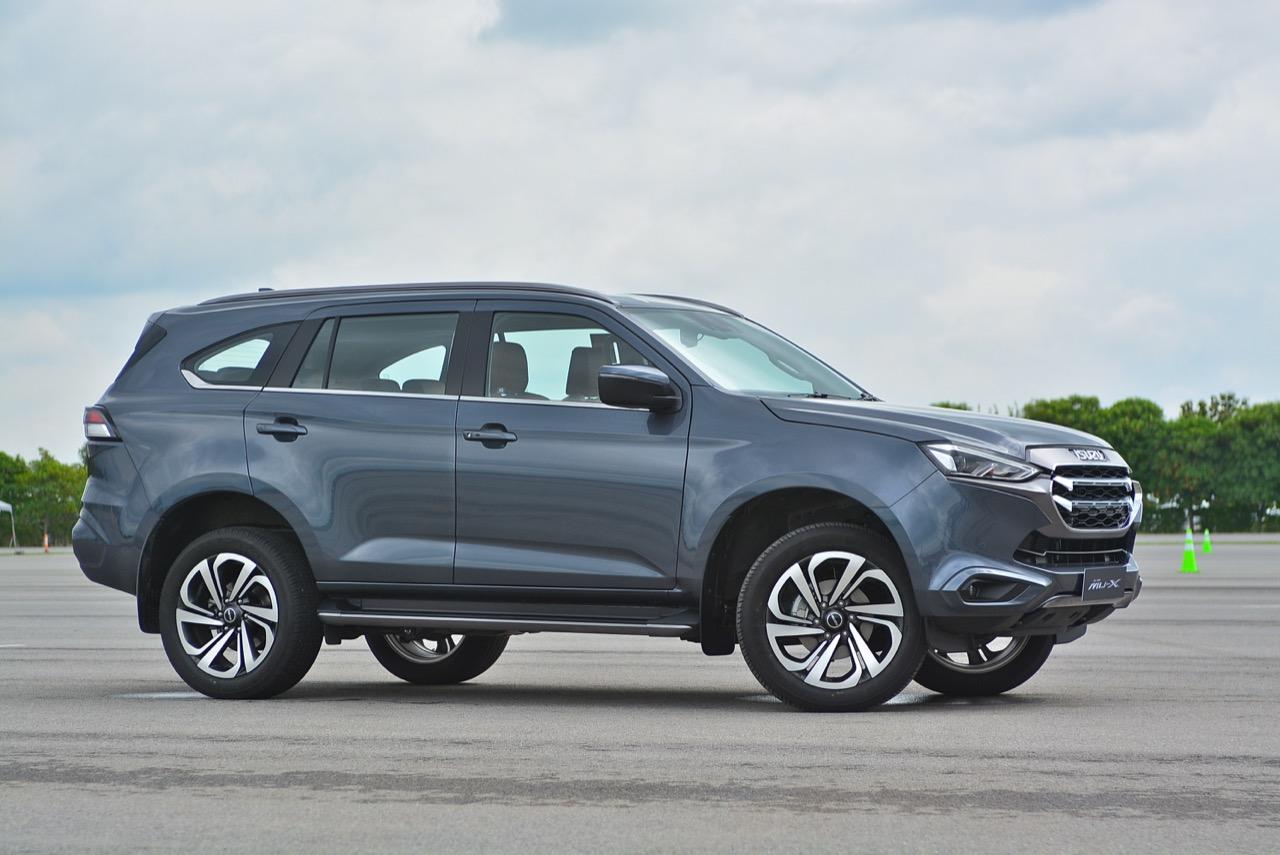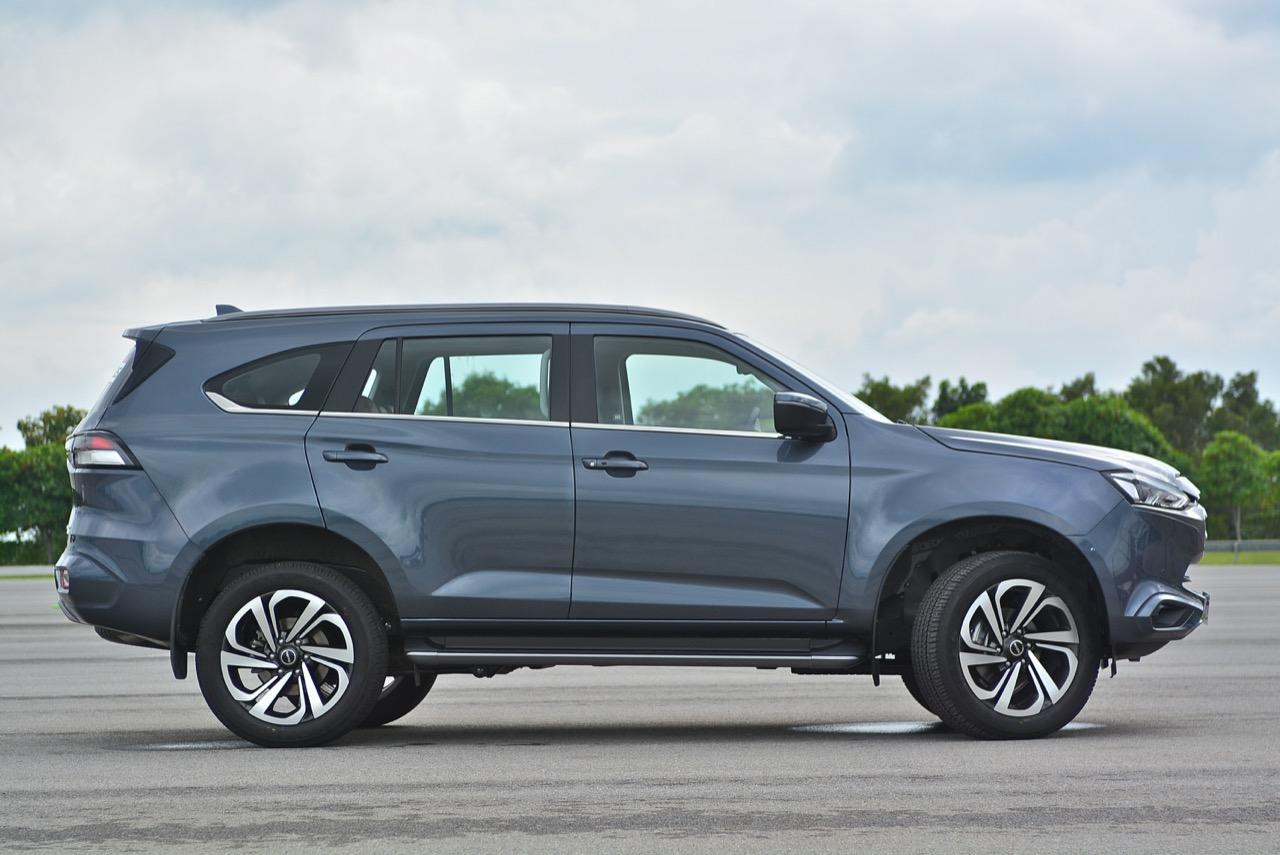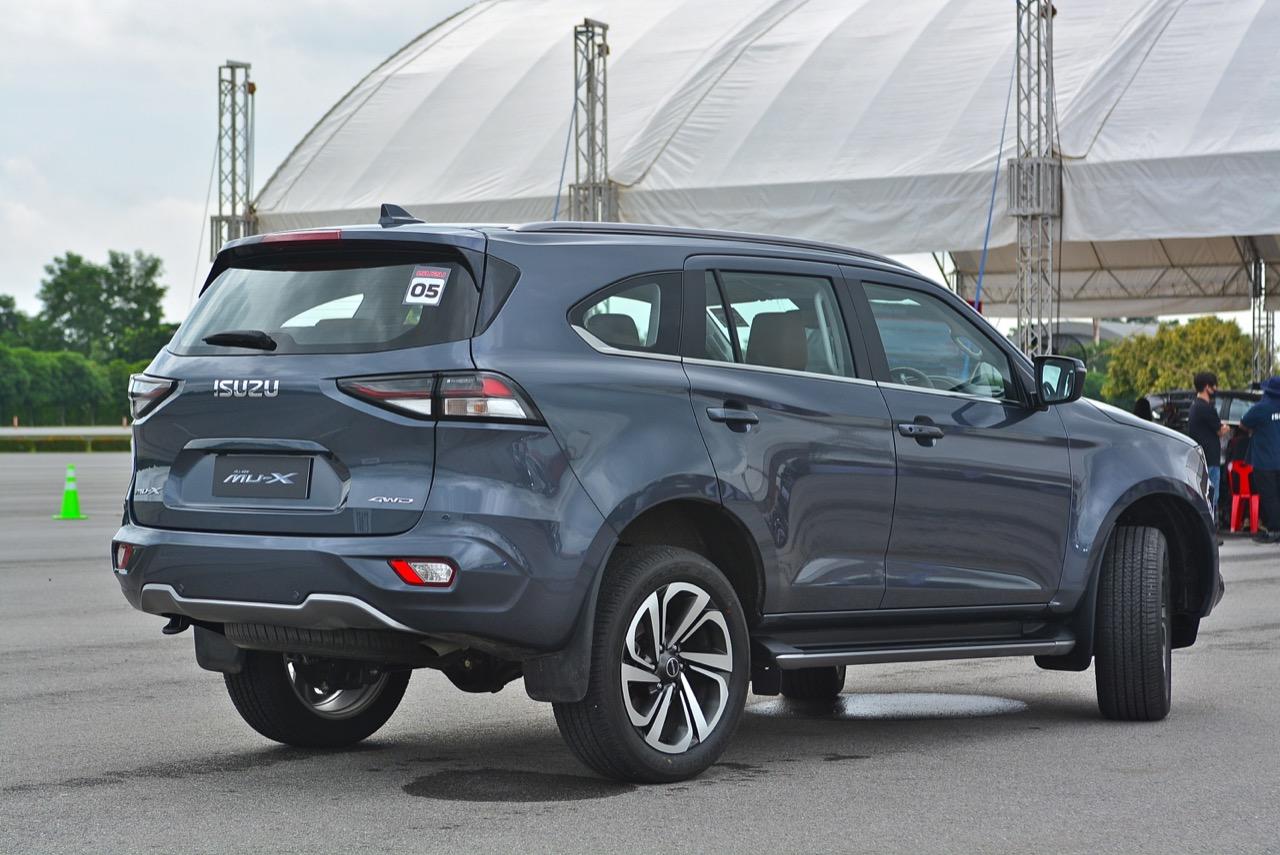 New Mu-XThere is a larger body size in all dimensions. The side profile is tall, large, muscular, close to the Ford Everest. The front pillar has the perfect slope angle as the SUV style. The side line of the body is drawn from the sidewall, almost to the line of the tail light edge. The door handle is the same color as the body, the roof rack, the door has a chrome line that connects to the rear pillar. Popular shark fin antenna, built-in roof rail, Tungsten Silver side steps, rear bumper in the same color as the car body, decorated with Tungsten Silver, 20-inch alloy wheels, silver and black Kg Chak pattern. Wrapped with Bridgestone Dueler H / T tires, size 265 / 50R20 107S, tank dimensions, length 4,850 mm, width 1,870 mm, height 1,875 mm, wheelbase length 2,855 mm, wheelbase, front and back, the same number 1,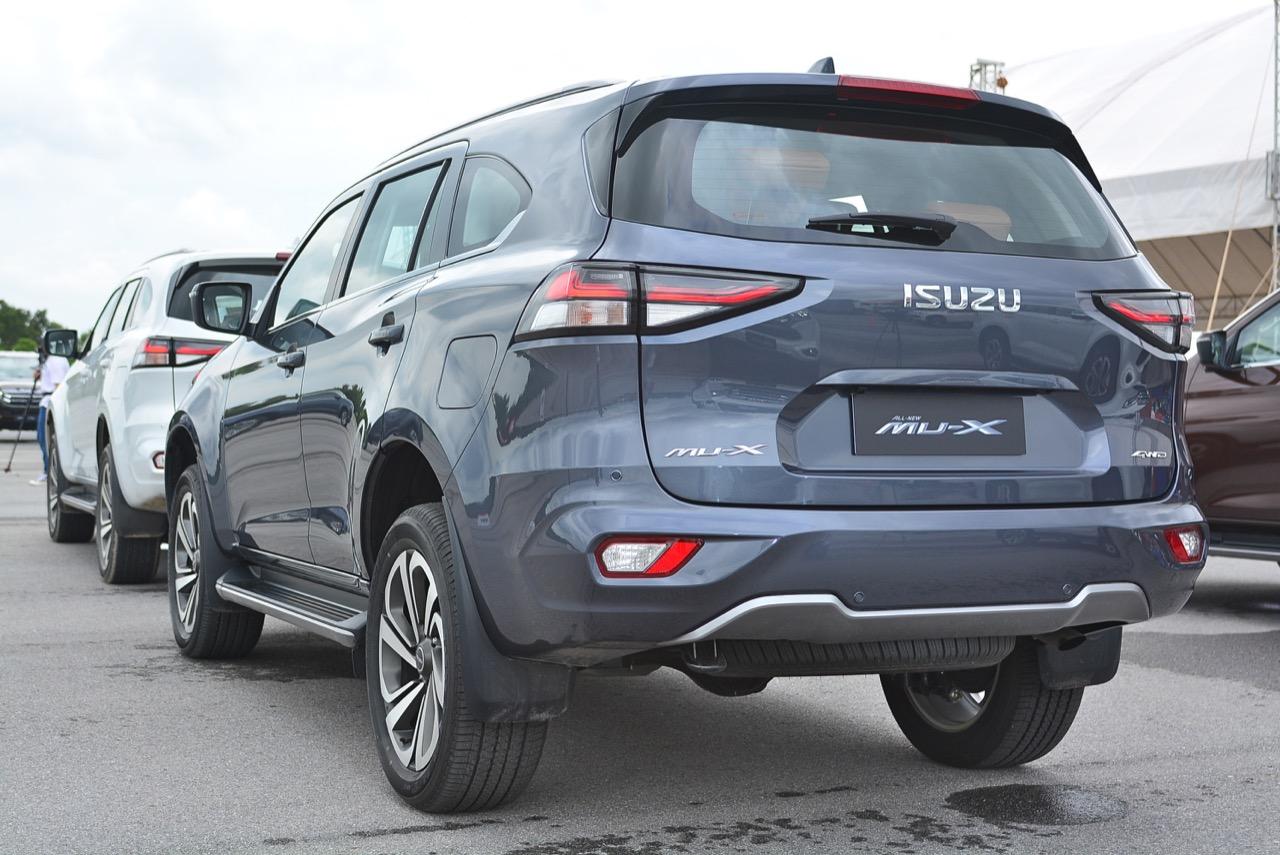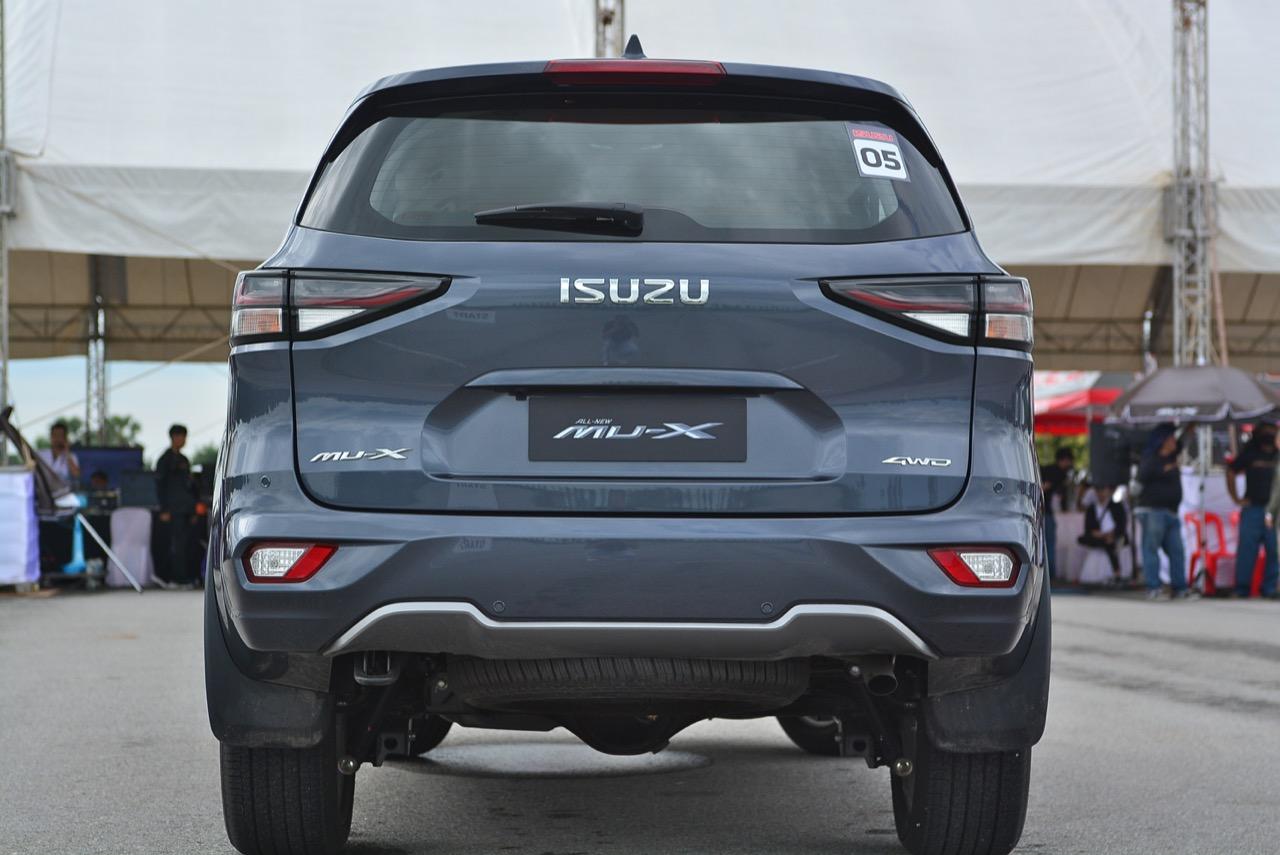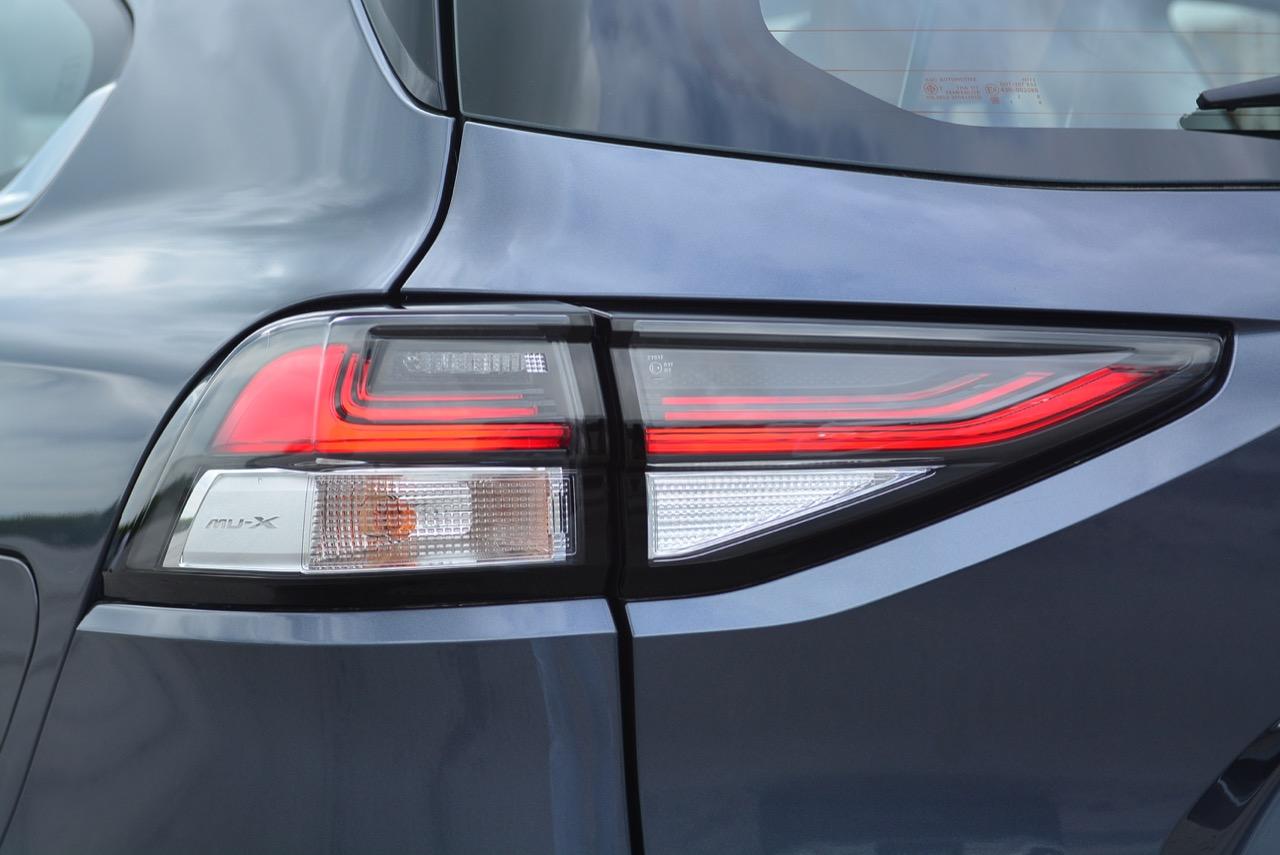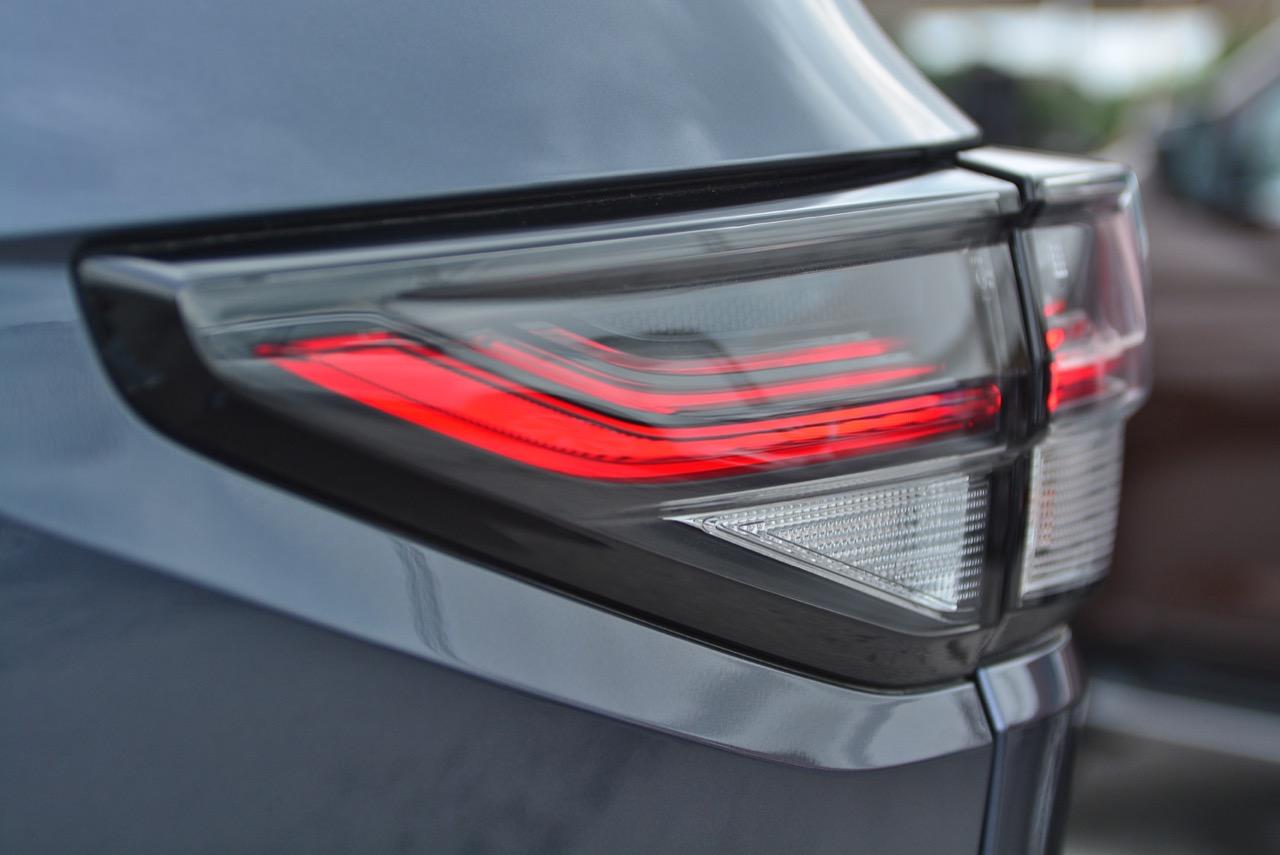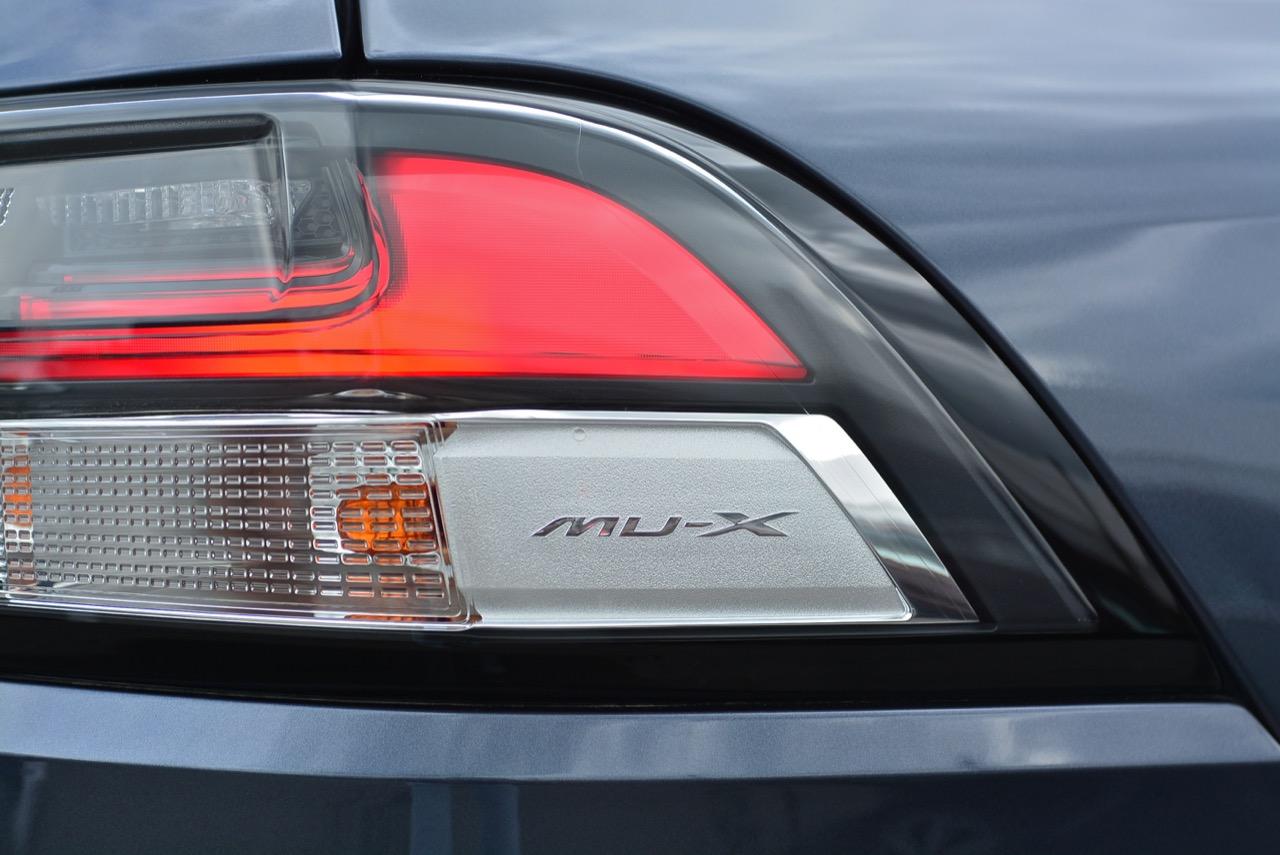 New style LED tail lamp with dimmer, Winglet Signature LED for Isuzu New MU-X top model, equipped with headlamp system. Automatic on-off End cap open-close With the Power Tailgate electric system with anti-pinch system at the rear cover, Jam Protection, third brake light Installed in the center of the top corner of the rear spoiler. The glass back is beautifully curved. To match the style of the end cap The elevated opening angle of the tailgate makes it possible to transport luggage in and out. And the electric opening-closing system is comfortable as well as being the flagship of the Isuzu brand PPV.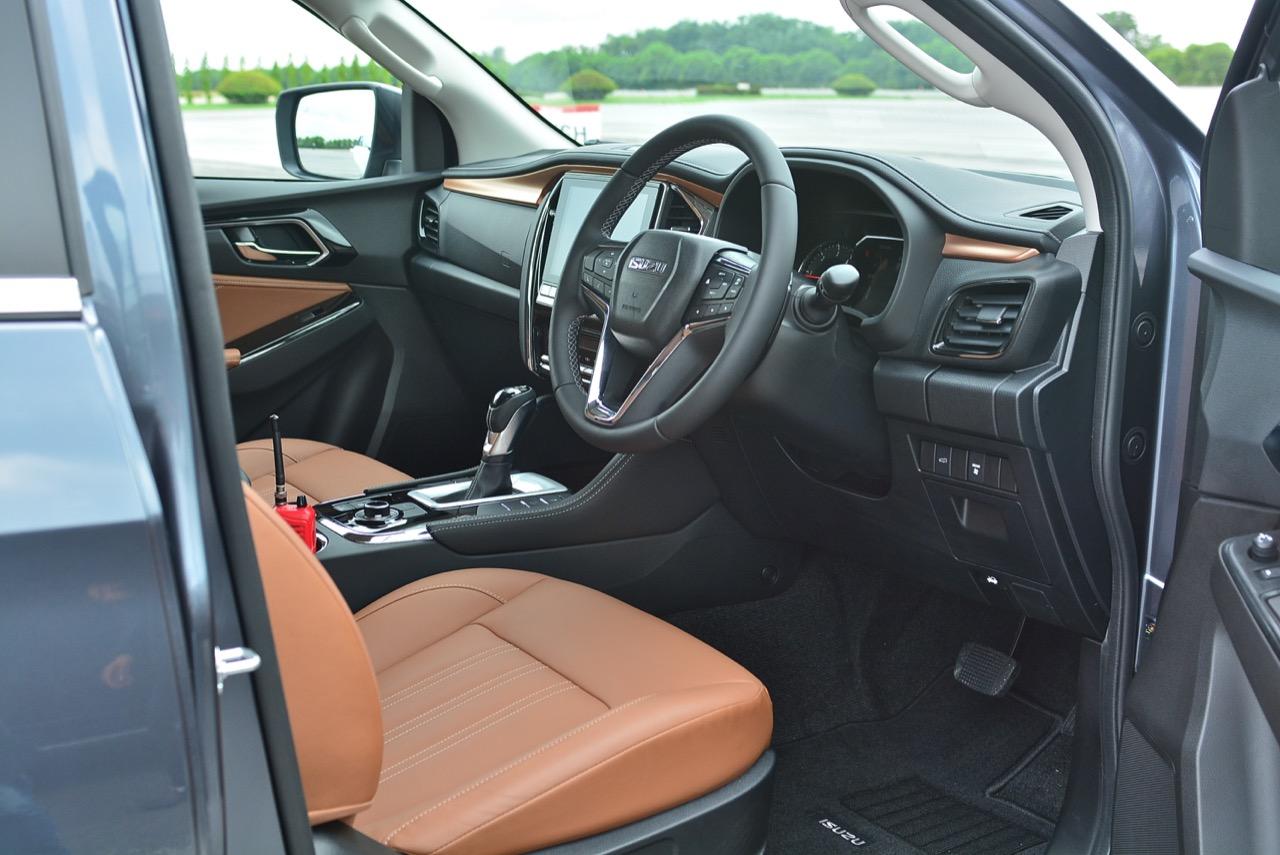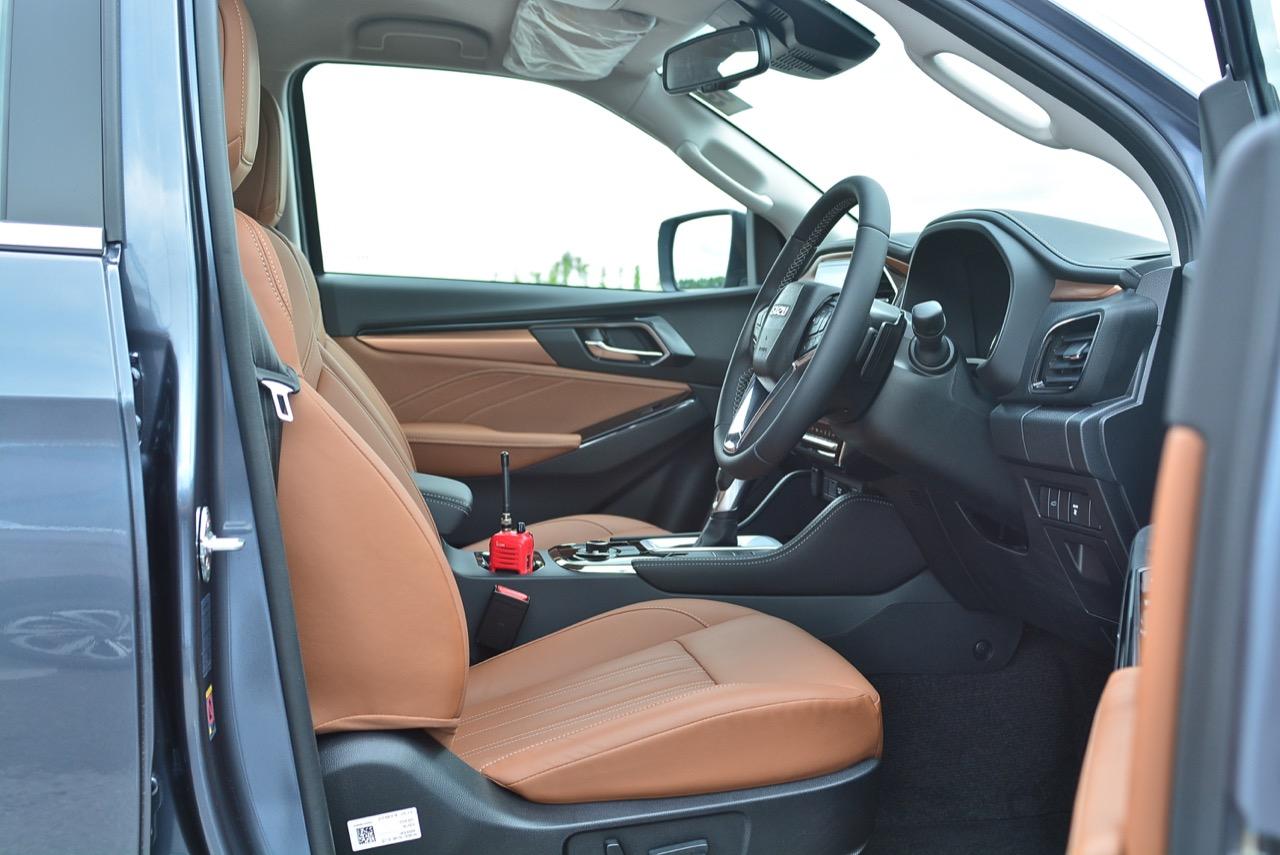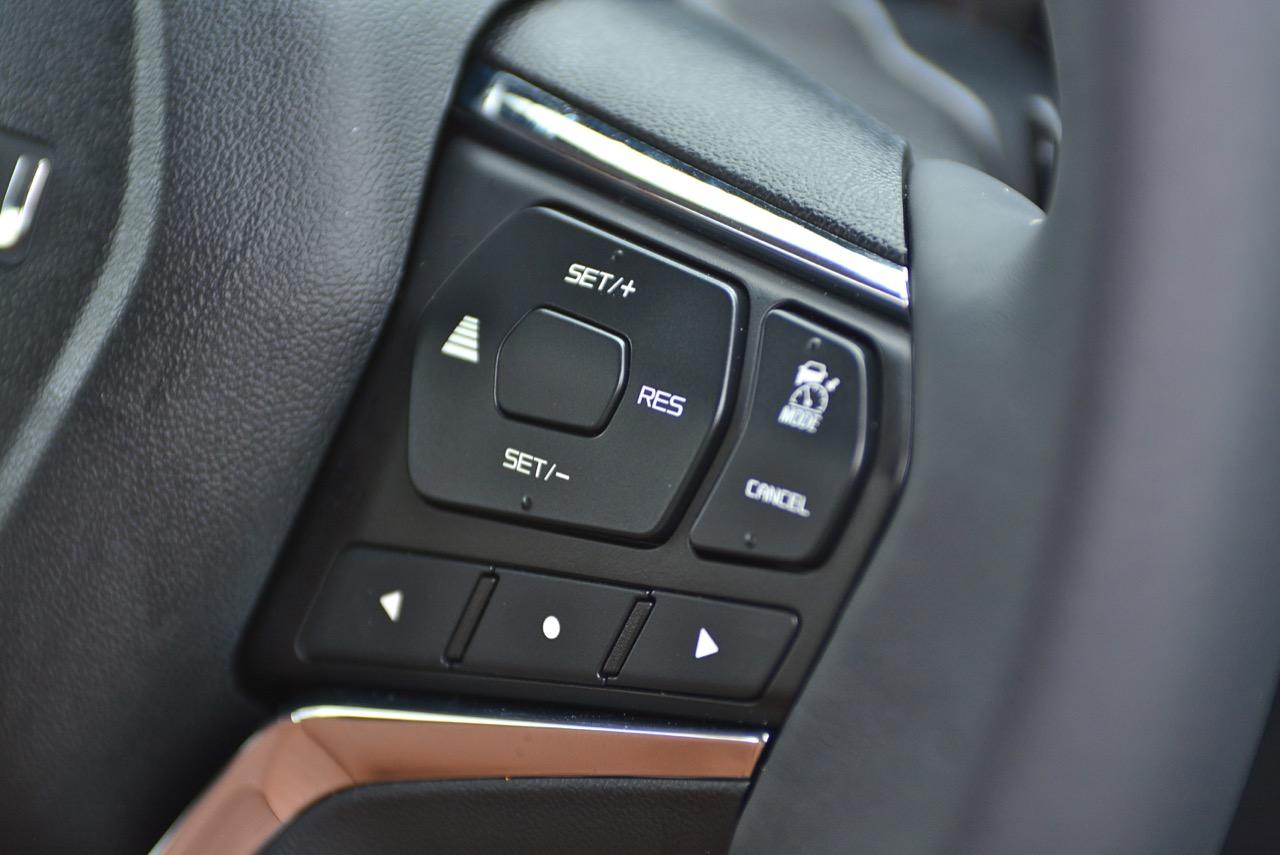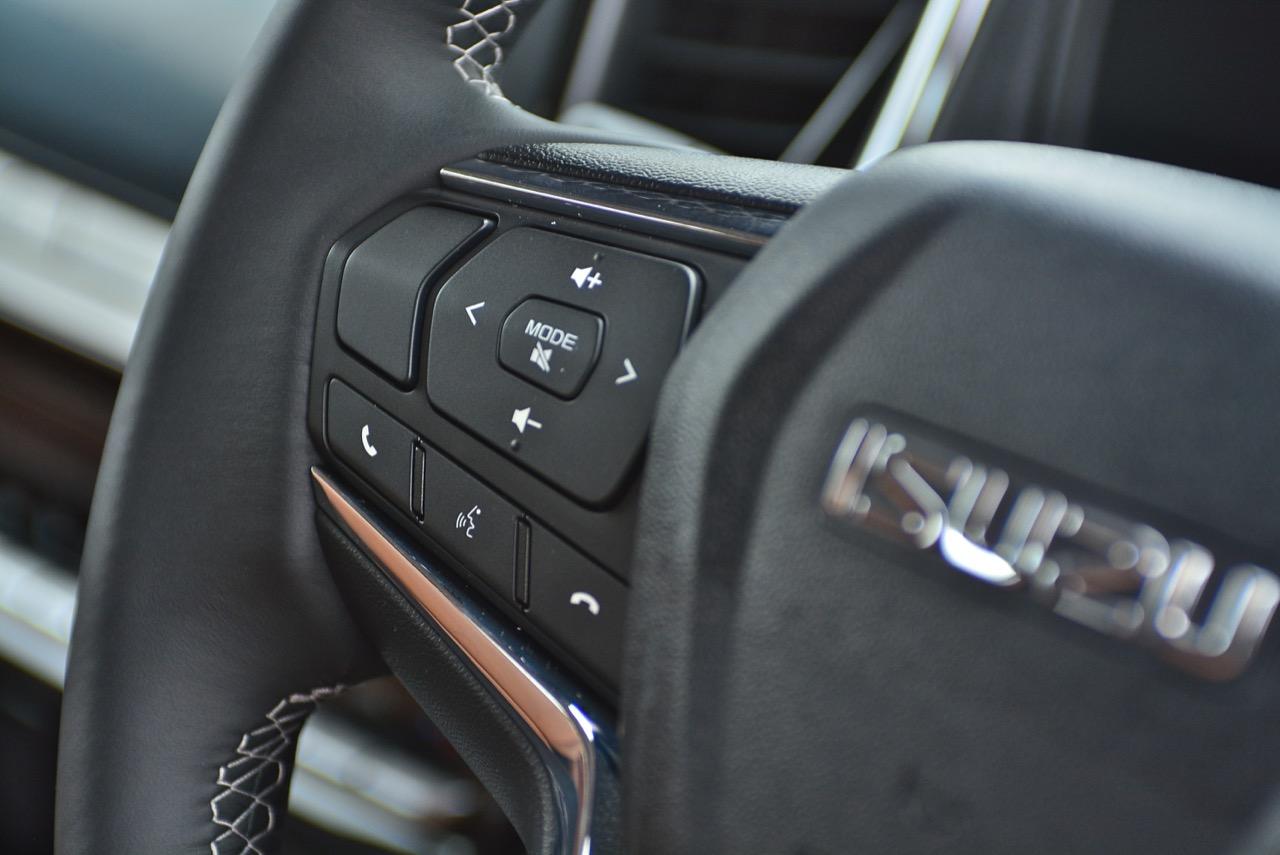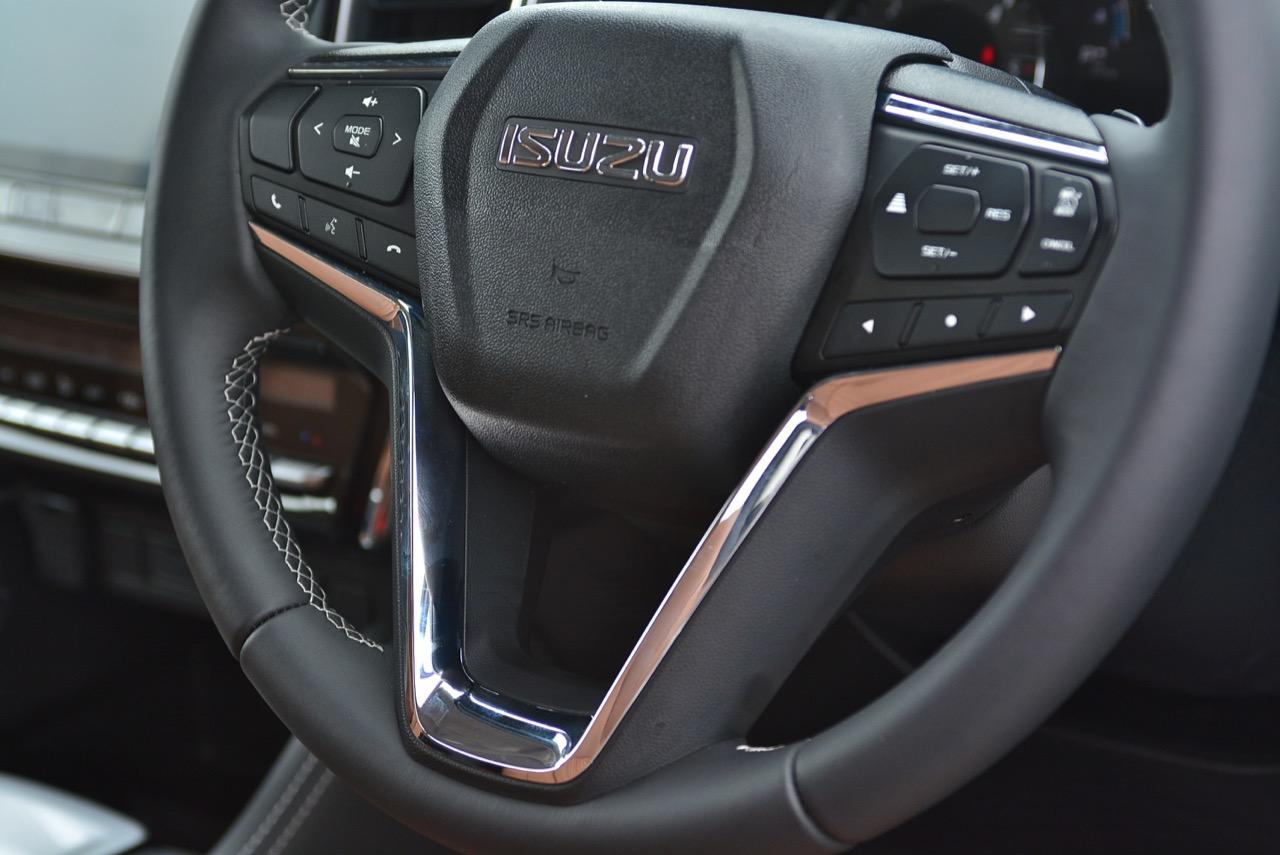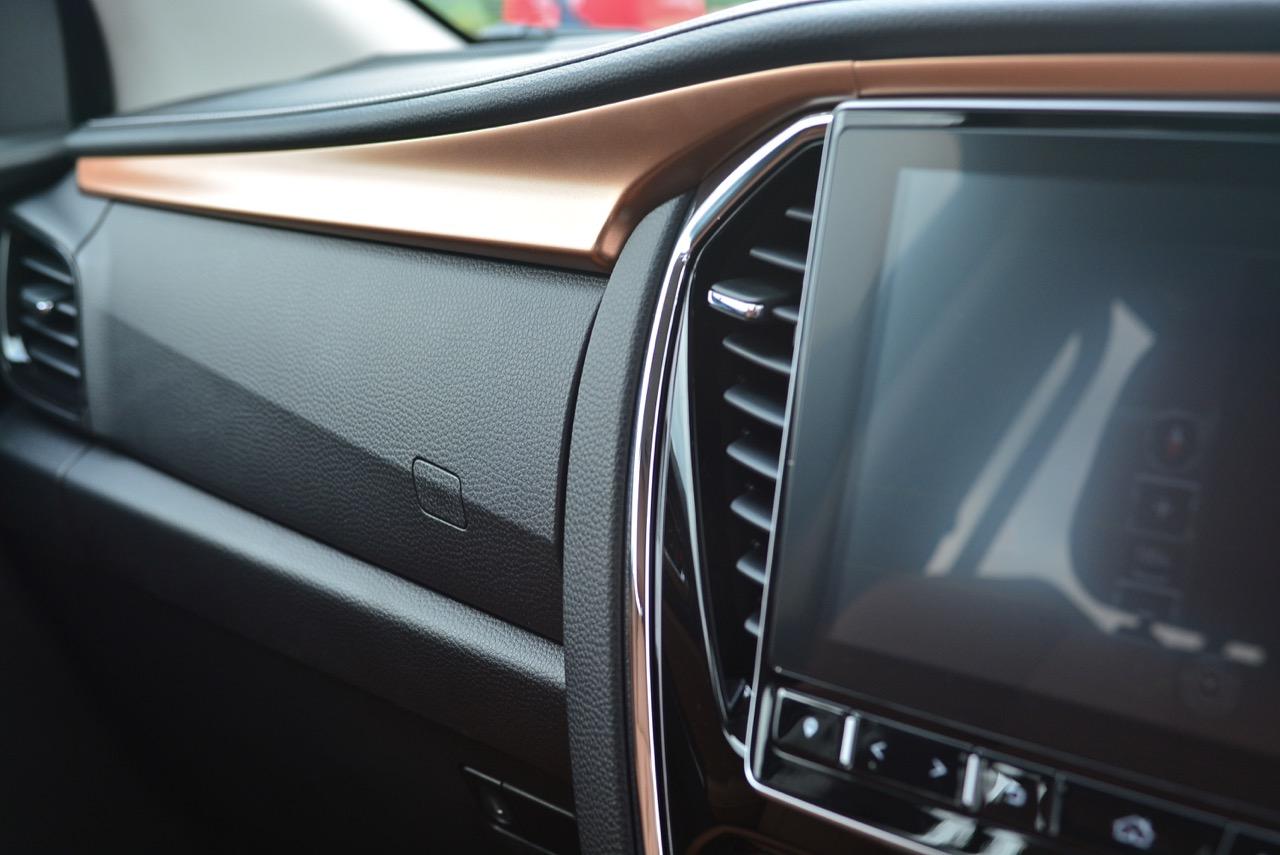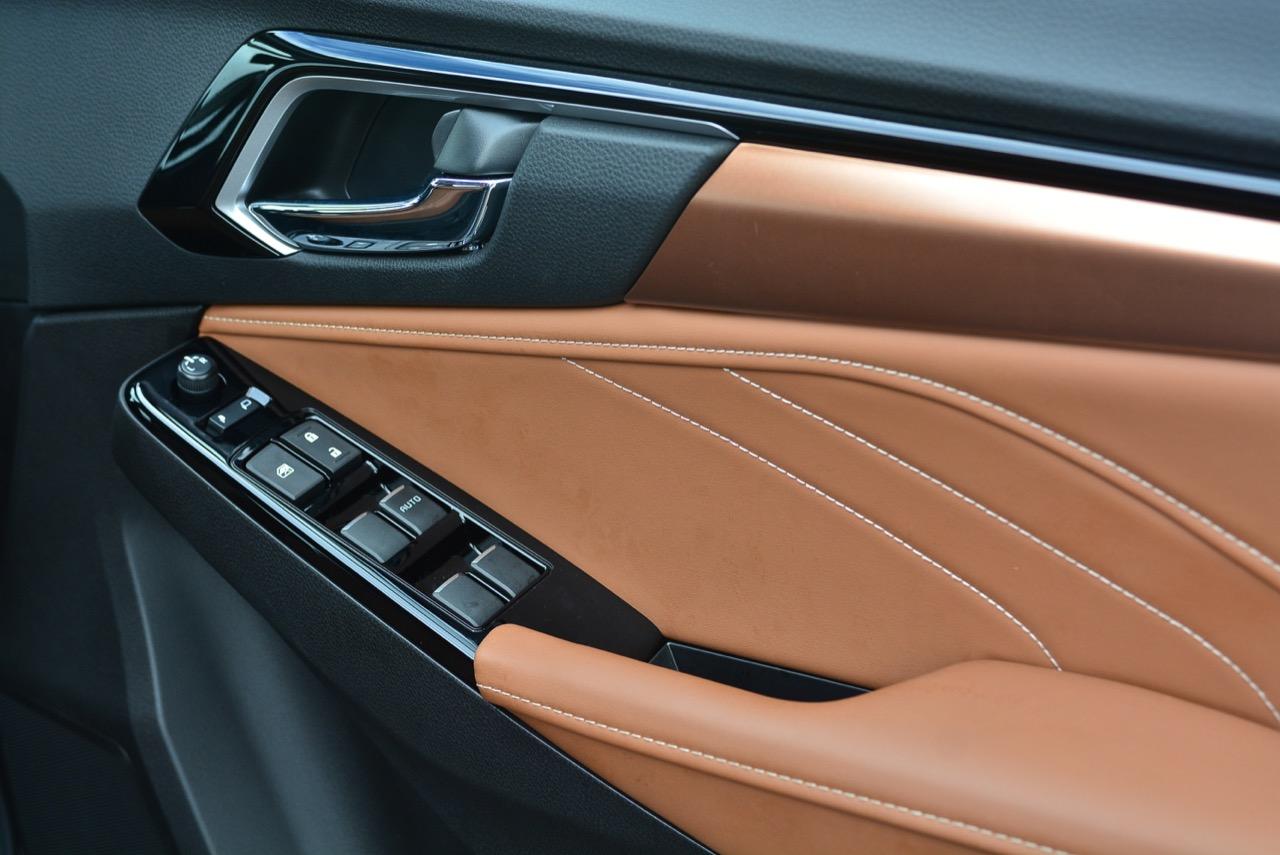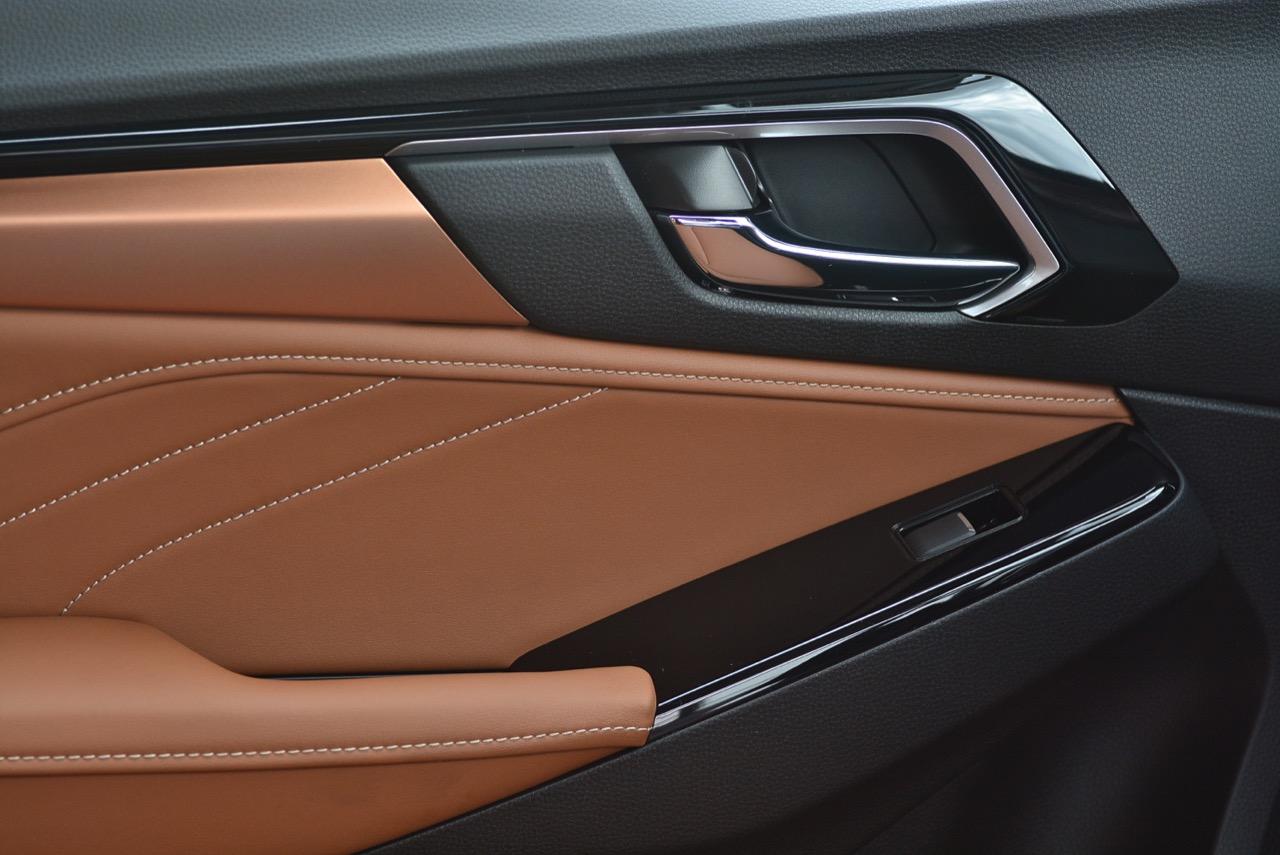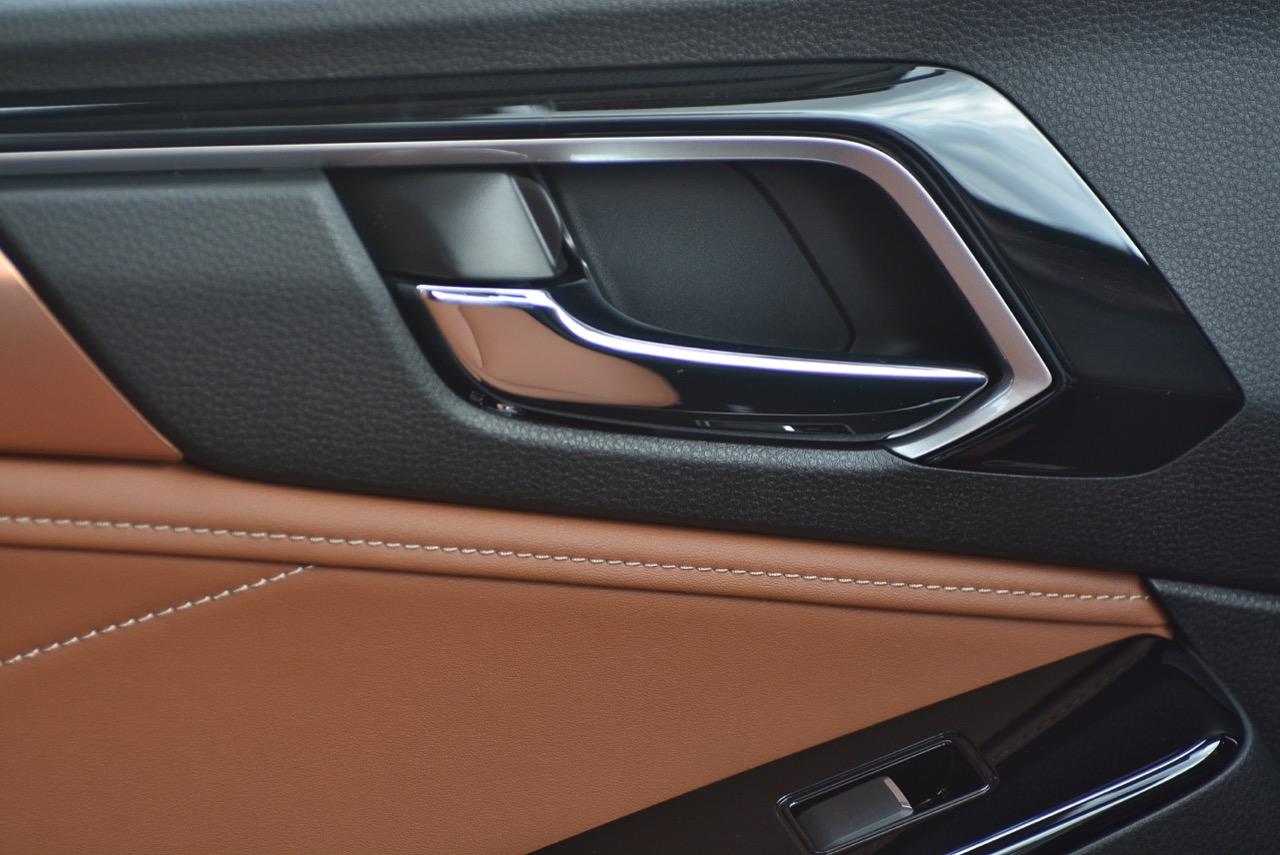 Isuzu creates an exotic atmosphere in the cabin, the top-of-the-line version of the new MU-X, a contrasting color scheme with black plastic and dark brown color of the seats and door panels. Premium-grade materials adorn the edge of the console. Champaign Gold copper-colored plastic divides the dashboard into two parts. The door panel is sewn with white thread. Cut with brown artificial leather. Gold plastic frame on the door handle The gear knob is decorated with black shiny material. Leather steering wheel With Paddle Shift, 4-way adjustable (up - down - in - out) steering wheel There is a switch for various settings. On the right is the switch to activate Full Speed ​​Range Adaptive Cruise Control -ACC on the left side of the lever. It is an audio control switch. Answering or ending a Bluetooth phone call And voice-activated switch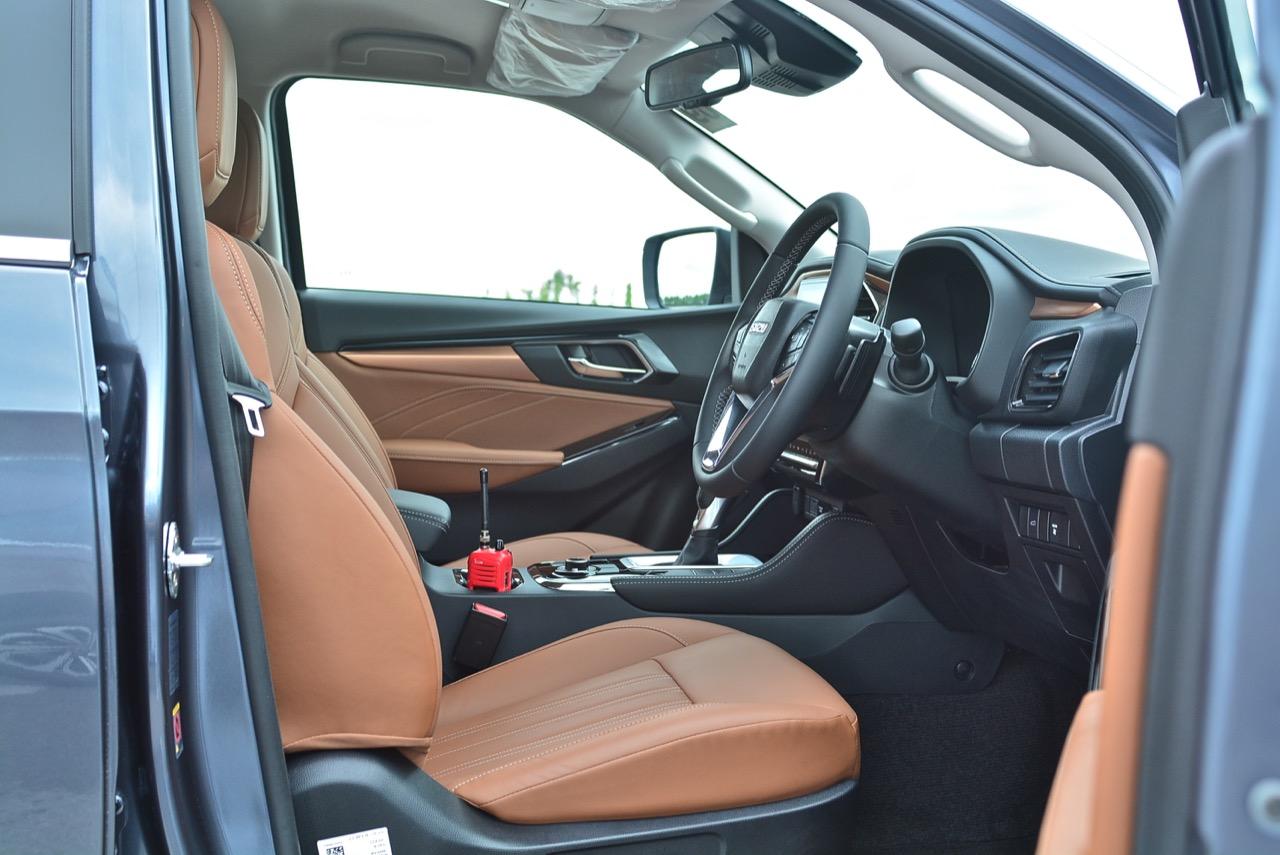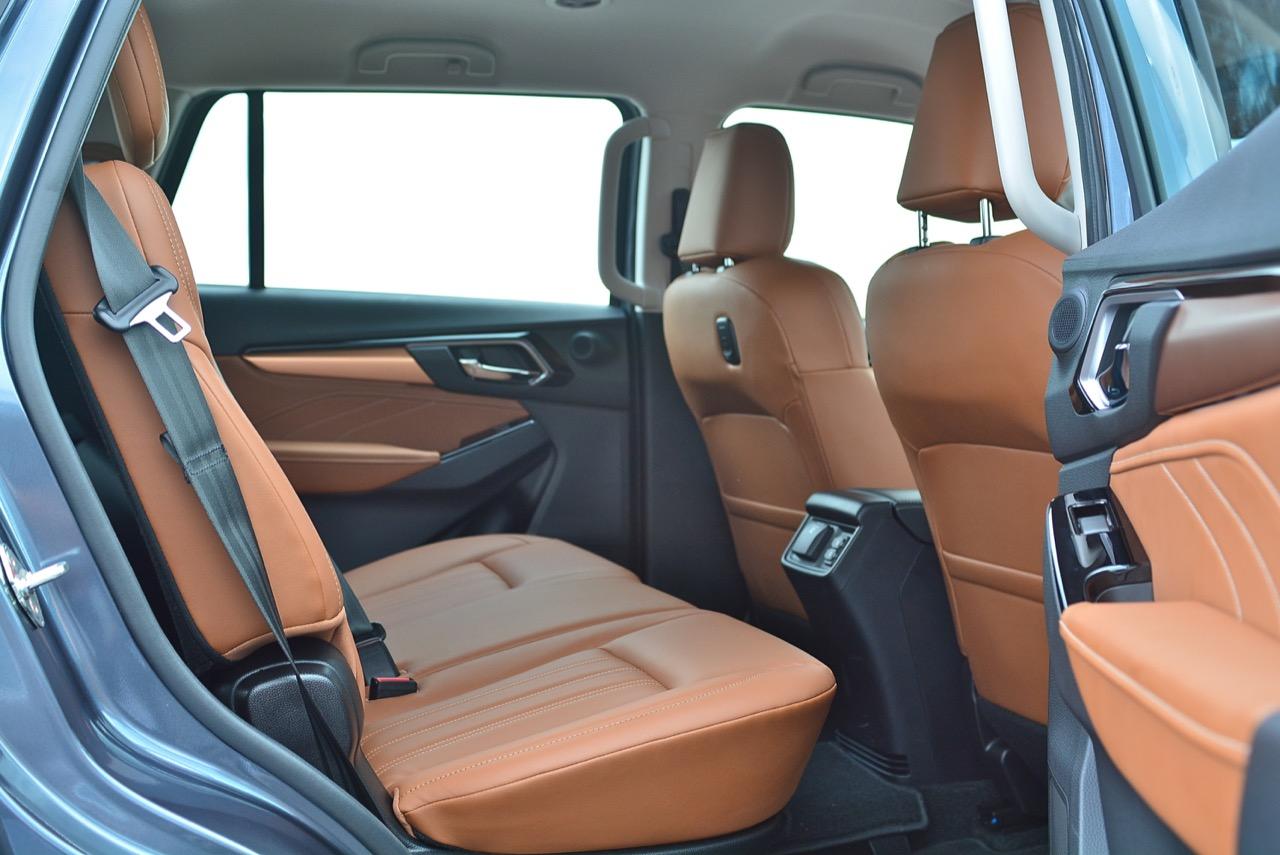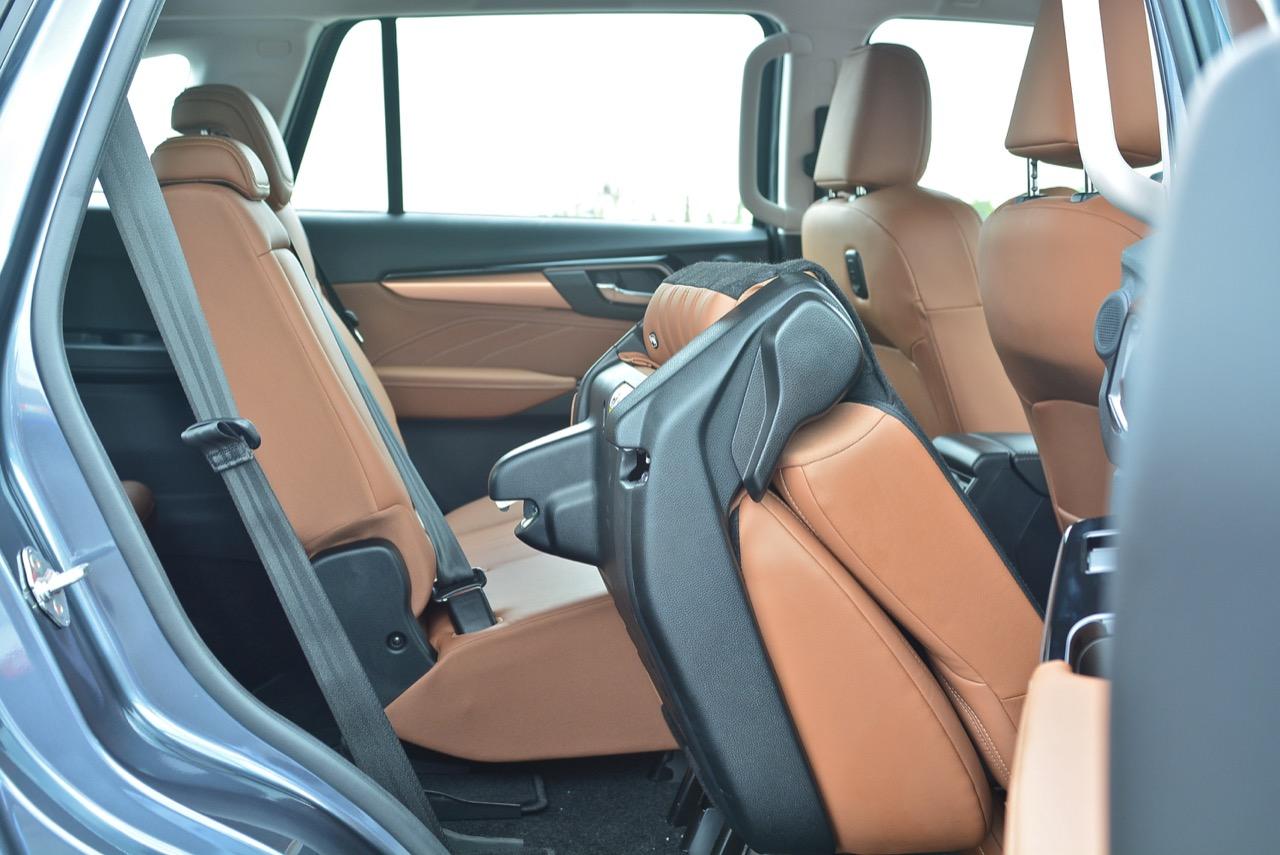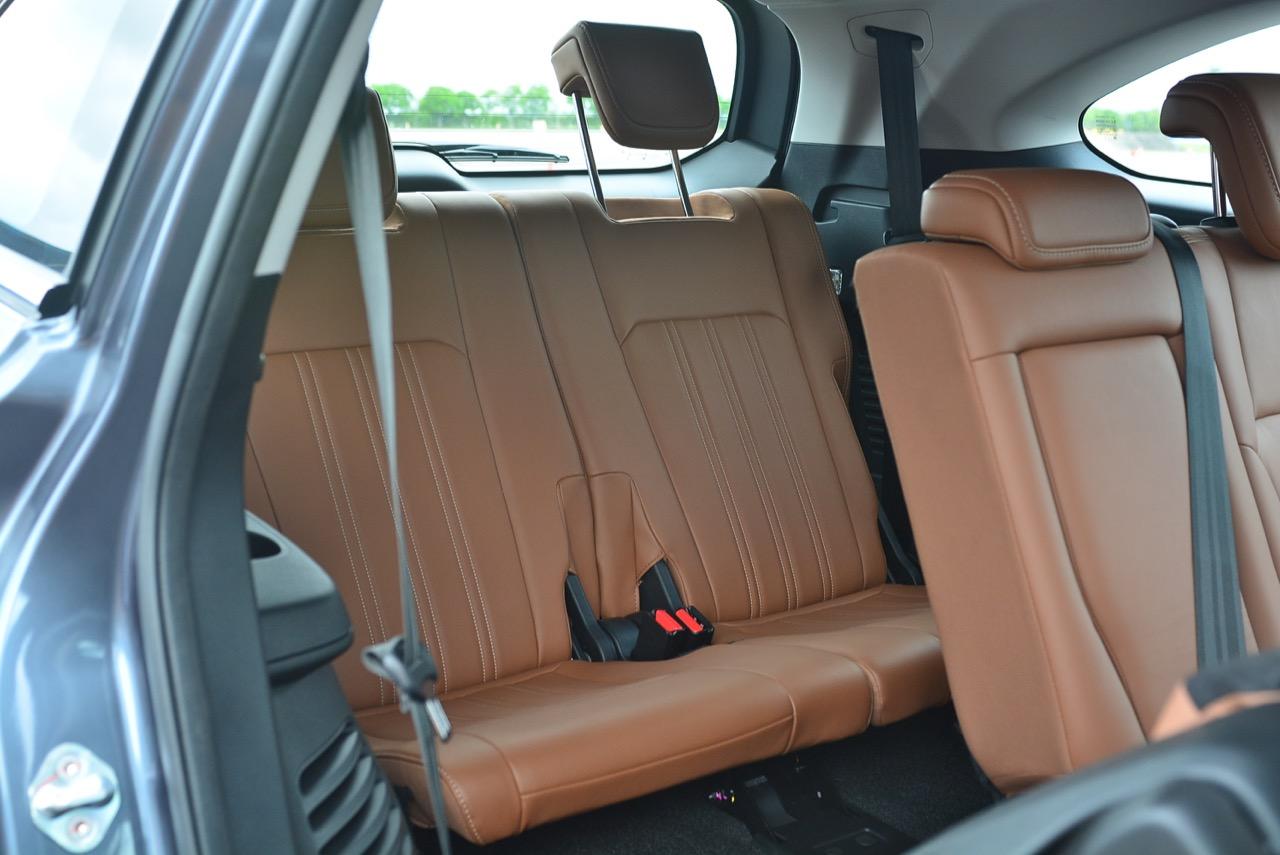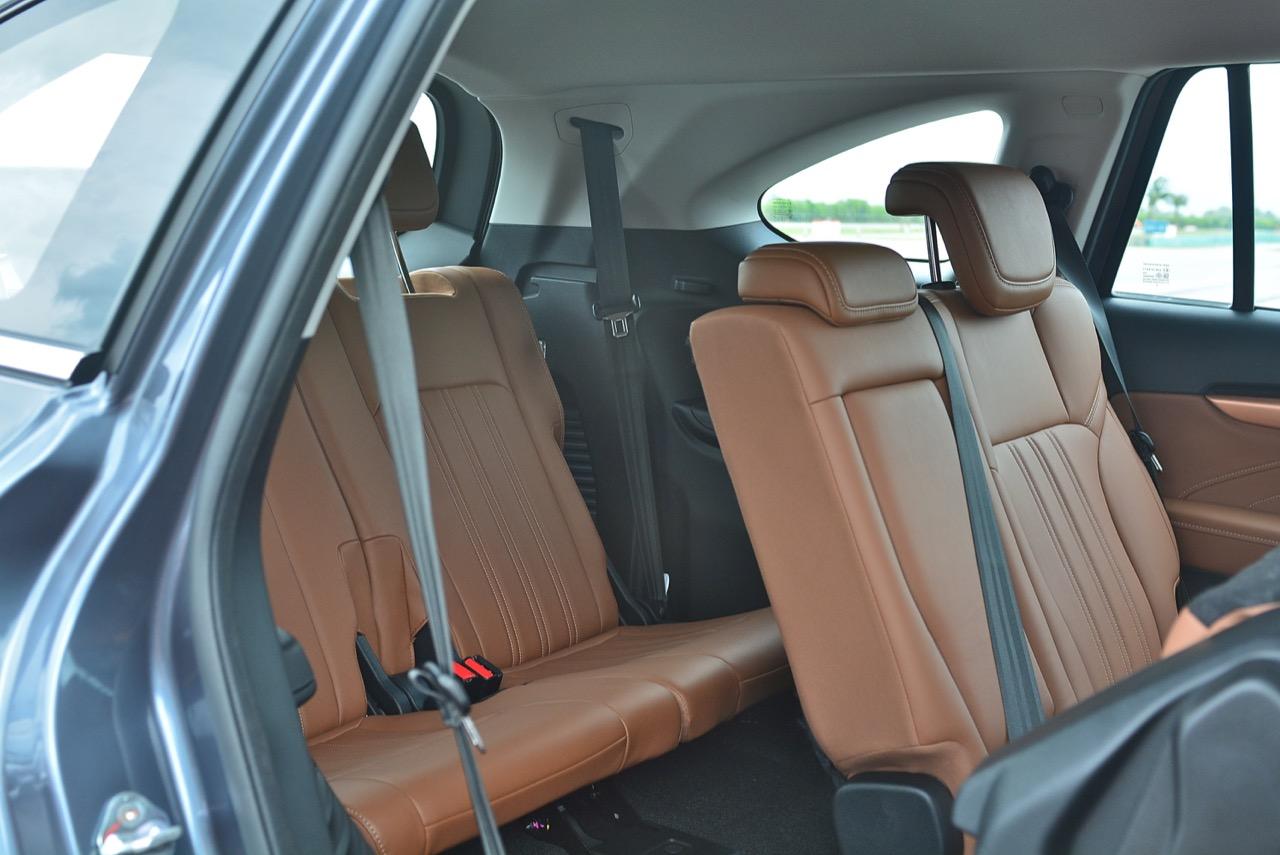 Saddle Brown synthetic leather upholstery, Coolmax cooling system upholstery, front seats A sport semi-bucket Seat, electrically adjustable. For driver's seat 8-way electric adjustment, the front passenger seat, 4-way power adjustment, is a 7-seat PPV SUV, which makes the design of the second row of seats that can be folded in a variety of ways. The second row of seats is also designed with a single-stroke or One Motion folding, while the third row seats separate 50: 50 independent folds with a comfortable design with a reclining seat. Or can be folded flat To increase the cargo space, the top-tier MU-X also includes an ISOFIX child seat attachment point for a secure attachment to the baby seat.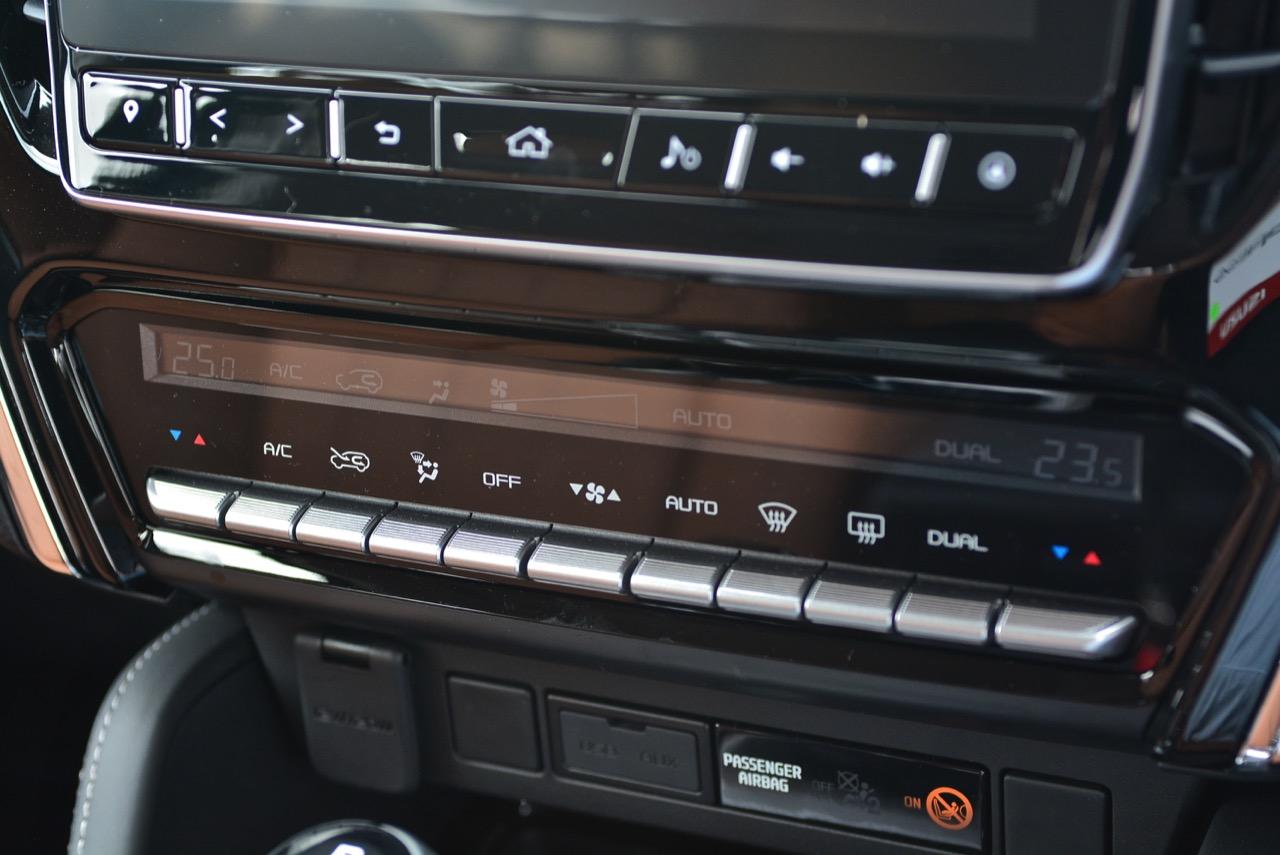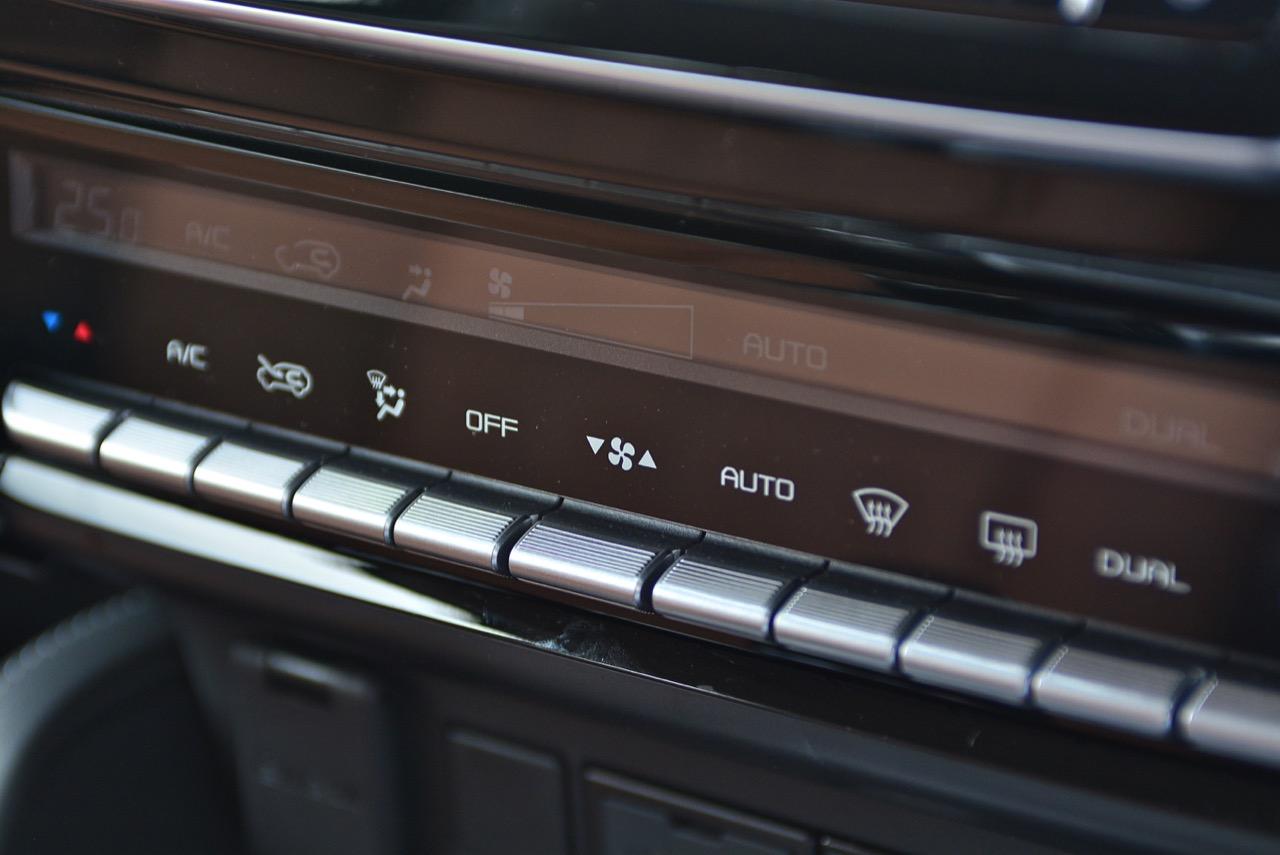 The new MU-X is equipped with an automatic air conditioning system. Independent left - right. Dual Zone. Display screen, digital air conditioning. Push button to operate the air conditioner system, beautiful to use The air conditioner also has a special dust filter. With an air filter system that can filter PM 2.5 dust with a switch to control the rear split air conditioning system The rear seats have air vents for the rear passengers.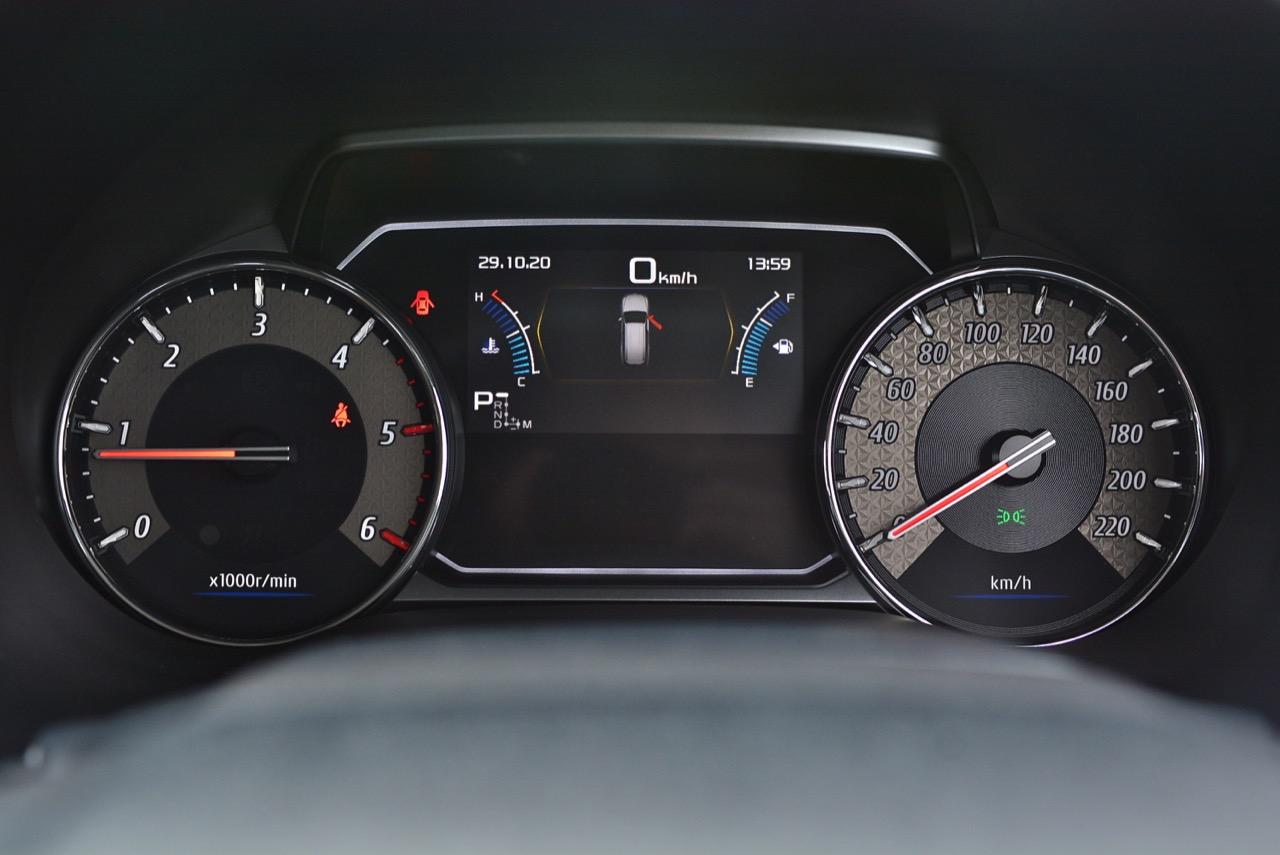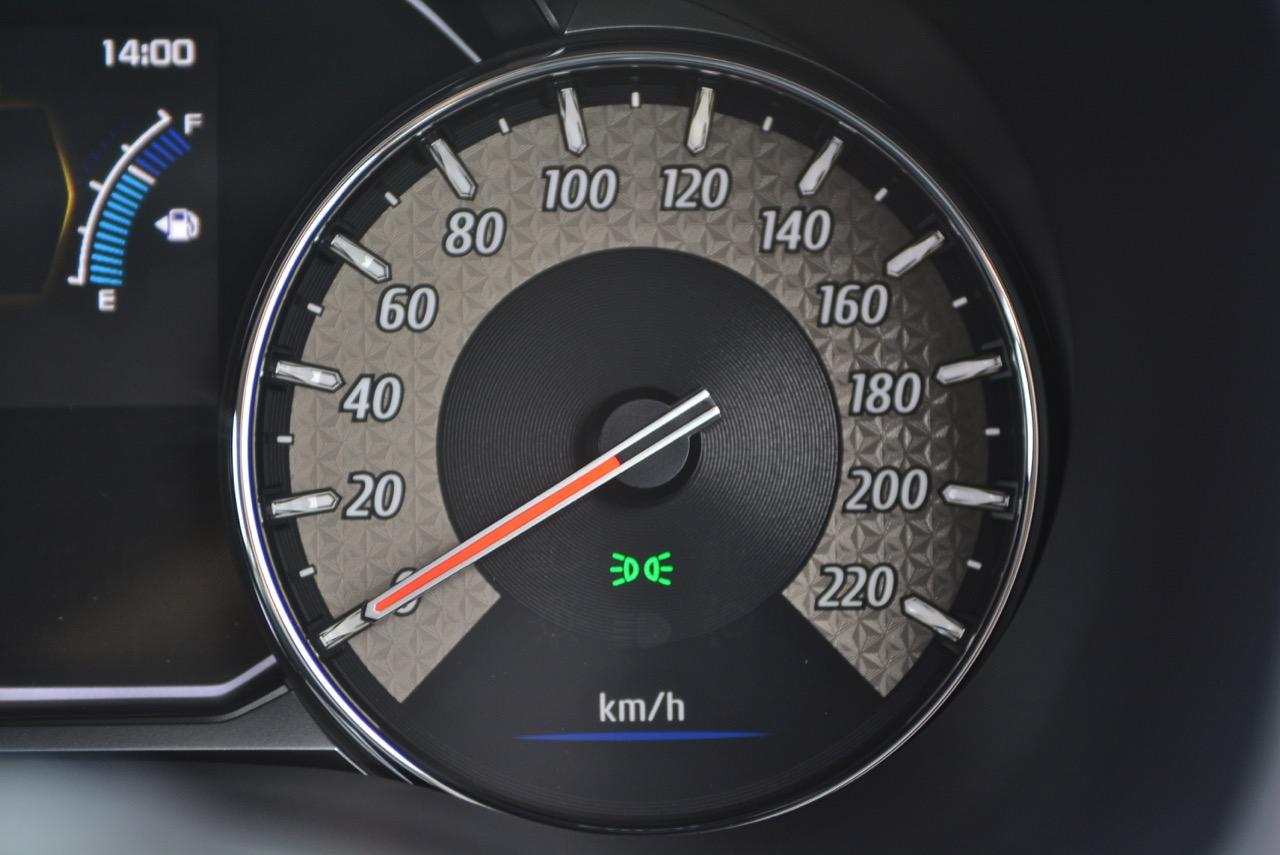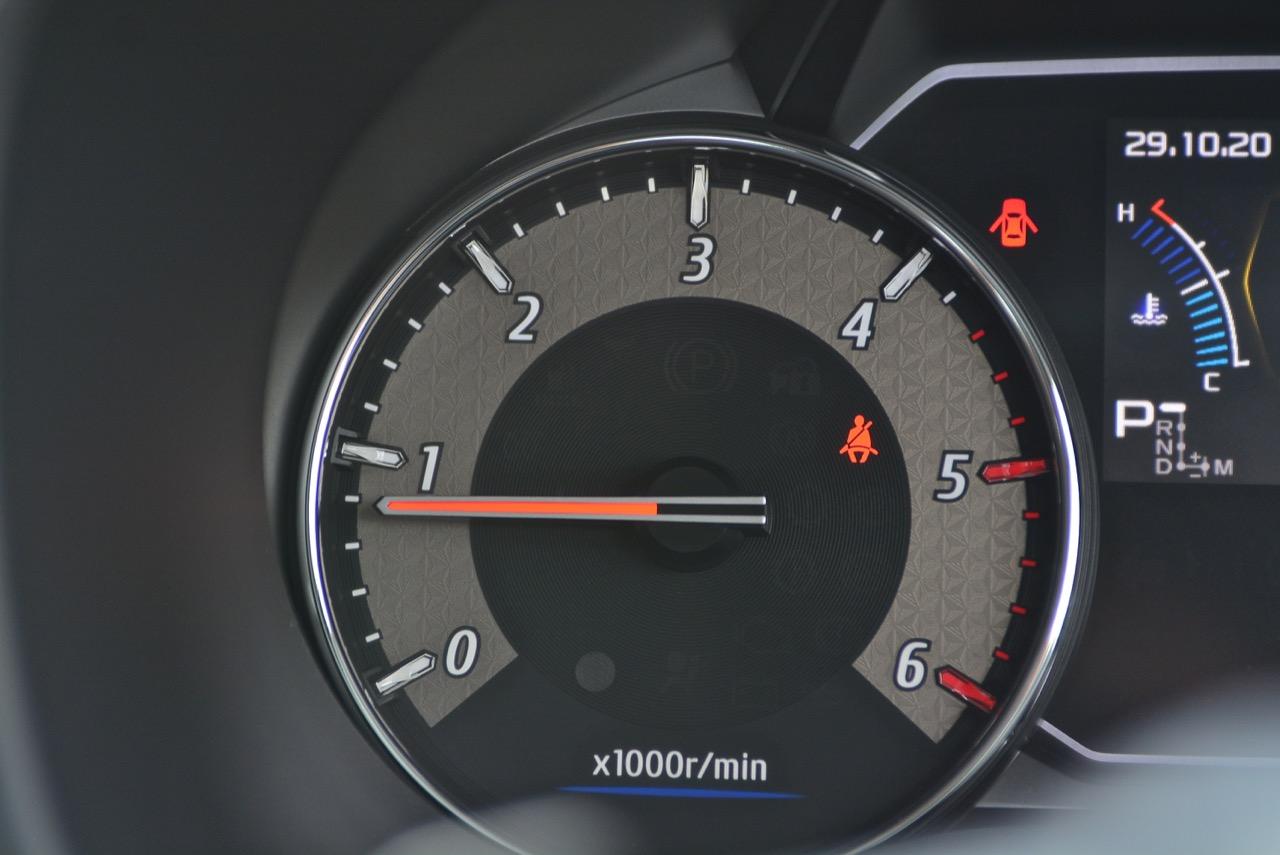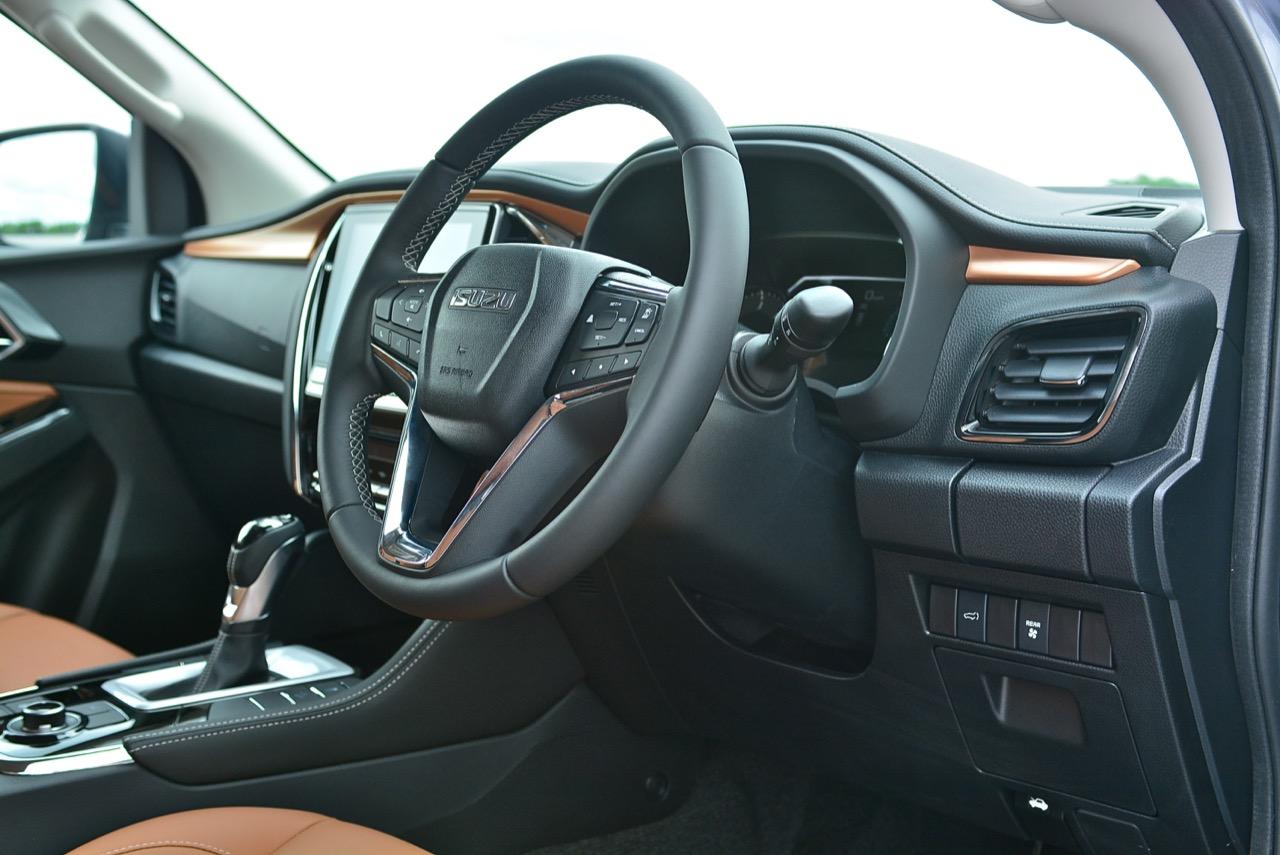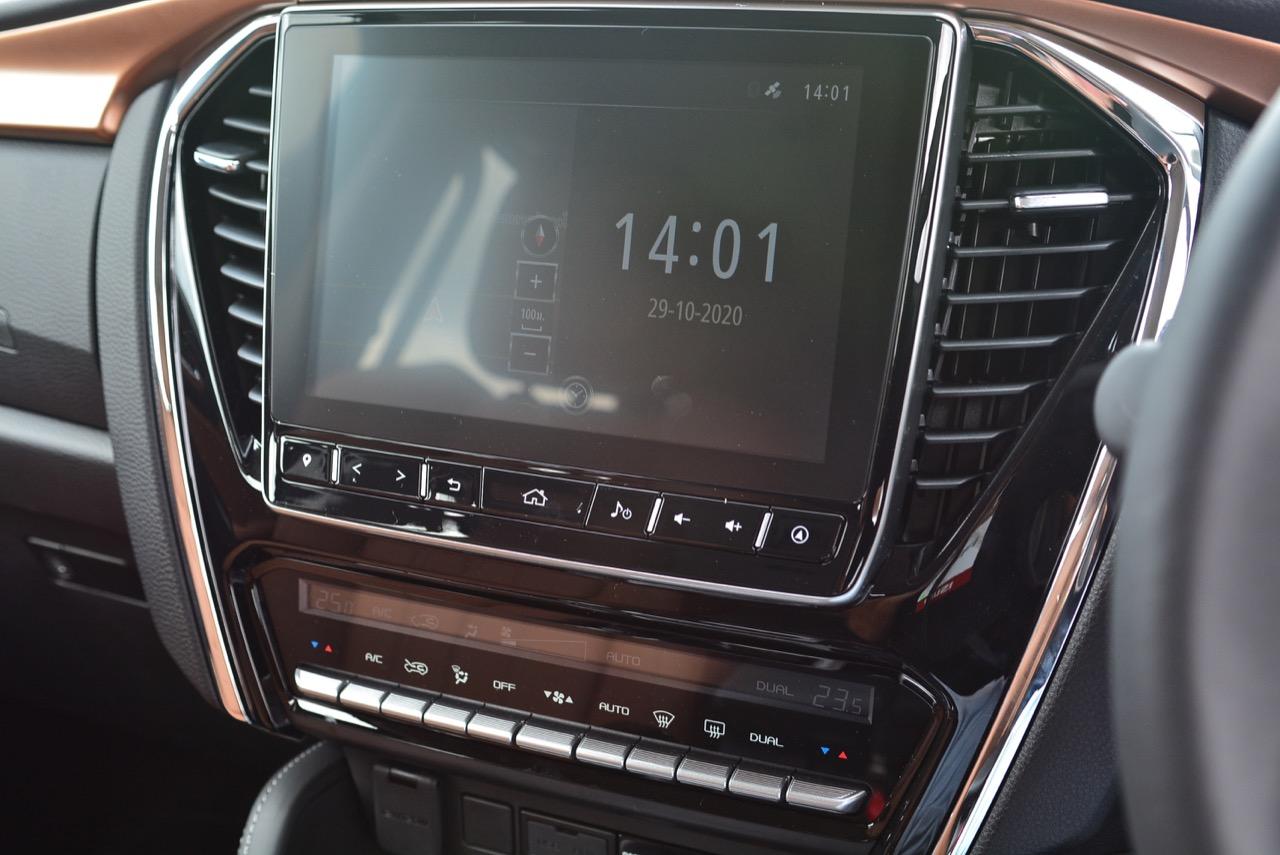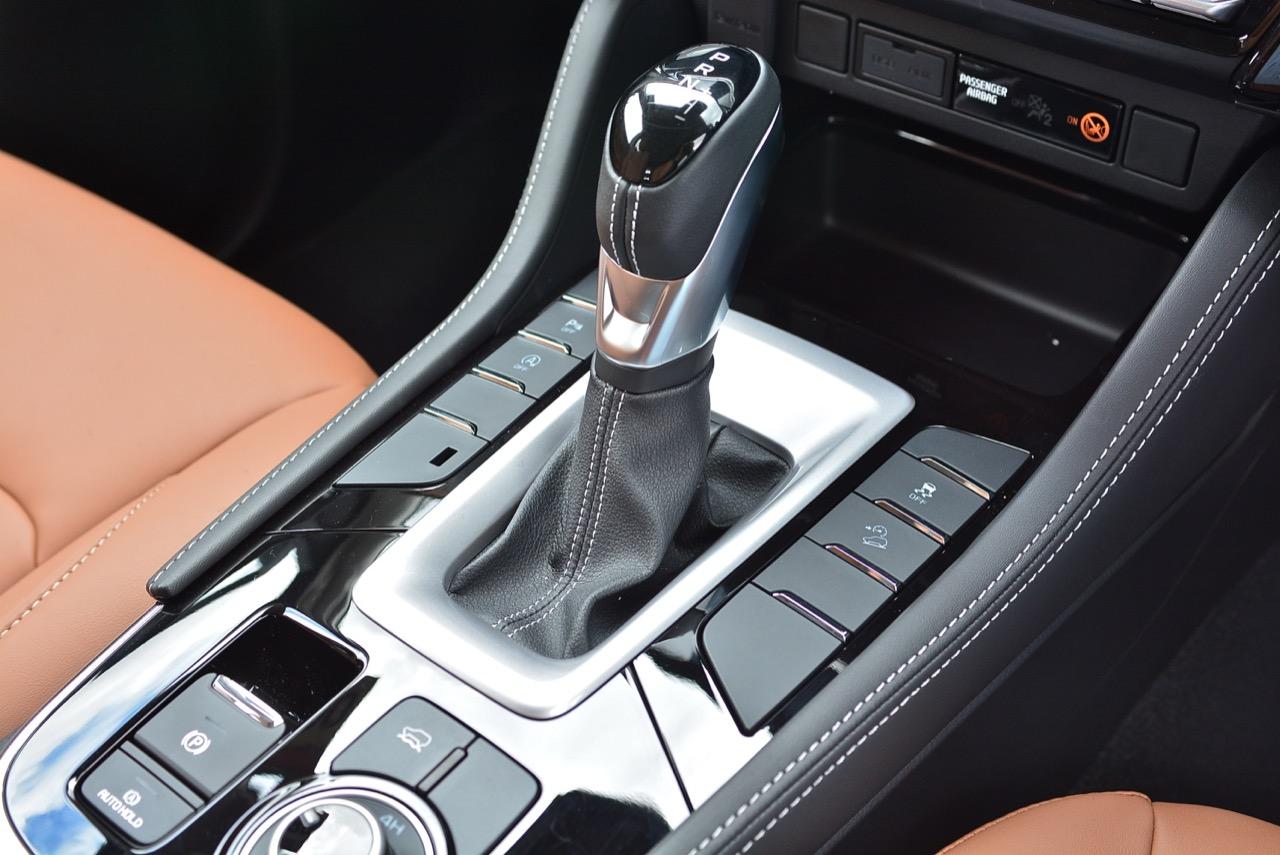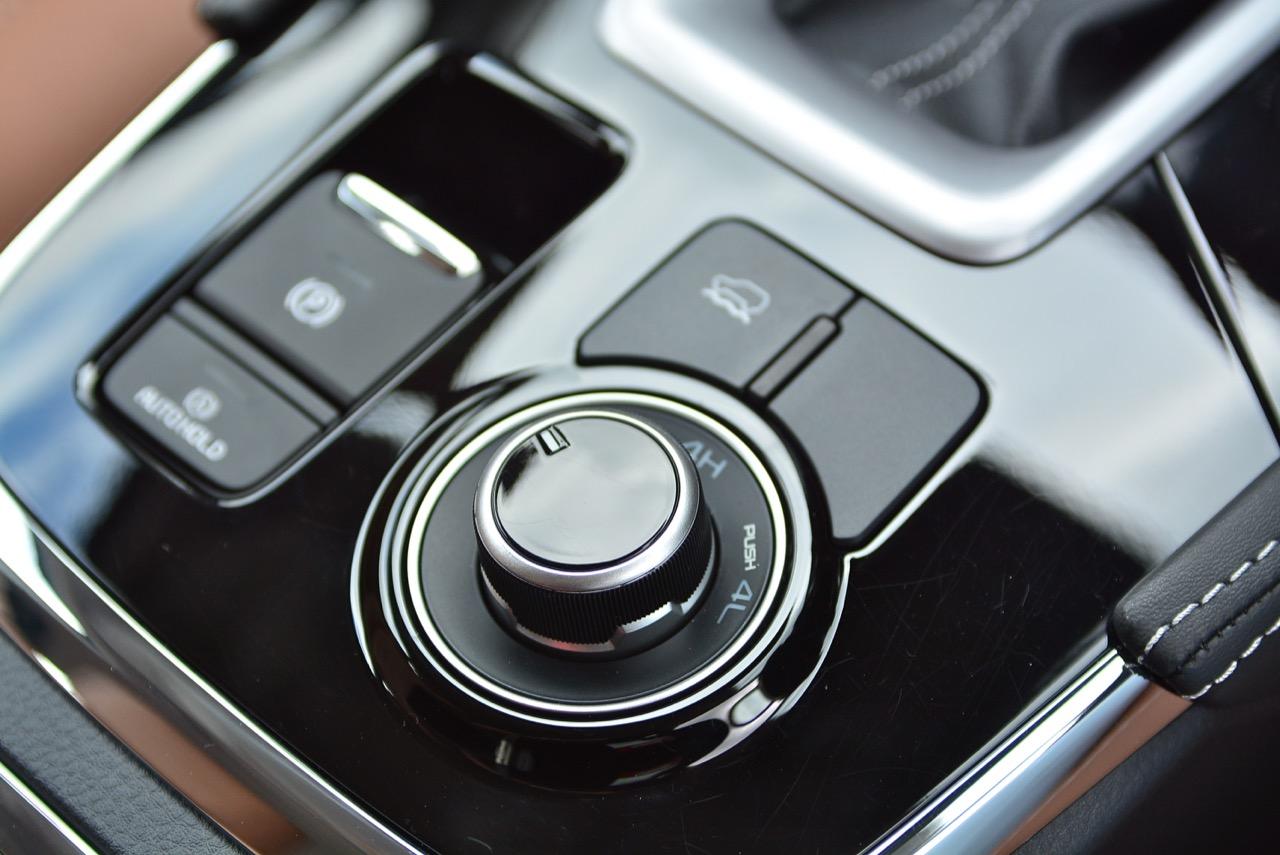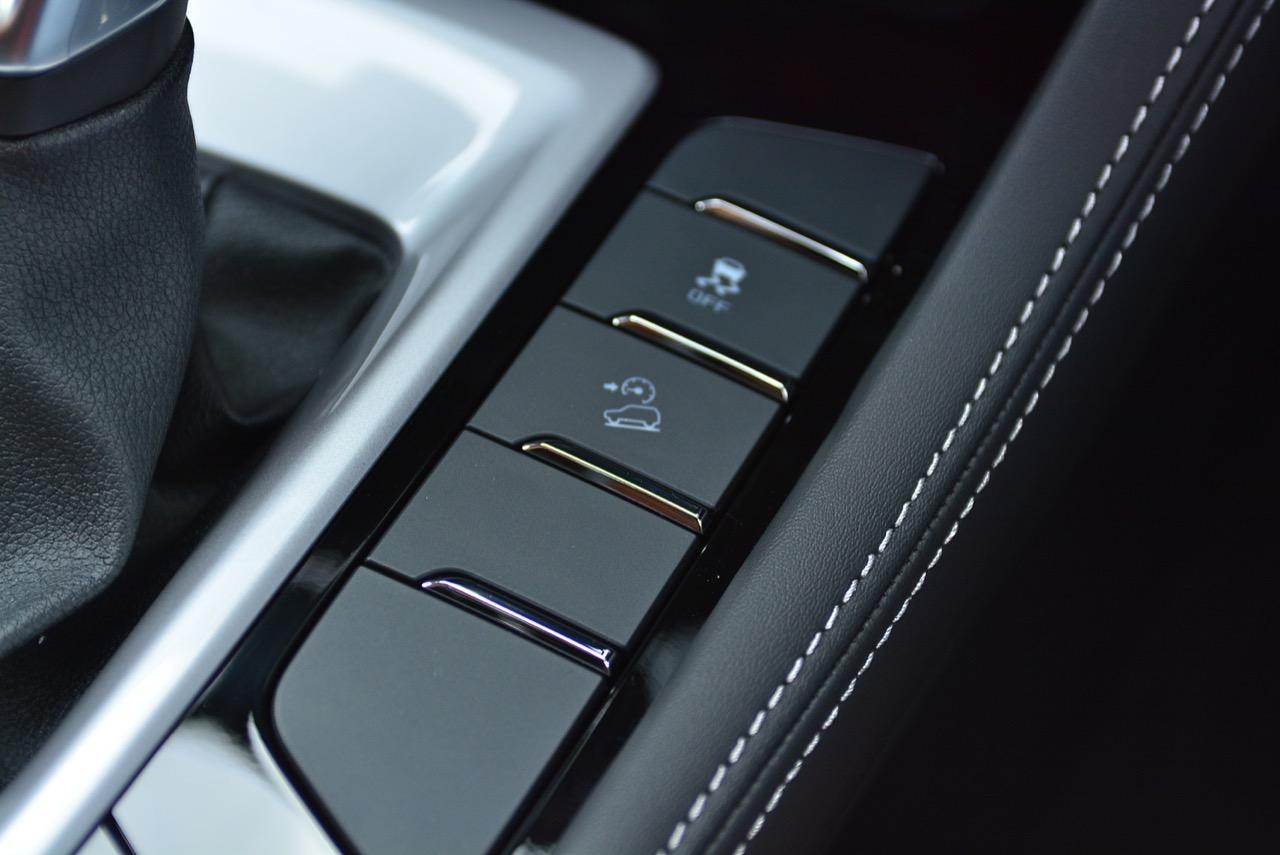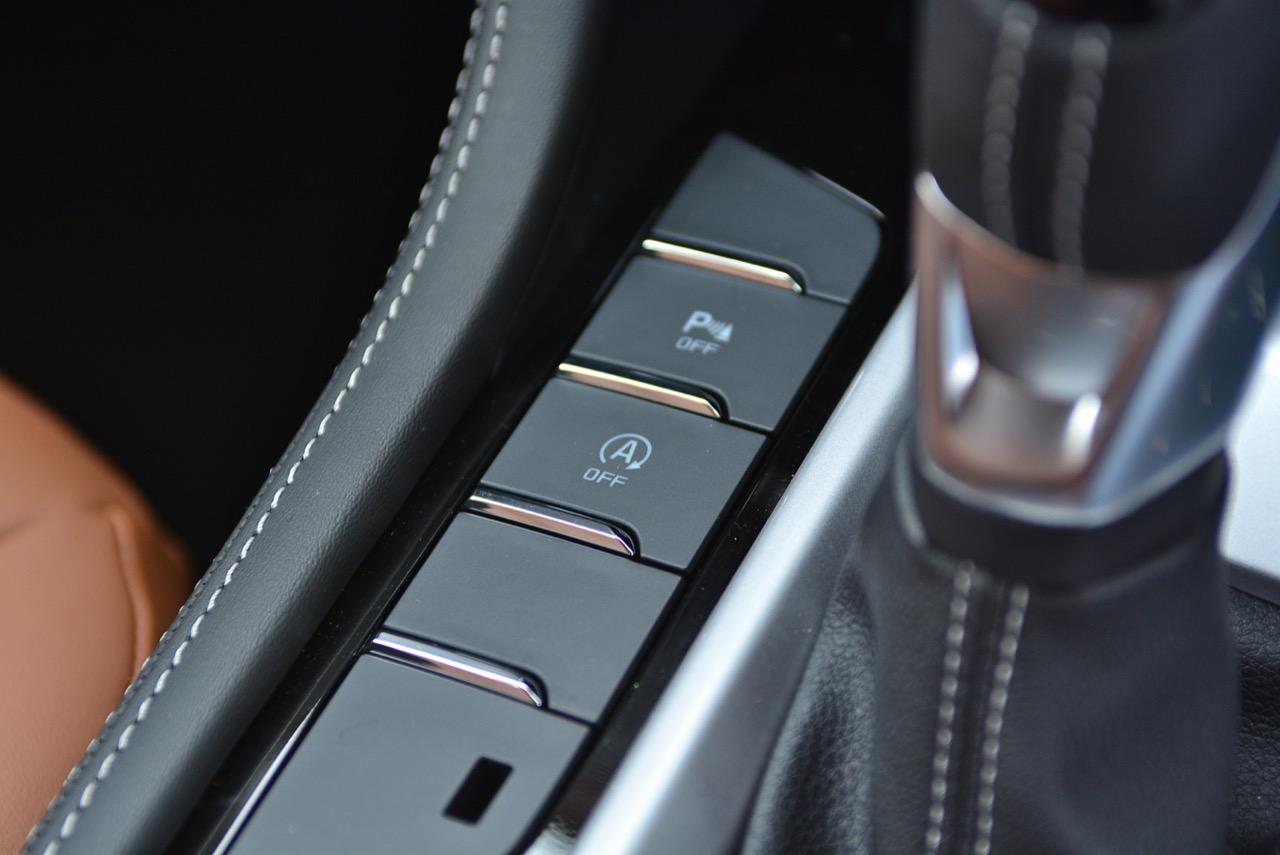 The Optitron light gauge dial retains an easy-to-read needle gauge. Center of tachometer and speedometer It is the address of a 4.2-inch TFT color 3D MID color display for the center monitor. Equipped with an audio control screen, a navigation system, a rear view camera, operated with a 9-inch Touchscreen or voice commands Voice Recognition, the multimedia system of the New MU-X, the highest model also has a Bluetooth wireless connection system, AUX connector / USB audio kit supports Apple CarPlay / Android Auto can be customized with audio control switch on the left steering wheel. The audio system comes with 8 speakers located around the passenger compartment. Electric handbrake system, EPB, Switch, Auto Brake Hold system, USB Fastcharge 2.4A charging port for rear passengers, 2 positions, and that I like it very much AC 220V home charging socket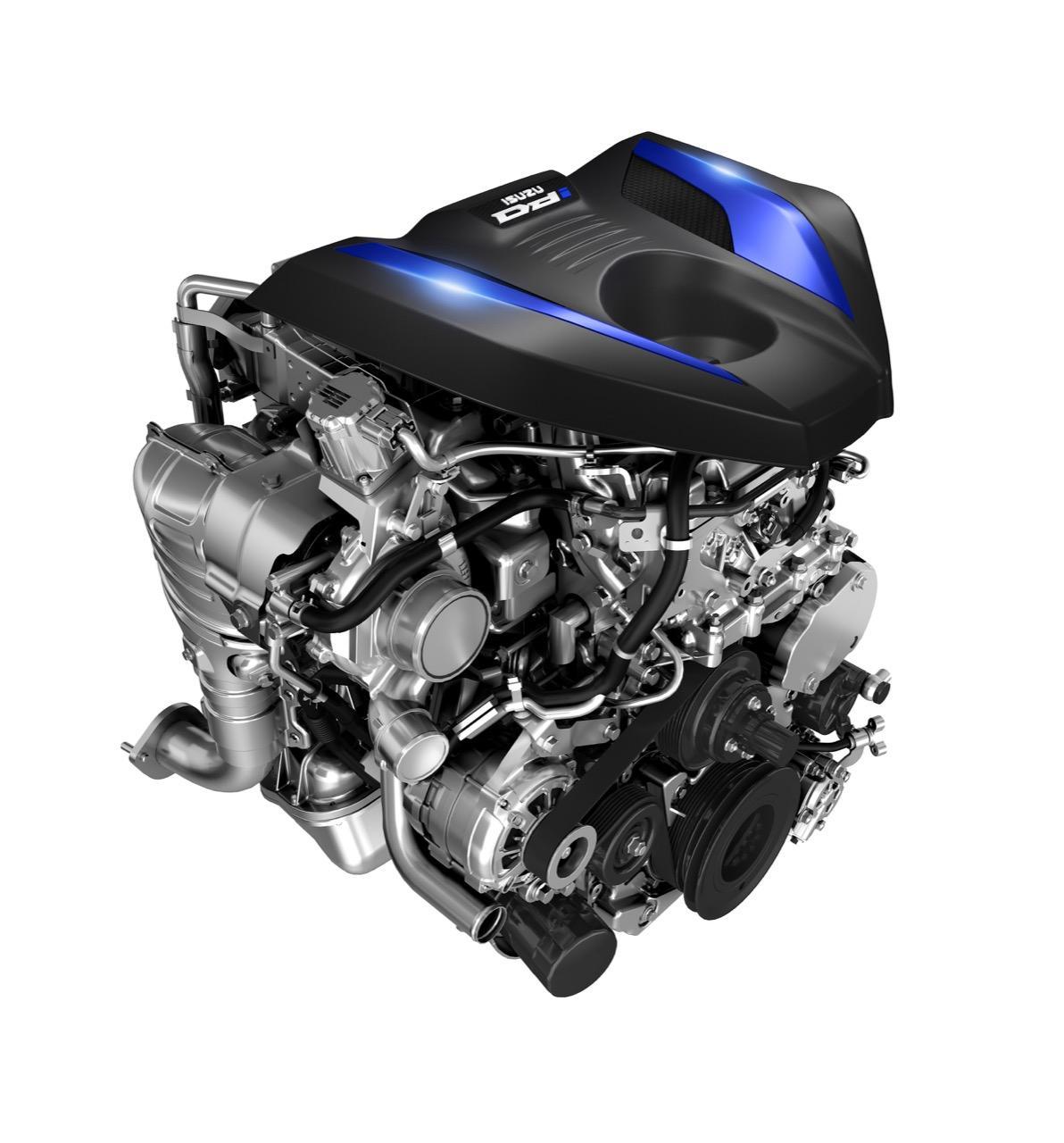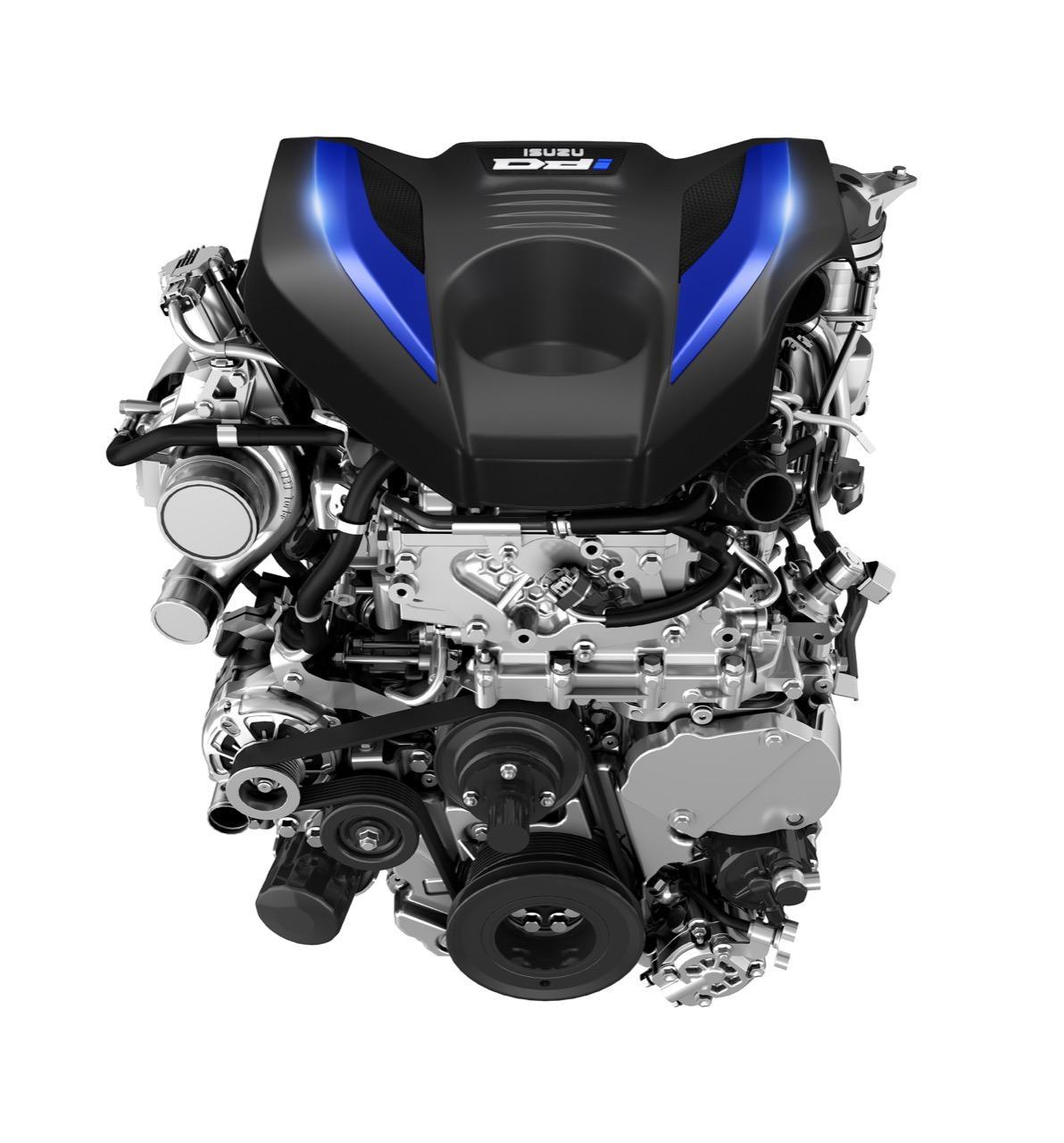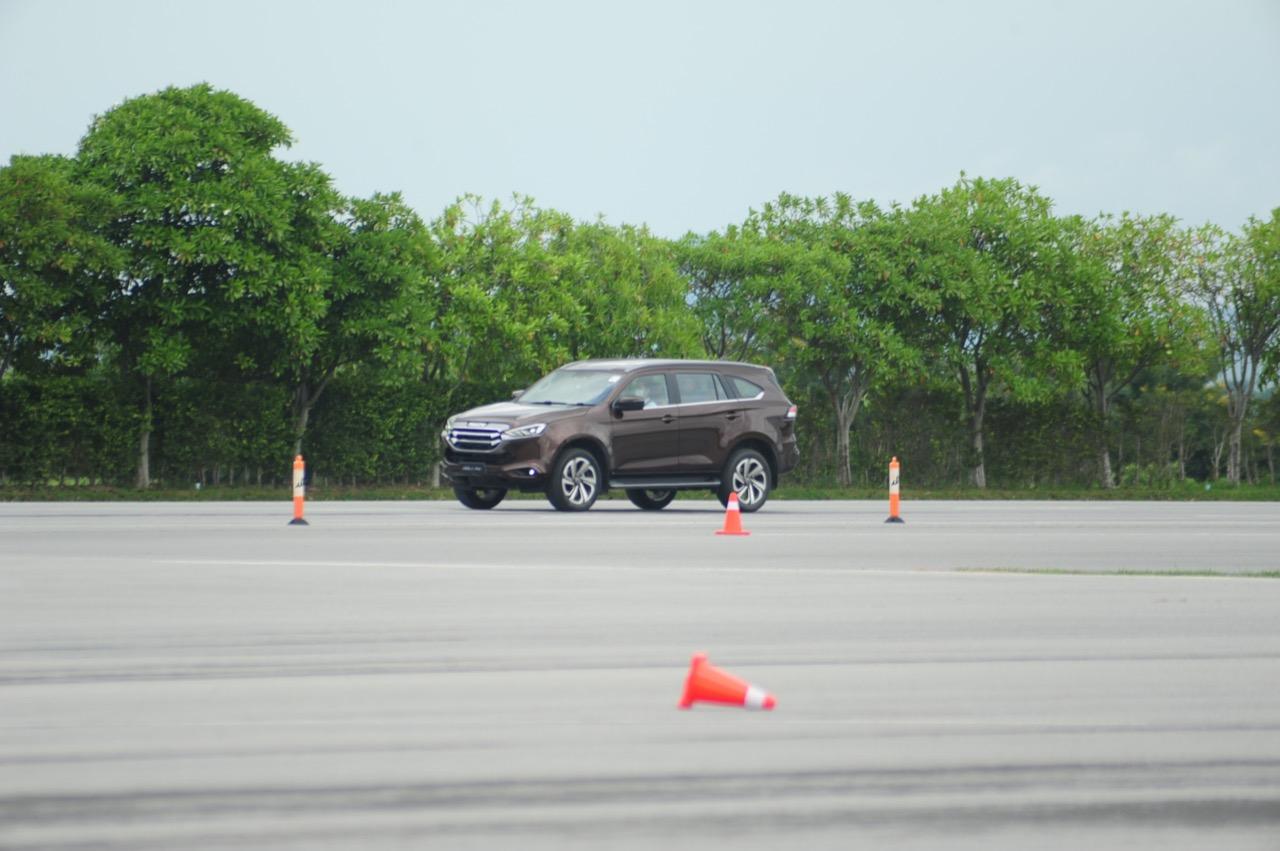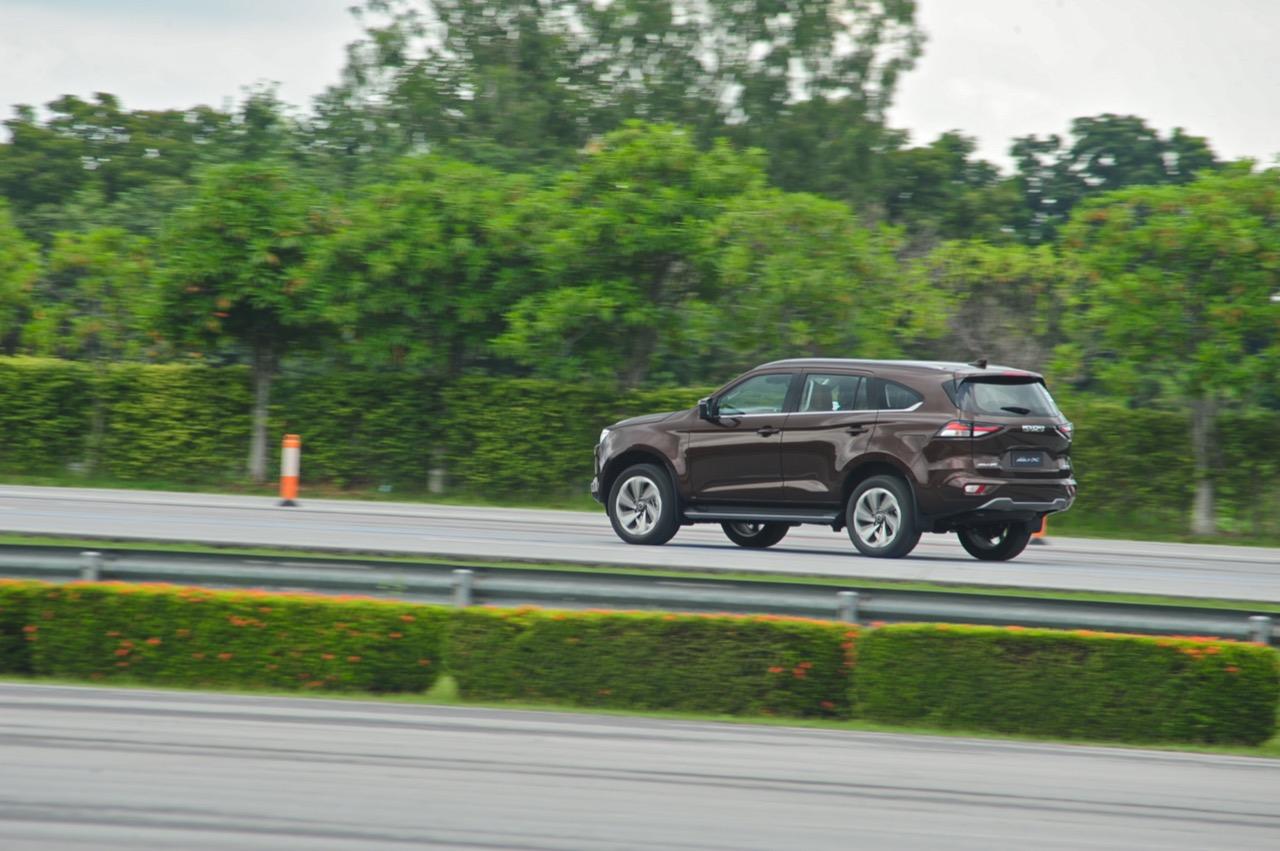 New MU-X test vehicle, maximum version 3.0 ULTIMATE AT 4WD, placed in a four-cylinder in-line turbo diesel engine, is a diesel engine in the division of Isuzu that has been used for a long time. But there are improvements to increase the performance in horsepower and torque, diesel engine, code 4JJ3-TCX, size 3.0 liters, 2,999 cc., 4 cylinders, in line with 16 valves, DOHC Commonrail Direct Injection, compressed air with VGS turbo, variable fins with a set of low-temperature intercooler with power 190 Horsepower at 3,600 rpm, maximum torque of 450 Nm at 1,600 - 2,600 rpm, the transmission uses a 6-speed automatic transmission, Sequential Shift with manual transmission mode, Manual Mode + - and a 4-wheel drive system, ISS Idling Start system. / Stop reduces pollution, independent front support system, double wishbone, double wishbone, coil spring, stabilizer bar, 5-Link rear shock absorber, stabilizer bar, shock absorber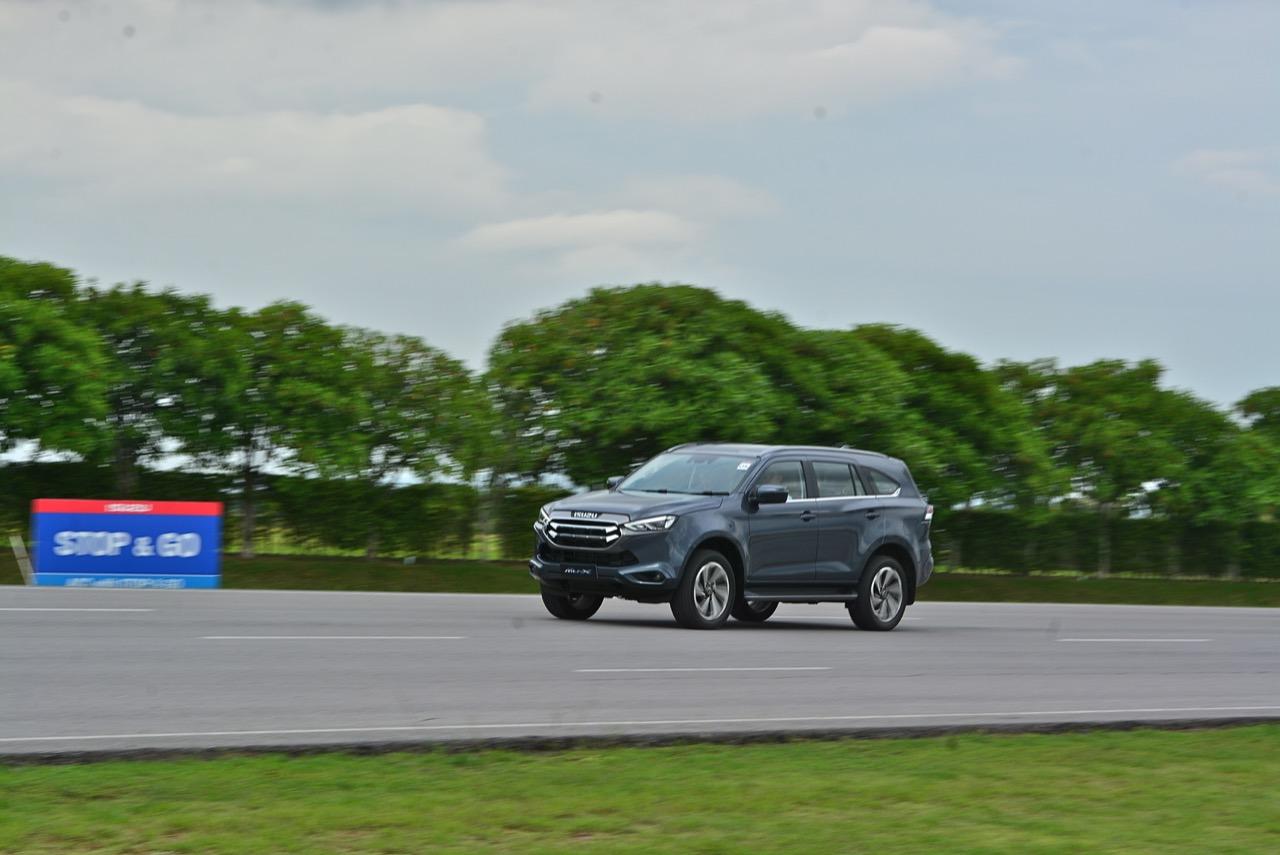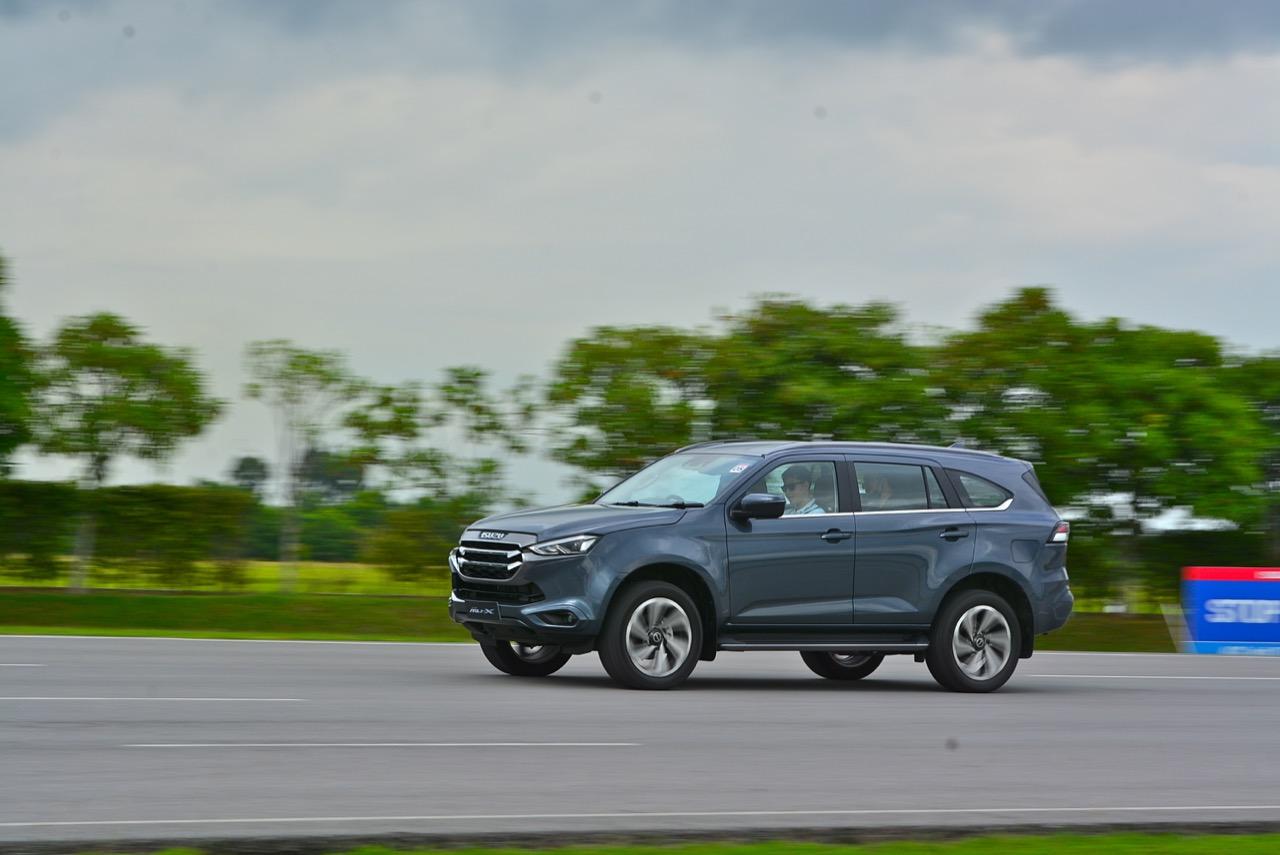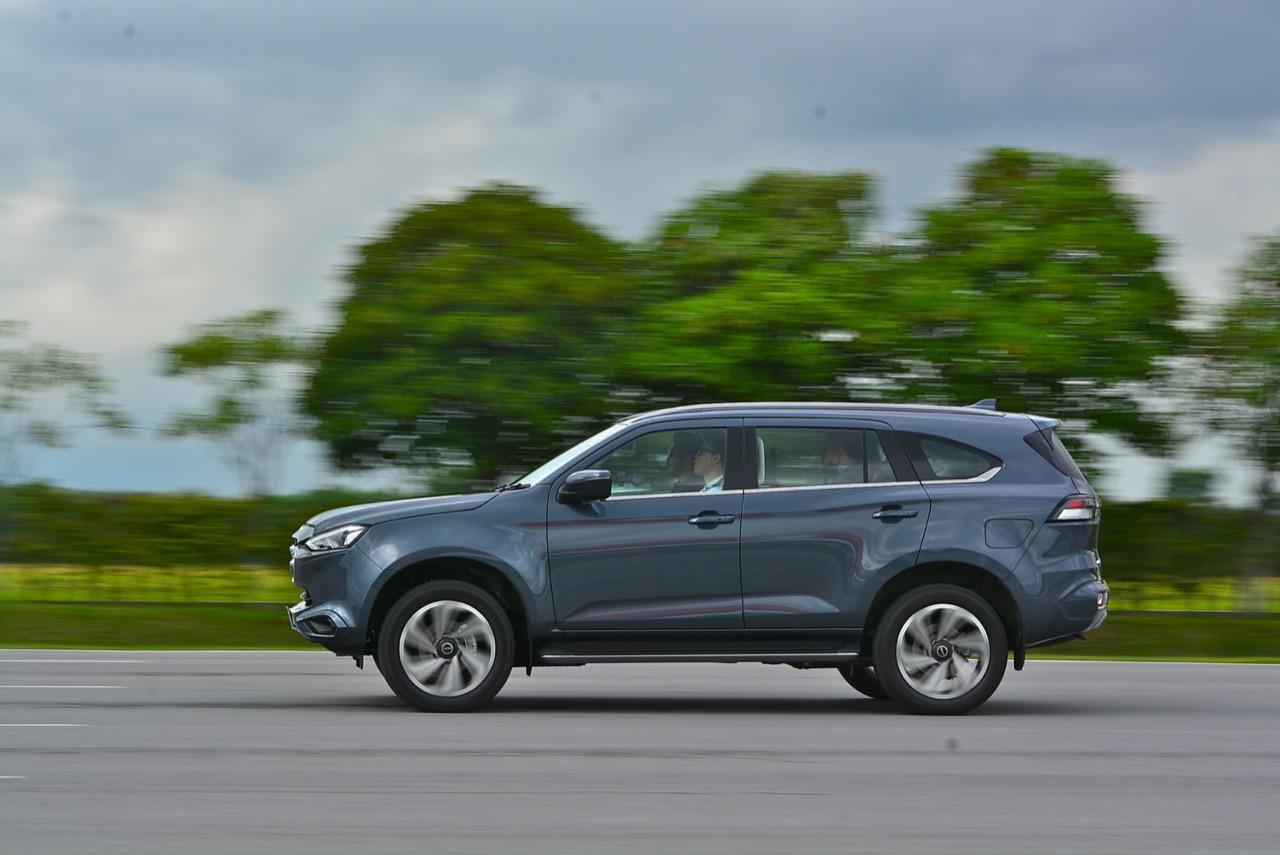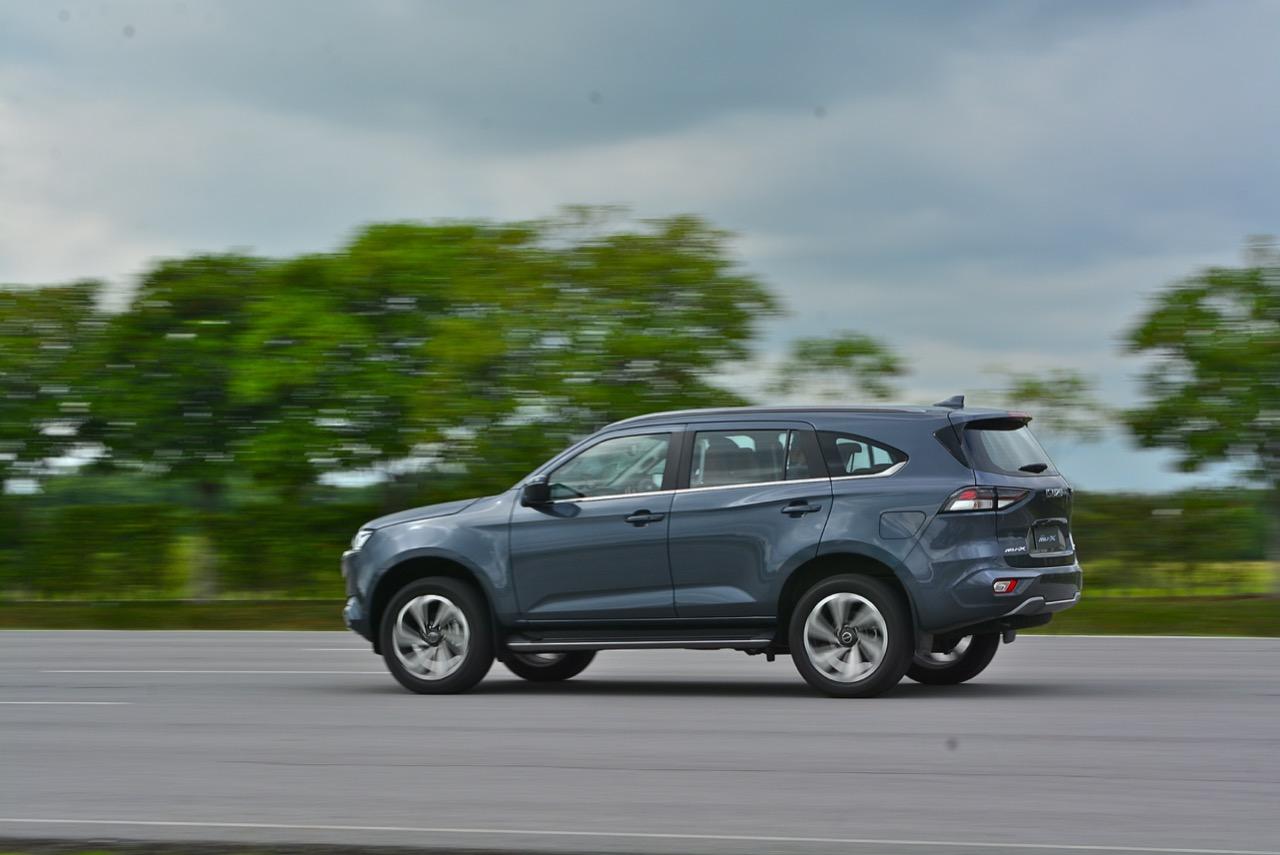 A short test drive Just two days after the launch at the Bridgestone test track, as soon as I had to drive. The rain poured down so heavily that it had to drive the new top-of-the-line MU-X to run steadily in heavy rain at a speed of 80 km / h. If you accelerate more than that Field conditions that start to get water on the track surface can cause problems when driving too fast. The steering wheel feels lighter and more comfortable in the hand than the previous model. Even a belt power steering With hydraulic pump Not electric steering But the sentimental feel is fine, the steering racks have been adjusted for precise turning distances. Relative to the angle of the wheel Better weight transfer in the curve Including the brakes that use disc brakes on all four wheels that improve confidence better. The engine and 6-speed automatic transmission work in low revs. Create torque from the start. To the travel speed district There is a uniform smoothness of the power transmission. I pushed it to a speed of 100 kilometers per hour. Until we could barely see the path As the rain grew thicker, the beads became more and more long curves that were filled with water Rubber is still responsible for good adhesion. The speed is reduced when driving towards a wide arc. The tires do not have to bear much burden. Bridgestone Dueler H / T size 265 / 50R20 107S watering fairly quickly. But must use speed to suit the road surface at that time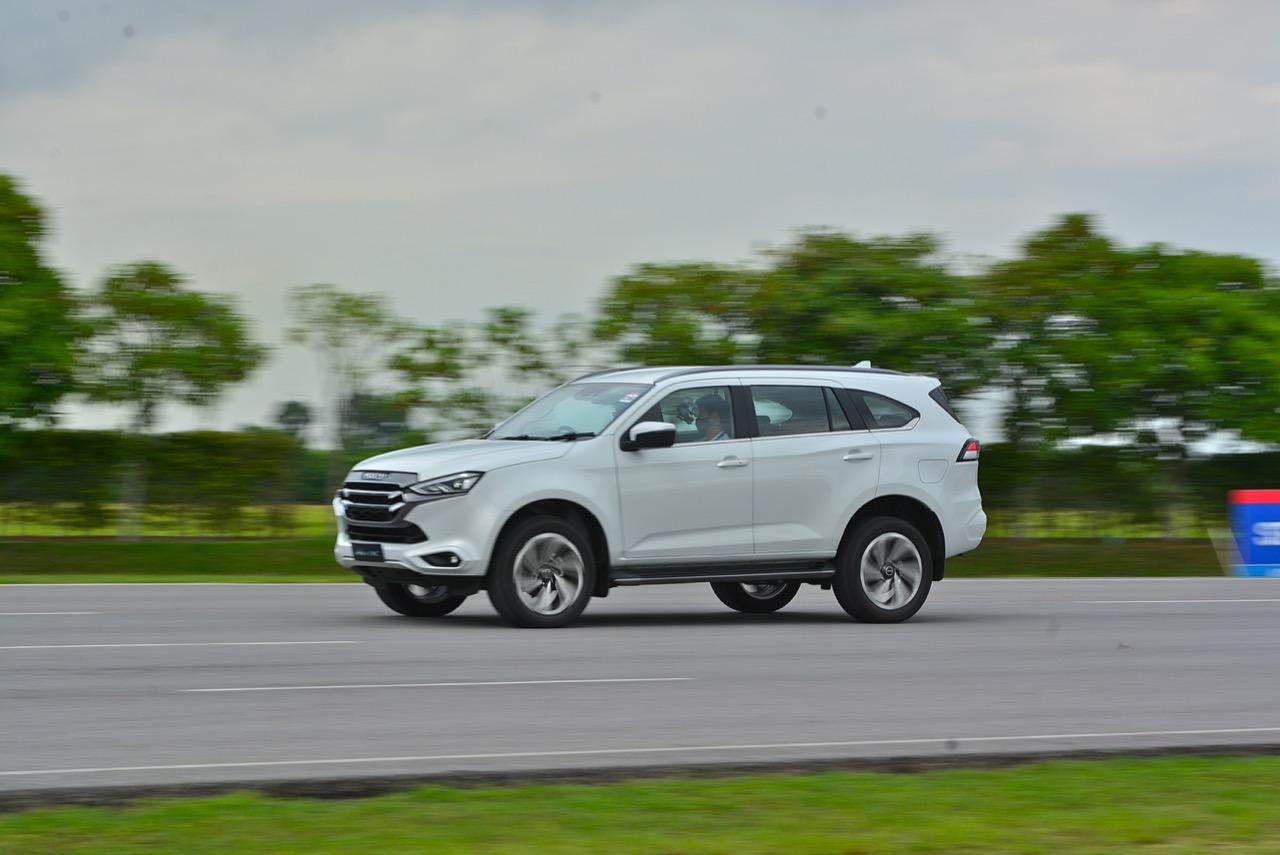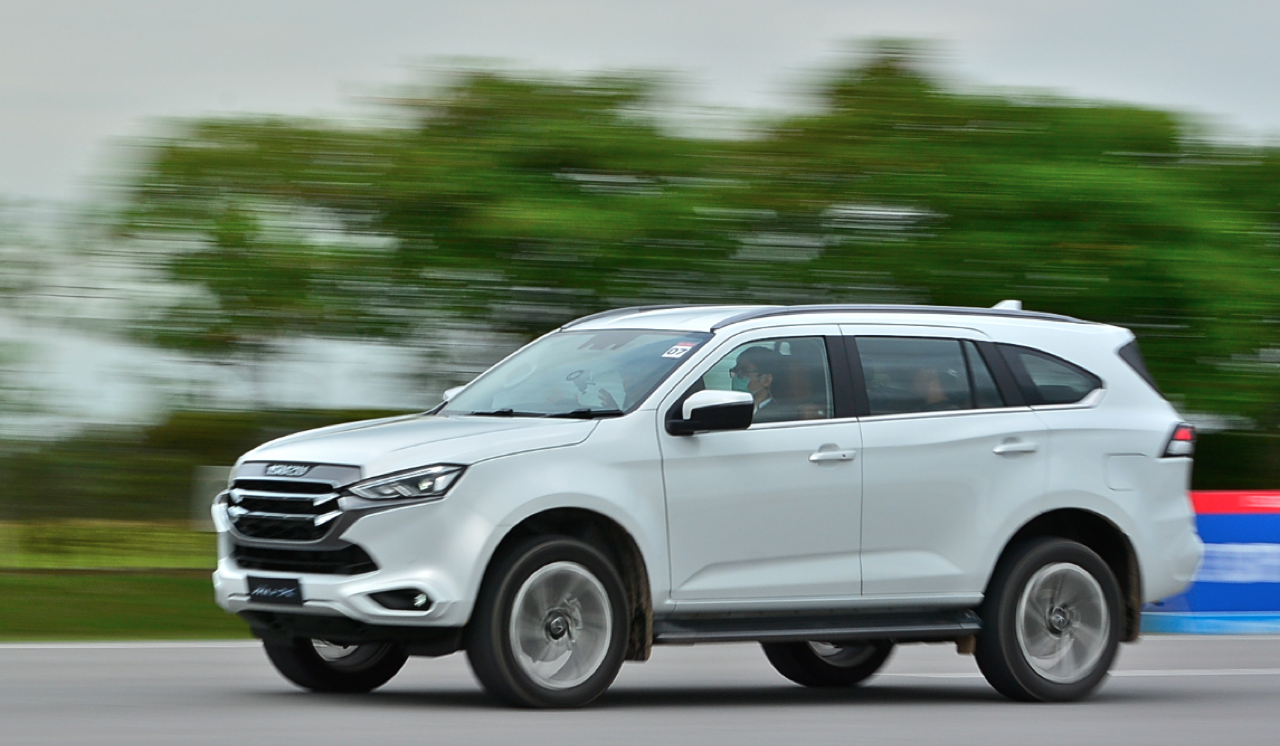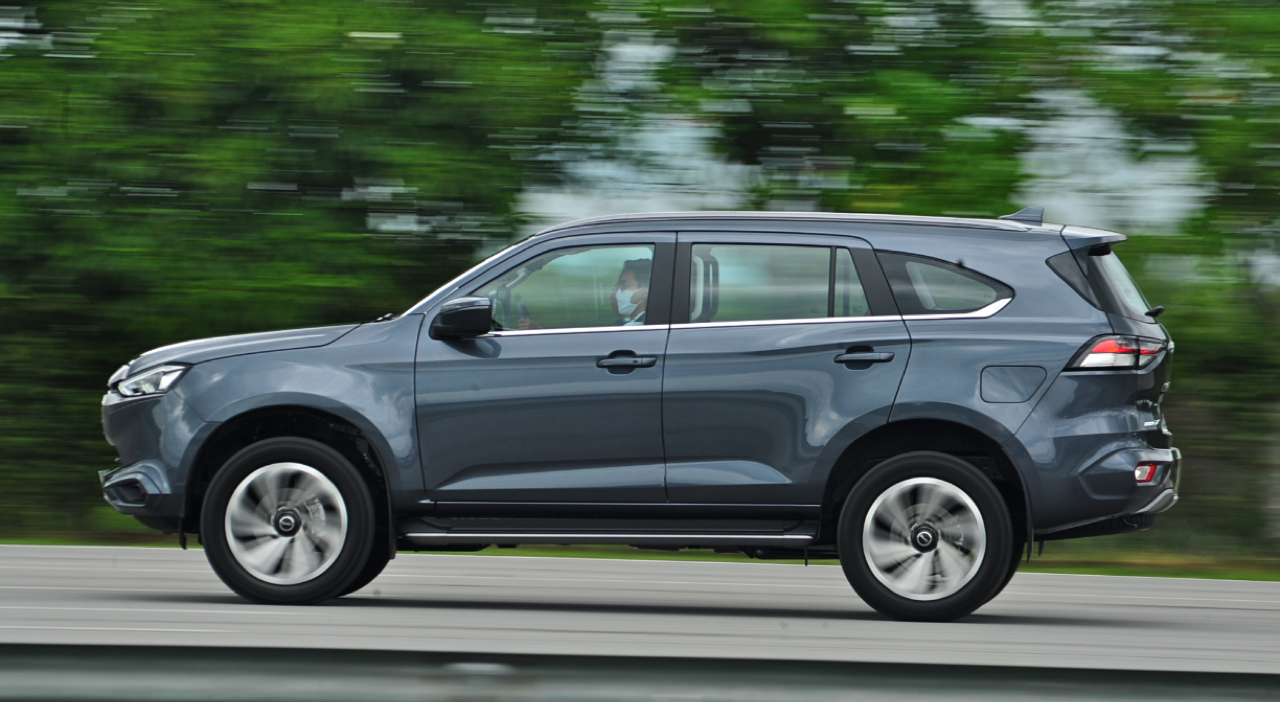 Transmission and suspension Isuzu Symmetric Mobility designs the body structure, chassis, engine positioning and suspension work together as one. Provide good balance It is available in both stability, softness, and advanced safety systems to support it. The 3,000-kilometer-long test track is used to test the Isuzu MU-X's performance, from starting and accelerating to overtaking straight paths. Both the long arc and the alternating curve that mean It includes a 4.5-degree slope, 130-meter long, lane departure warning test, Lane Departure Warning LDW, one of the ADAS safety systems.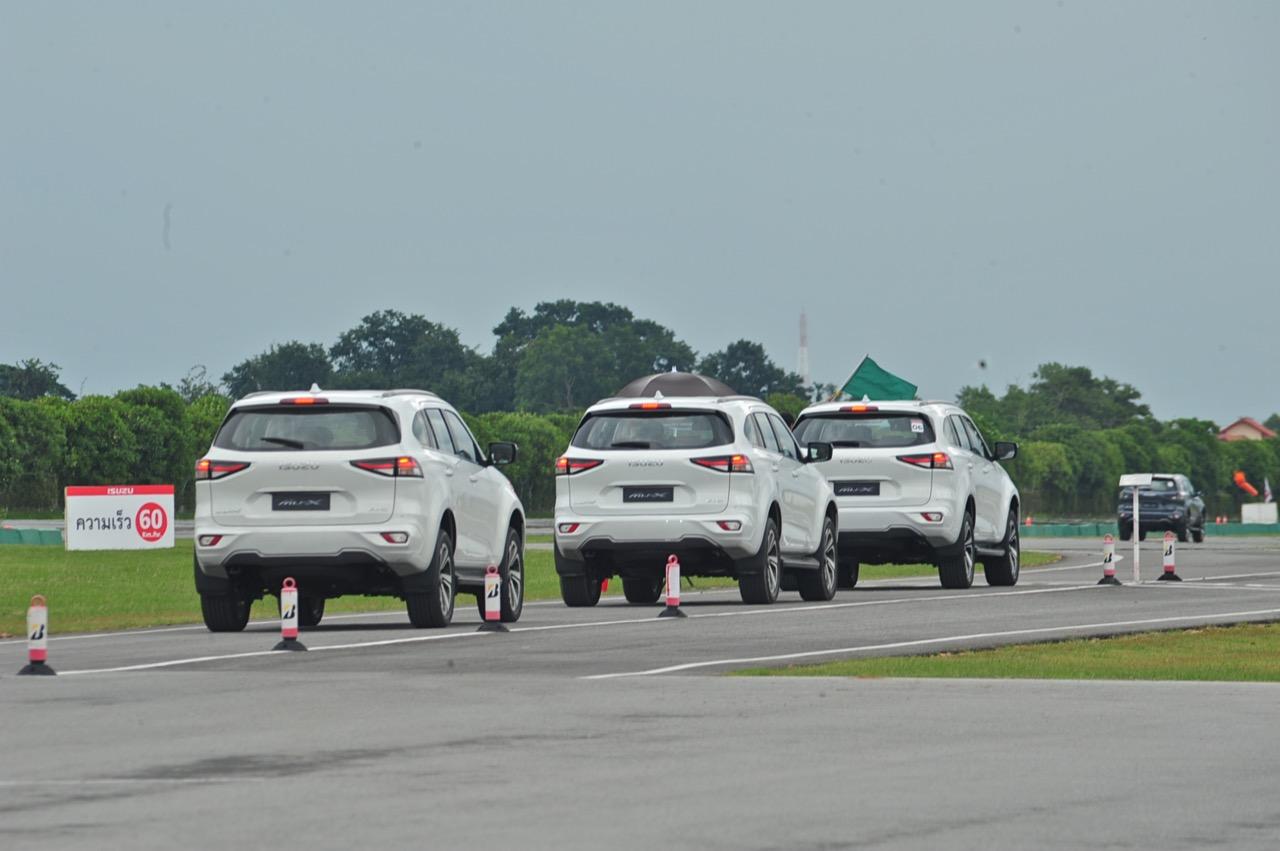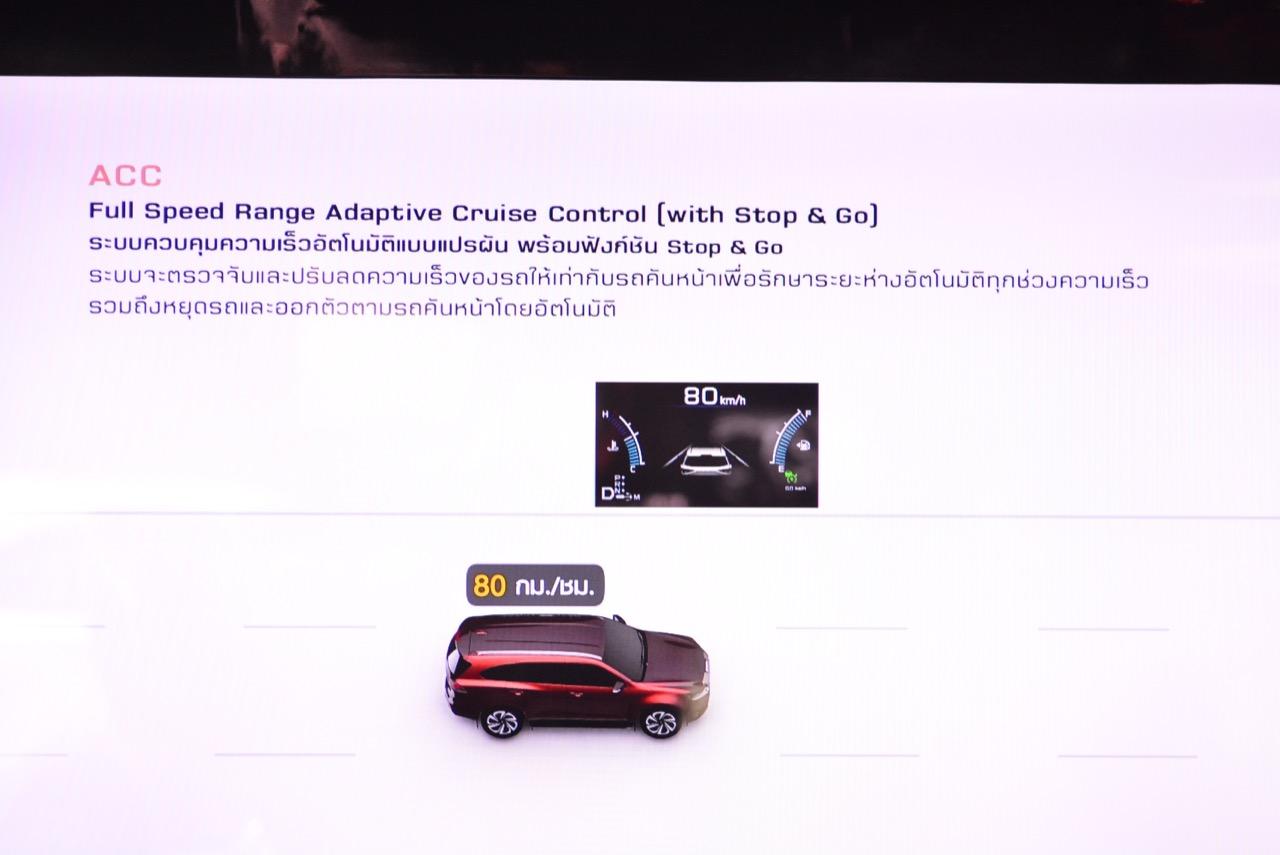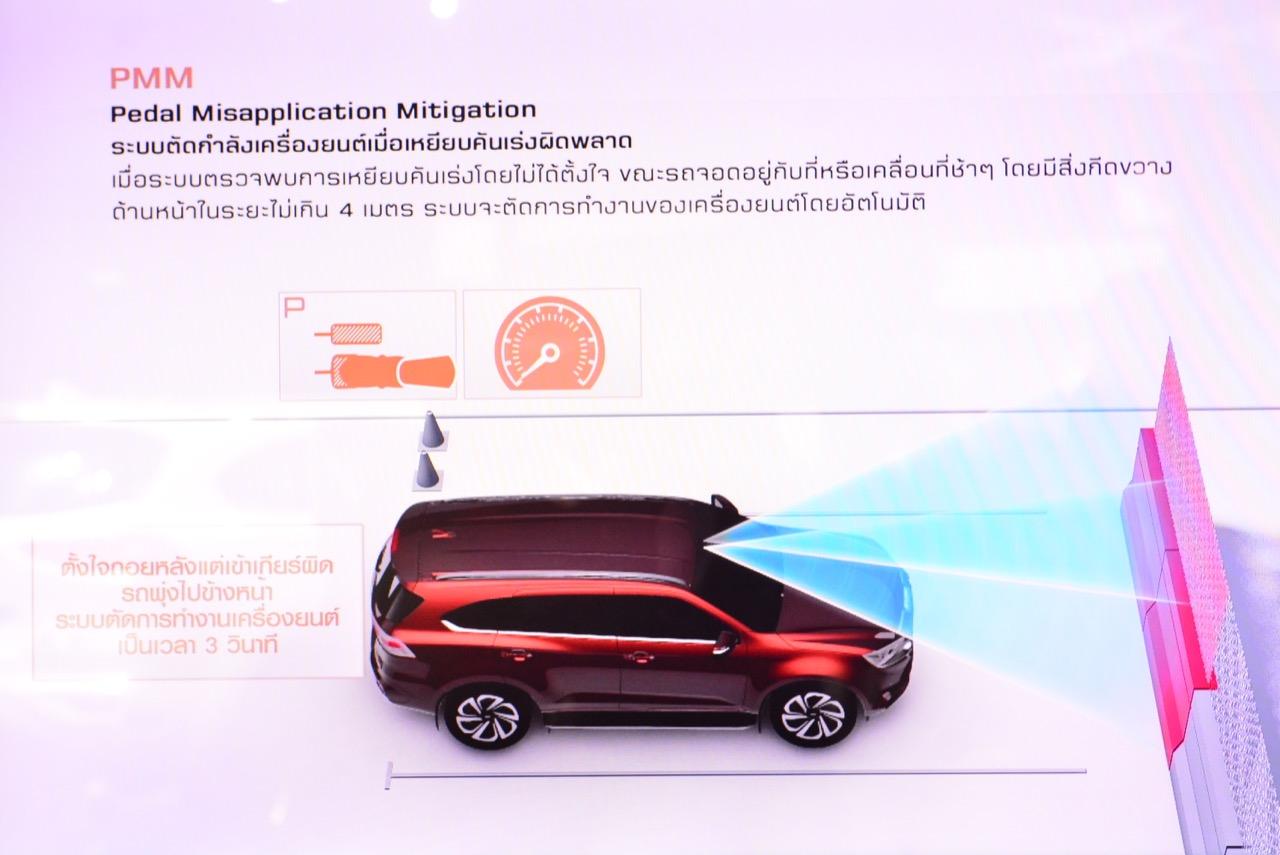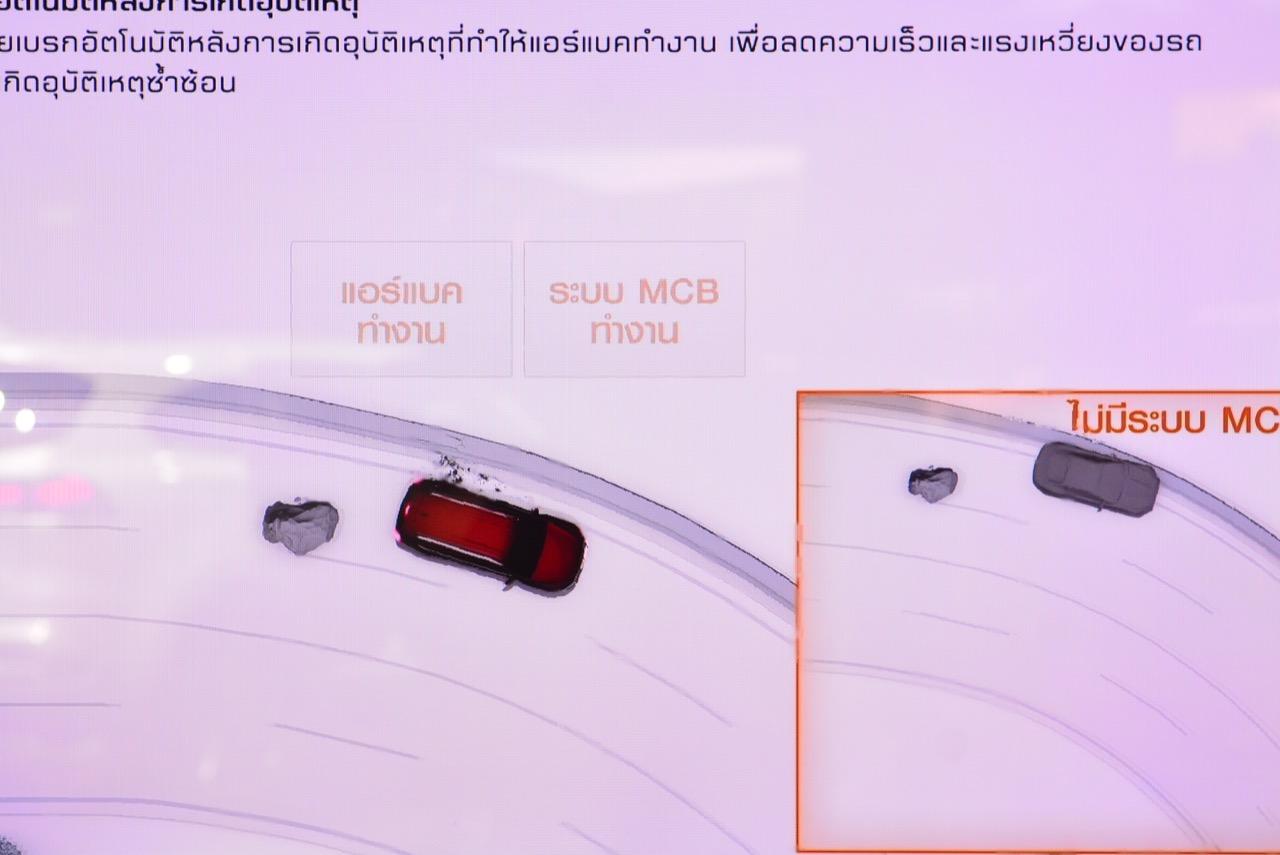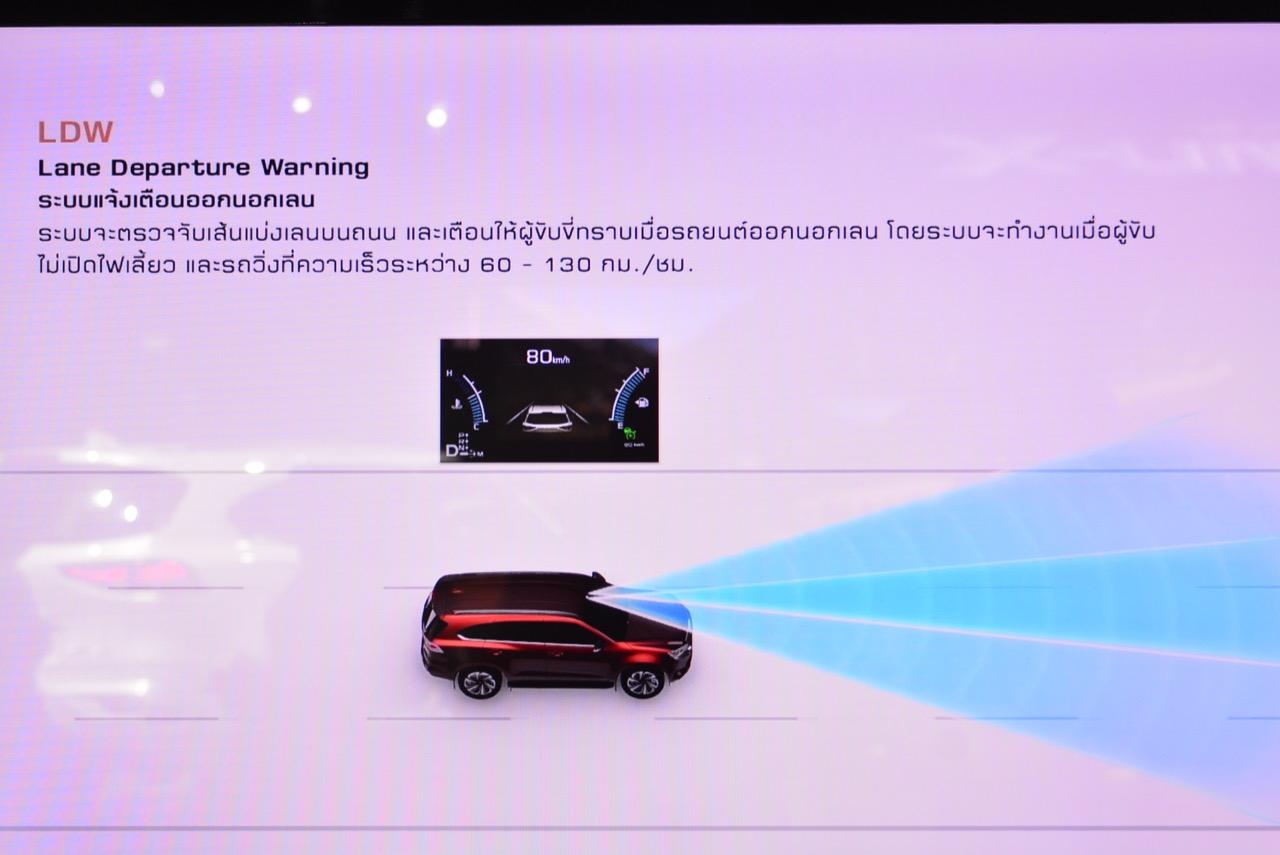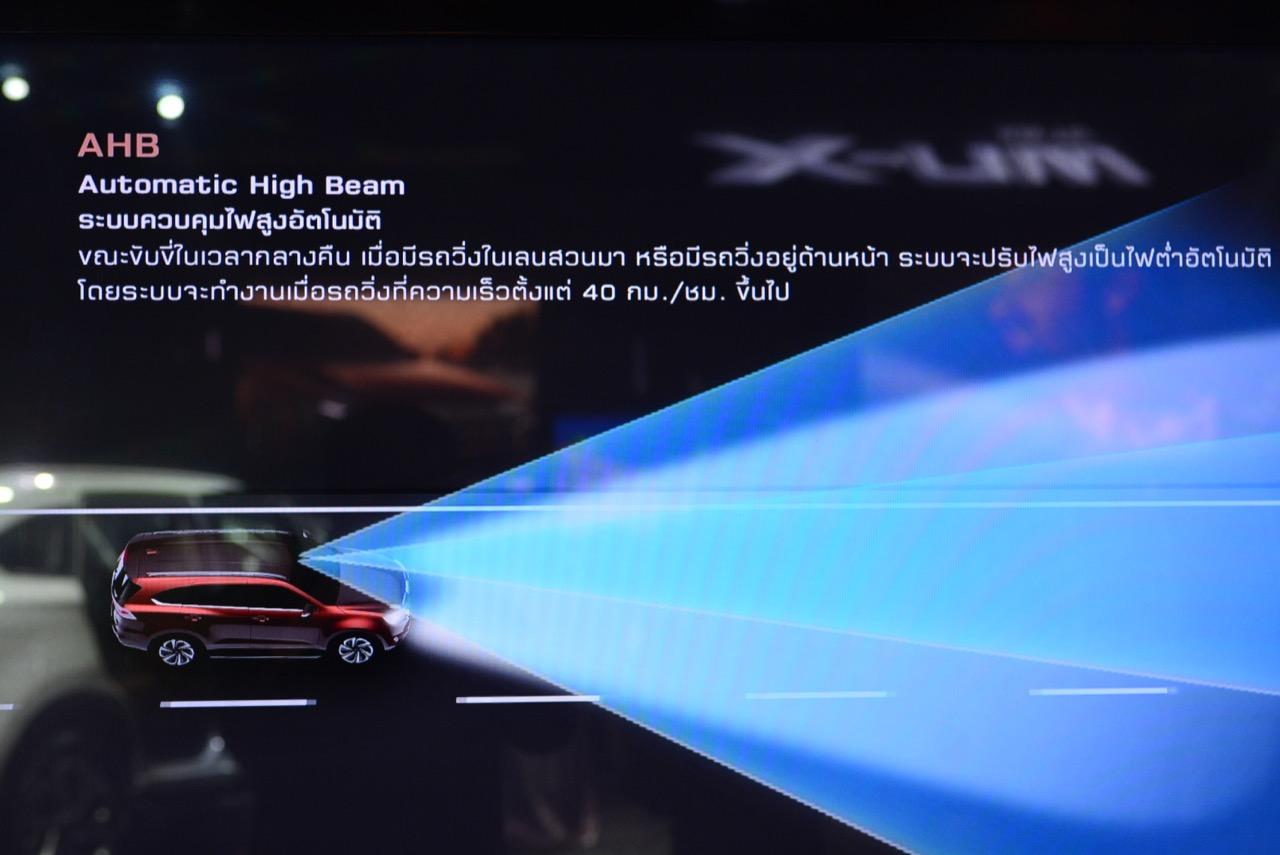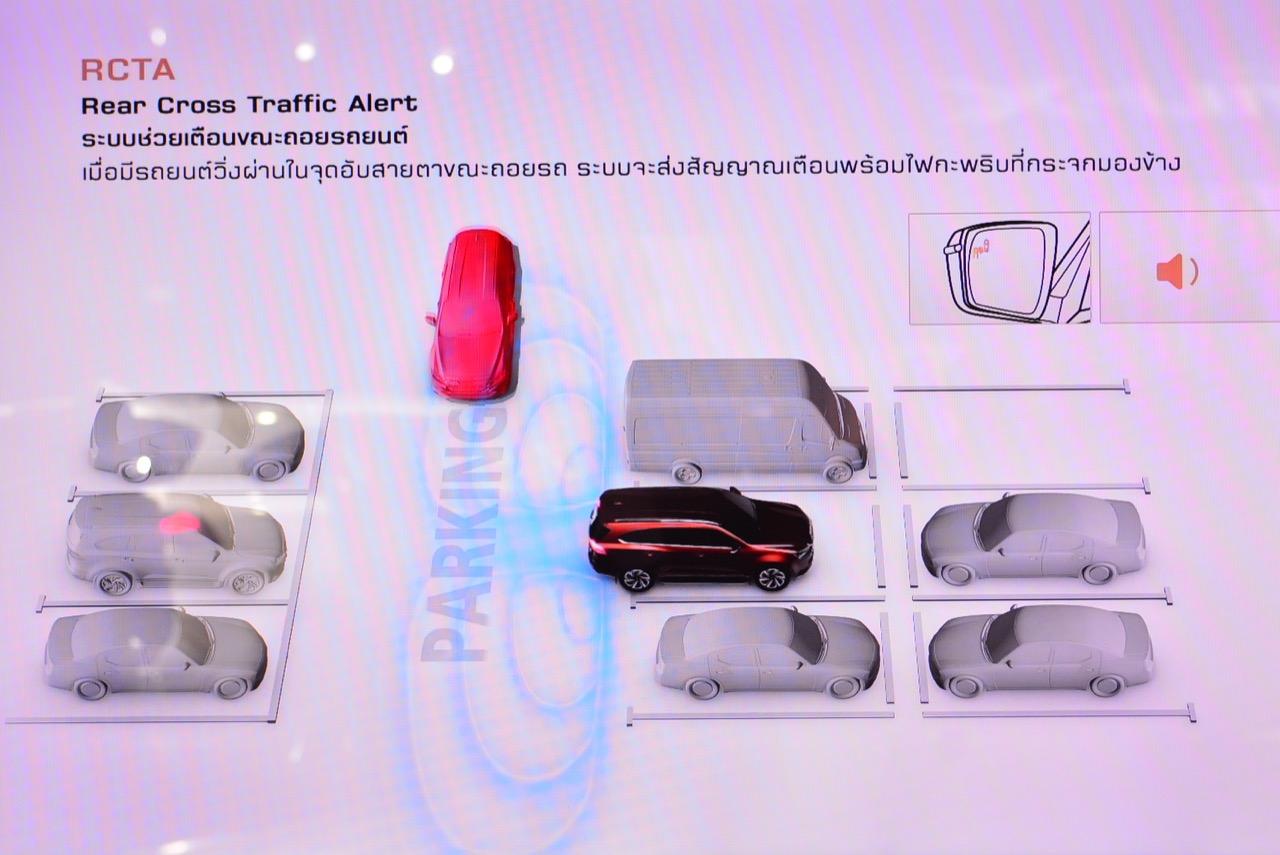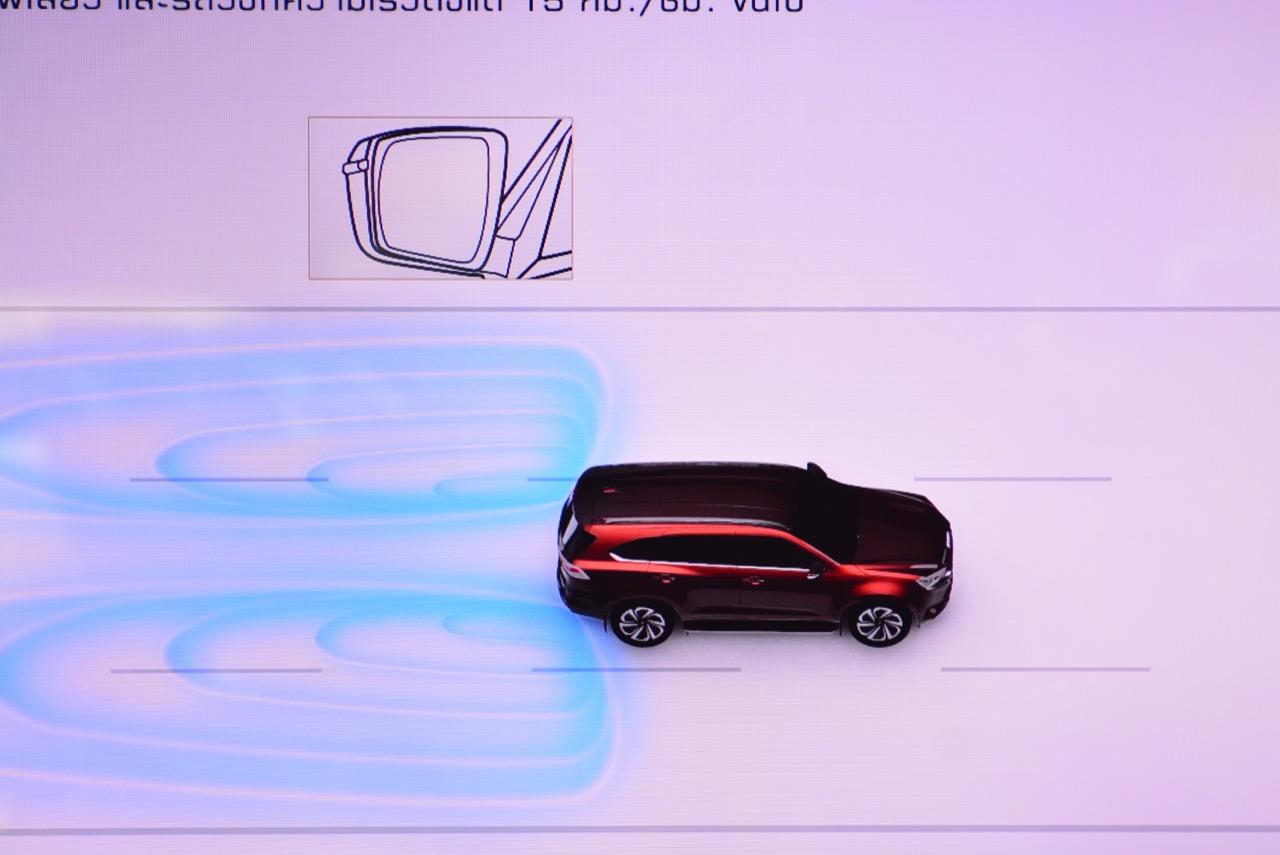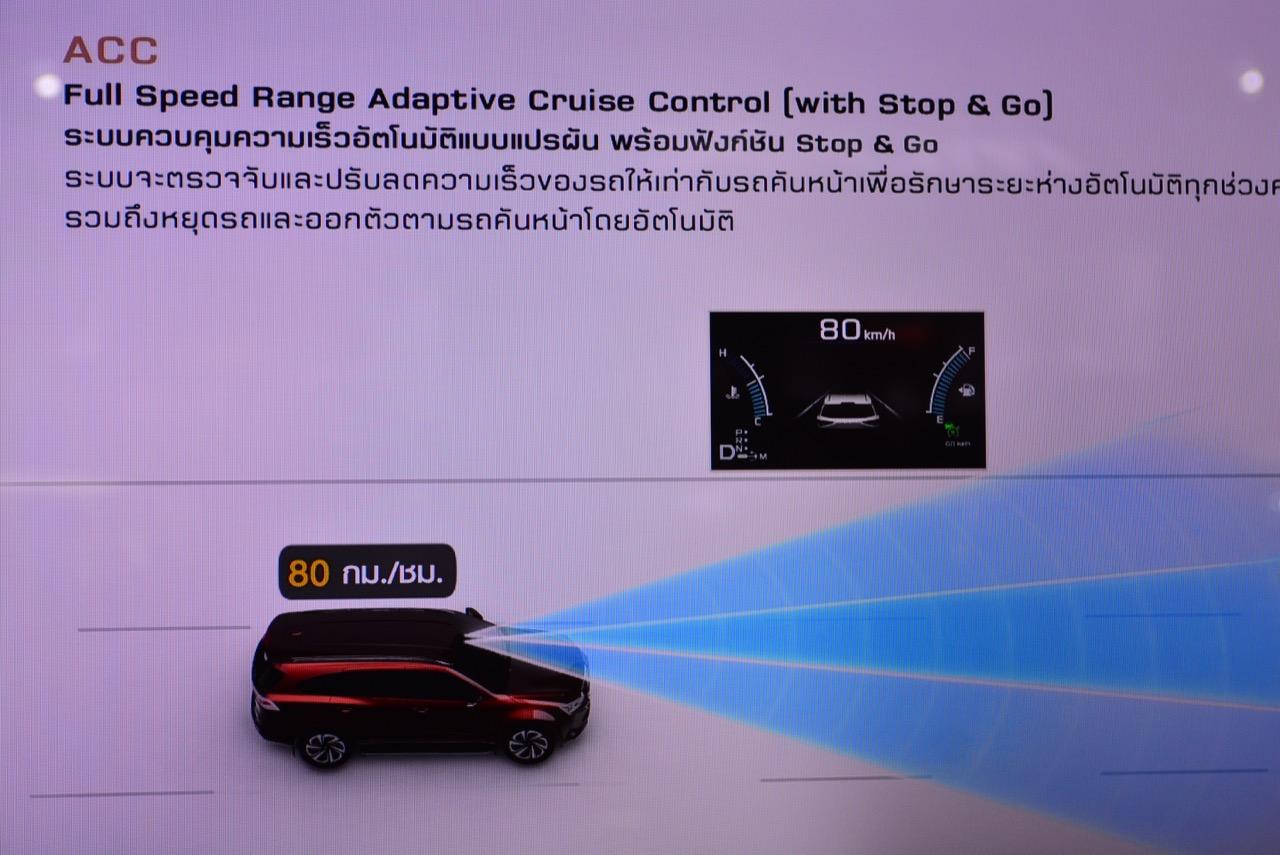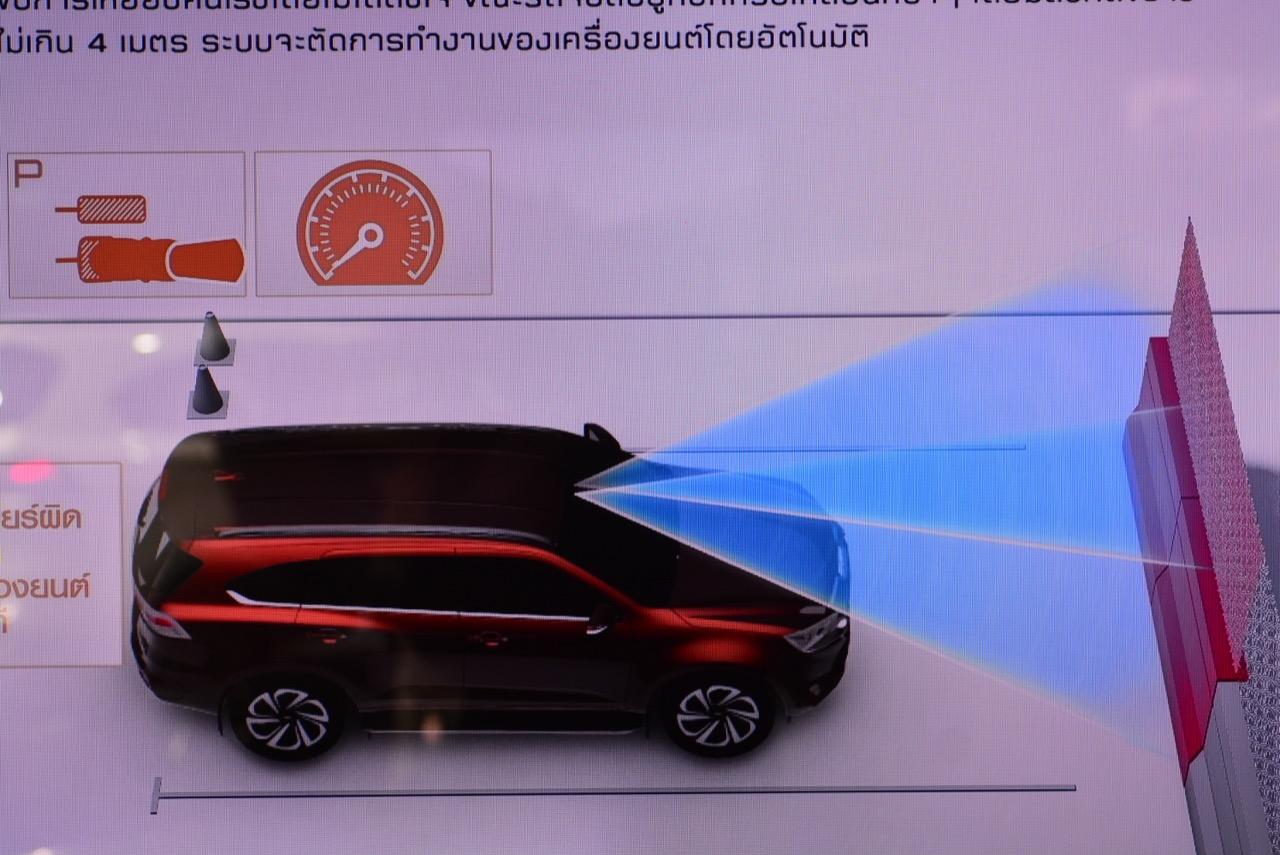 Safety System ISUZU MATRIX SAFETY INTELLIGENCE
designed that all safety systems work together as one.
The latest driver assistance system ADAS (Advanced Driver
Assistance Systems) helps to monitor dual front cameras, 3D Imaging Stereo Camera acts as eyes. It is able to clearly
detect road lines and objects in front of you in Real Time
. And more accurate than a single-camera Mono Camera
with radar 2 points and sensors 8 points around the car

ACC (Full Speed ​​Range Adaptive Cruise Control)
variable speed automatic control system. With Stop
and Go function

FCW (Forward Collision Warning) front collision warning system


AEB (Autonomous Emergency Braking) automatic emergency braking system
LDW (Lane Departure Warning) Lane Departure Warning

AHB (Automatic High Beam) High Beam Automatic Control System

PMM (Pedal Misapplication Mitigation) Engine power cut when the accelerator pedal error

MSL (Manual Speed ​​Limiter) Maximum speed limit setting system By itself,

BSM (Blind Spot Monitoring), Blind Spot Warning System,


PMM (Pedal Misapplication Mitigation), Engine power cut off when the accelerator pedal is faulty,

MSL (Manual Speed ​​Limiter), system to set the maximum speed limit manually

BSM (Blind Spot Monitoring). )

Blind spot warning system RCTA (Rear Cross Traffic Alert)

Parking assistance system Parking Aid System Parking sensor system

MCB (Multi-Collision Brake) automatic braking system after an accident

Basic safety system
Anti-lock Brake System (ABS) Anti-lock system while braking with Brake Assist (BA)

Brake reinforcement system and Electronic Brake-force Distribution
(EBD) Brake force distribution

System Traction Control System (TCS) Anti-free wheel rotation system while exiting the

Electronic stability control (ESC) stability control system while driving.
Trailer Sway Control (TSC), rear trailer oscillation control system,

Brake Override System (BOS), engine power reduction system to help brake,

Hill Start Assist (HSA), Hill Start Assist (HSA) assistance system on steep slopes,

Hill Descent Control (HDC), speed control system. While going down a steep slope

Cabin structure Ultra-High Tensile

SRS Airbags 6 positions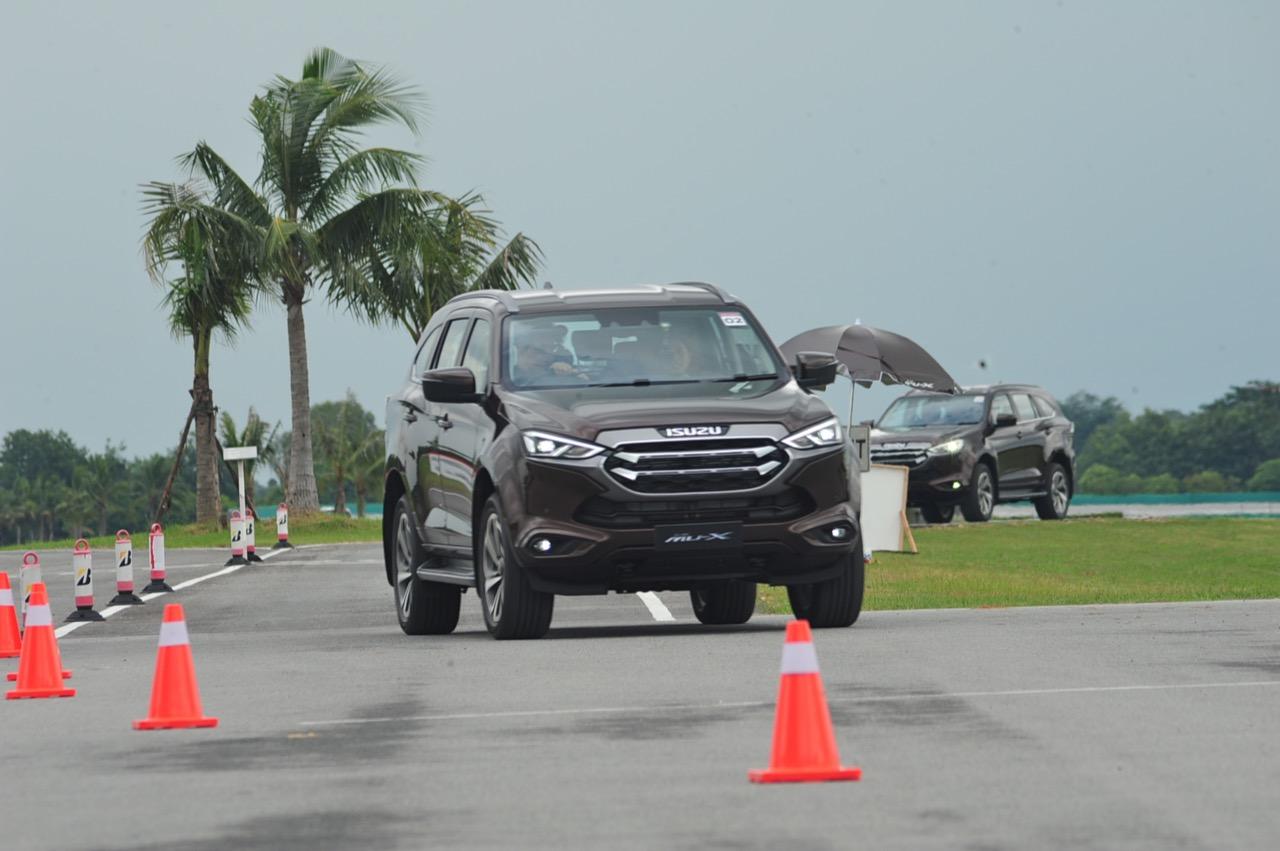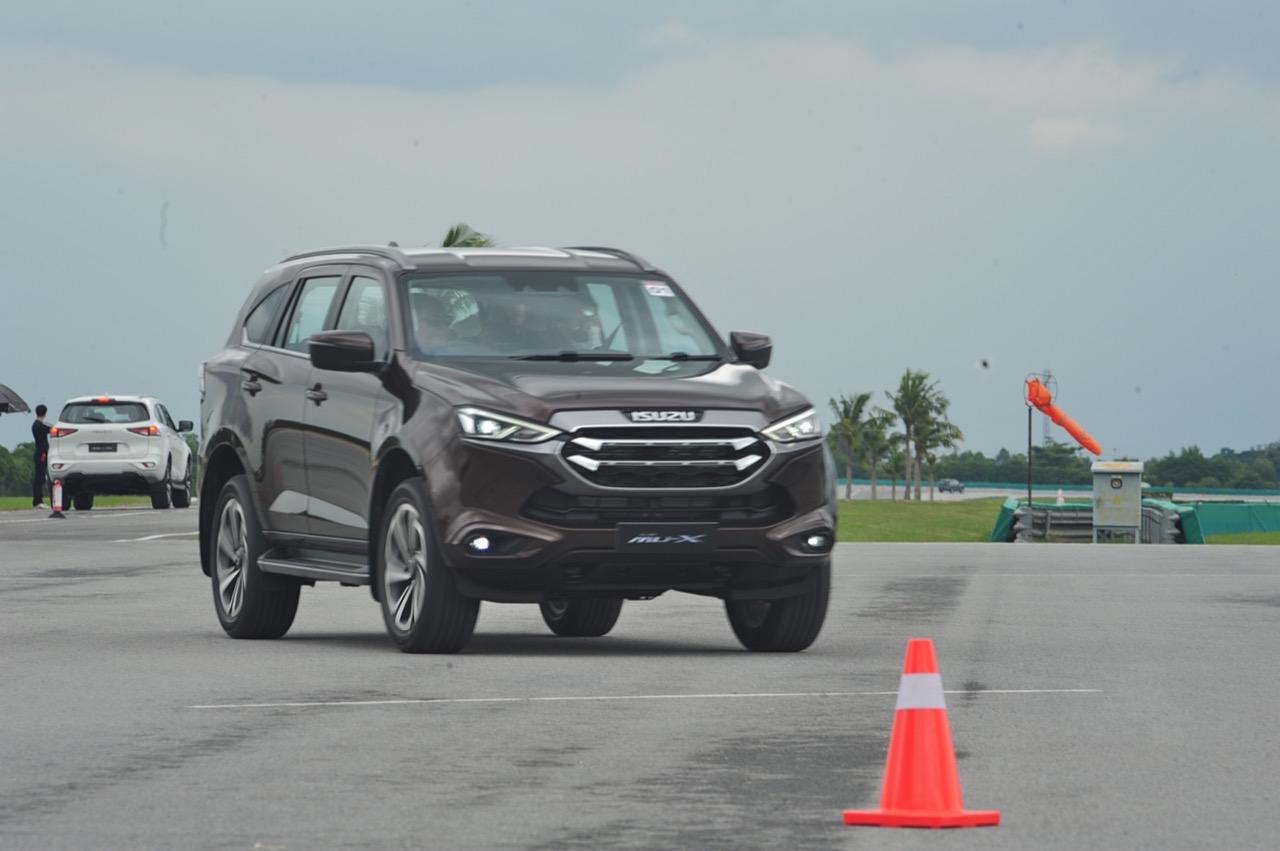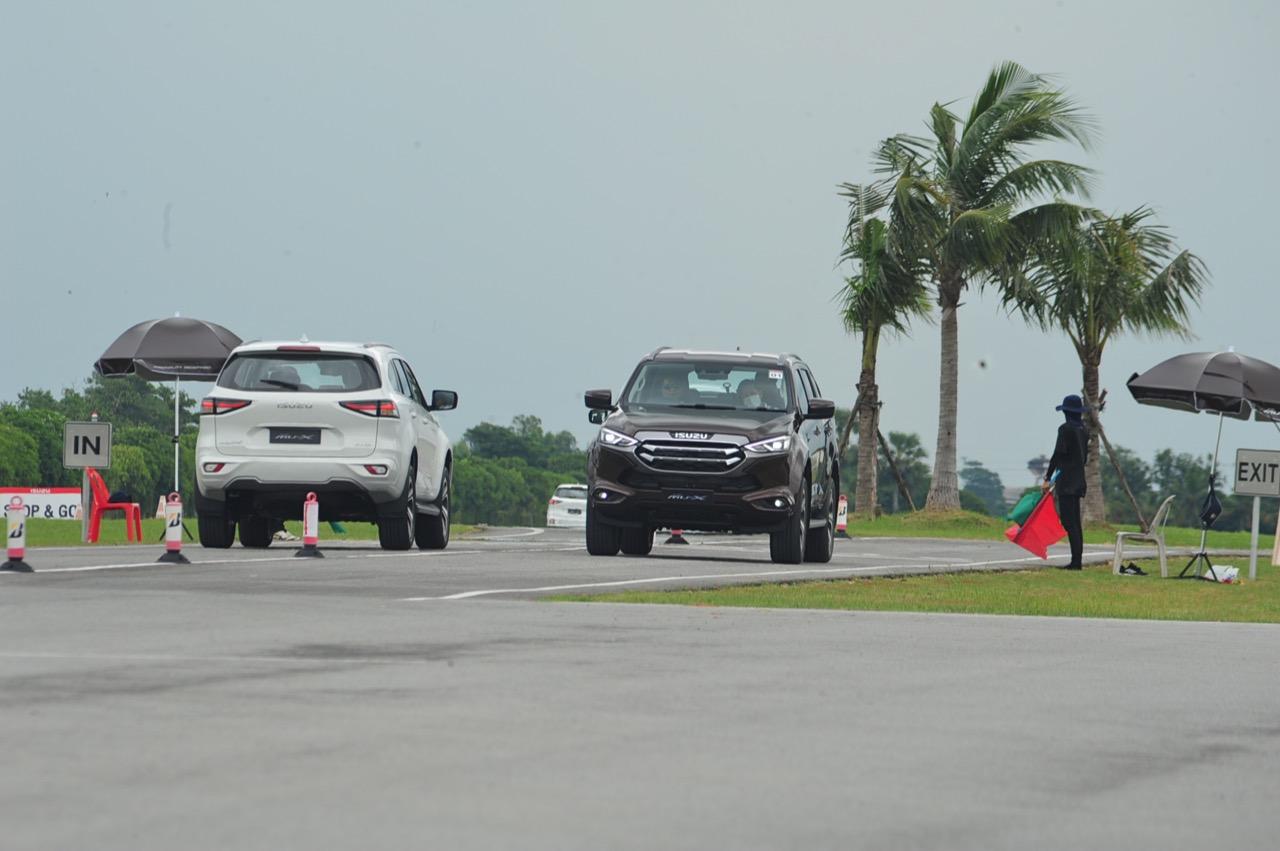 Sitting experiment to observe how the variable speed control system works. With Stop & Go function, Full Speed ​​Range Adaptive Cruise Control -ACC, the system works at full efficiency. From leaving a safe distance from the car in front of the vehicle When the vehicle in front is decelerated, the ACC speed in the new MU-X will slow down while leaving a safe distance. When the speed drops to a standstill And move again, ACC will reduce the speed until it is stationary without touching the brake. And start again following the car in front without touching the gas pedal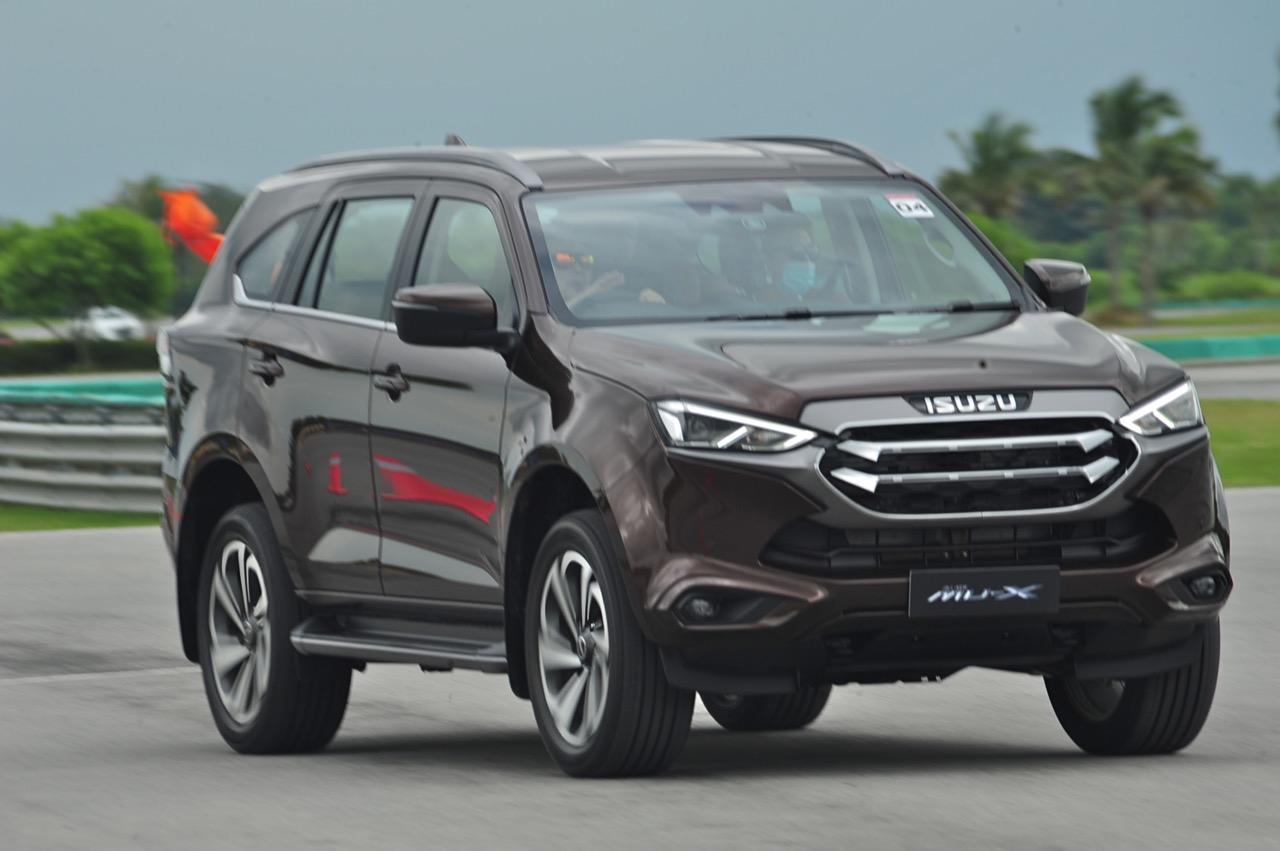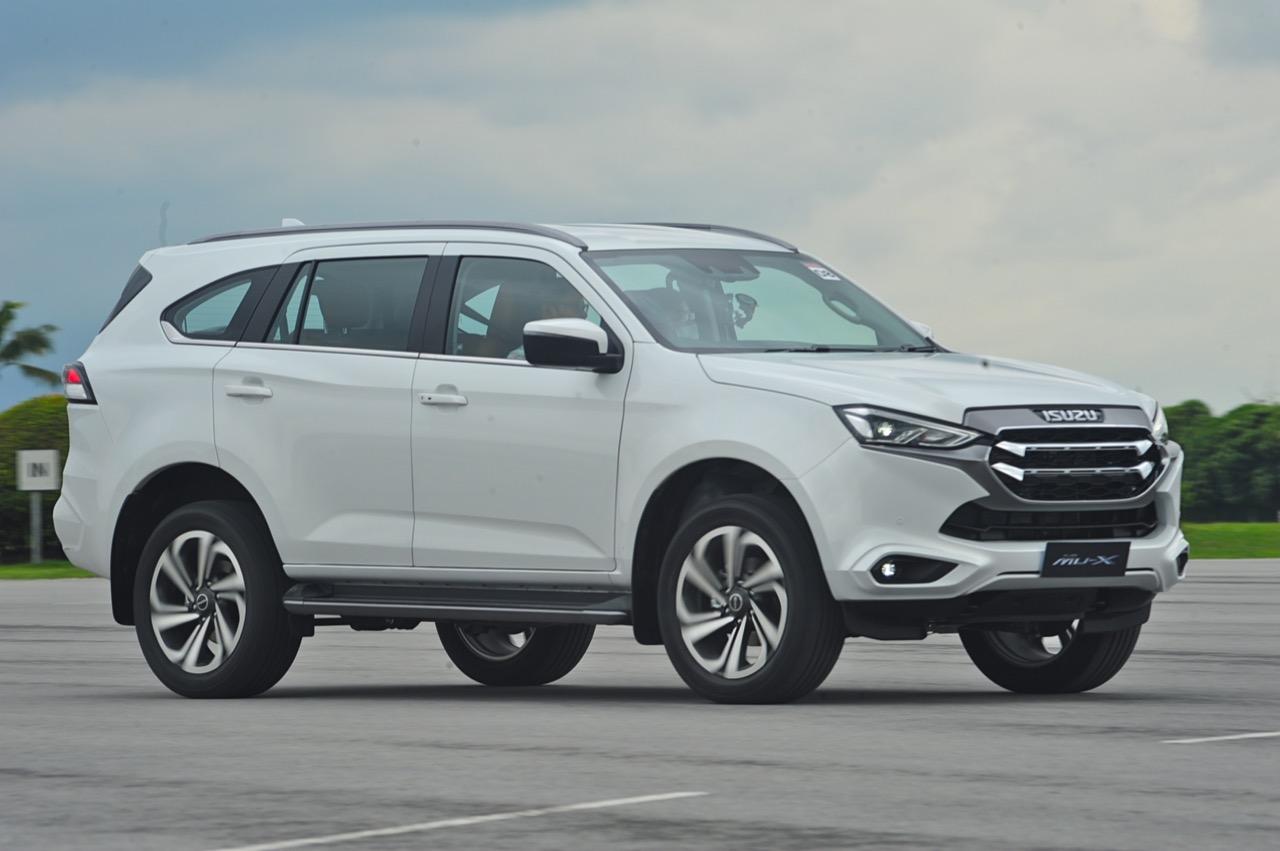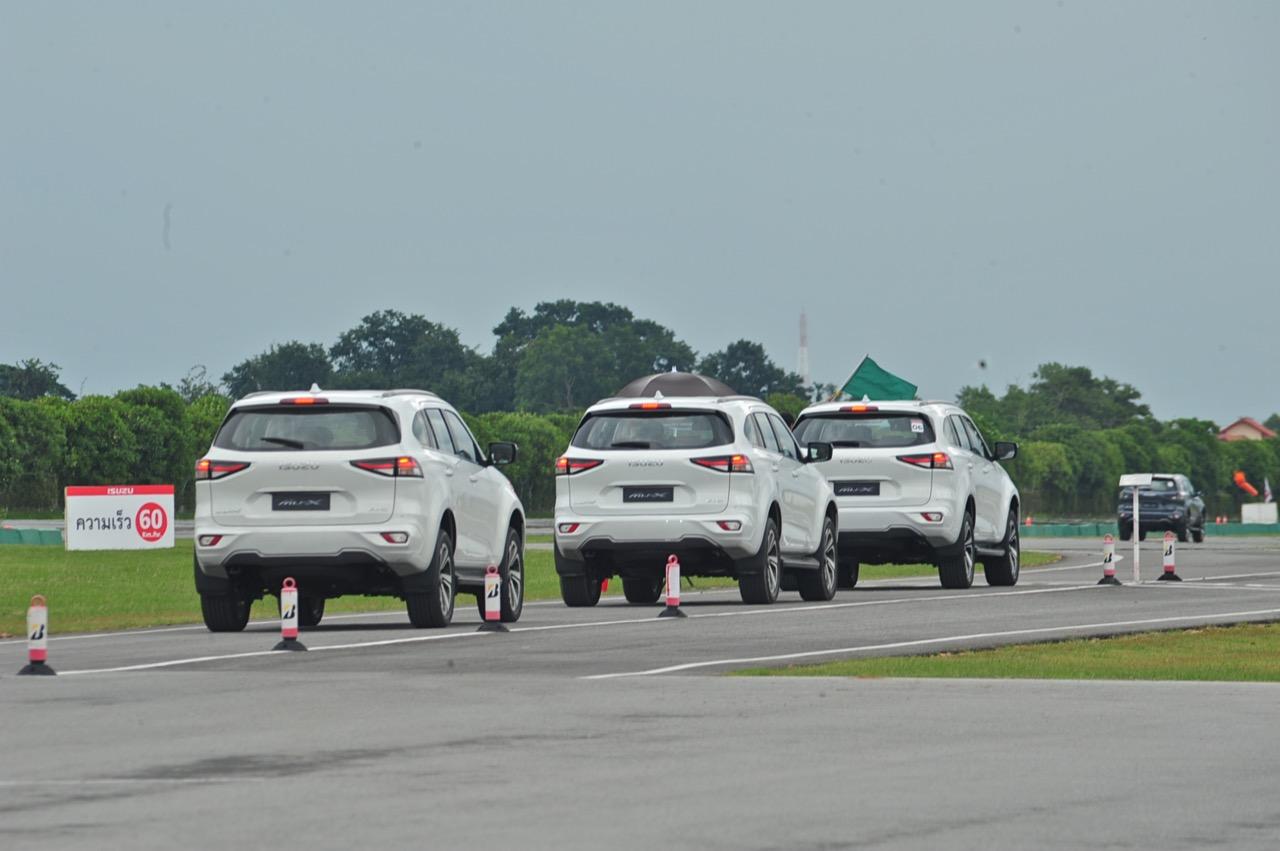 Demonstration of various forms of ADAS driver assistance systems
Forward Collision Warning system works in conjunction with the automatic emergency braking system, Autonomous Emergency Braking and braking power system.

Engine power cut system When the accelerator pedal is faulty PMM Pedal Misacceleration Mitigation System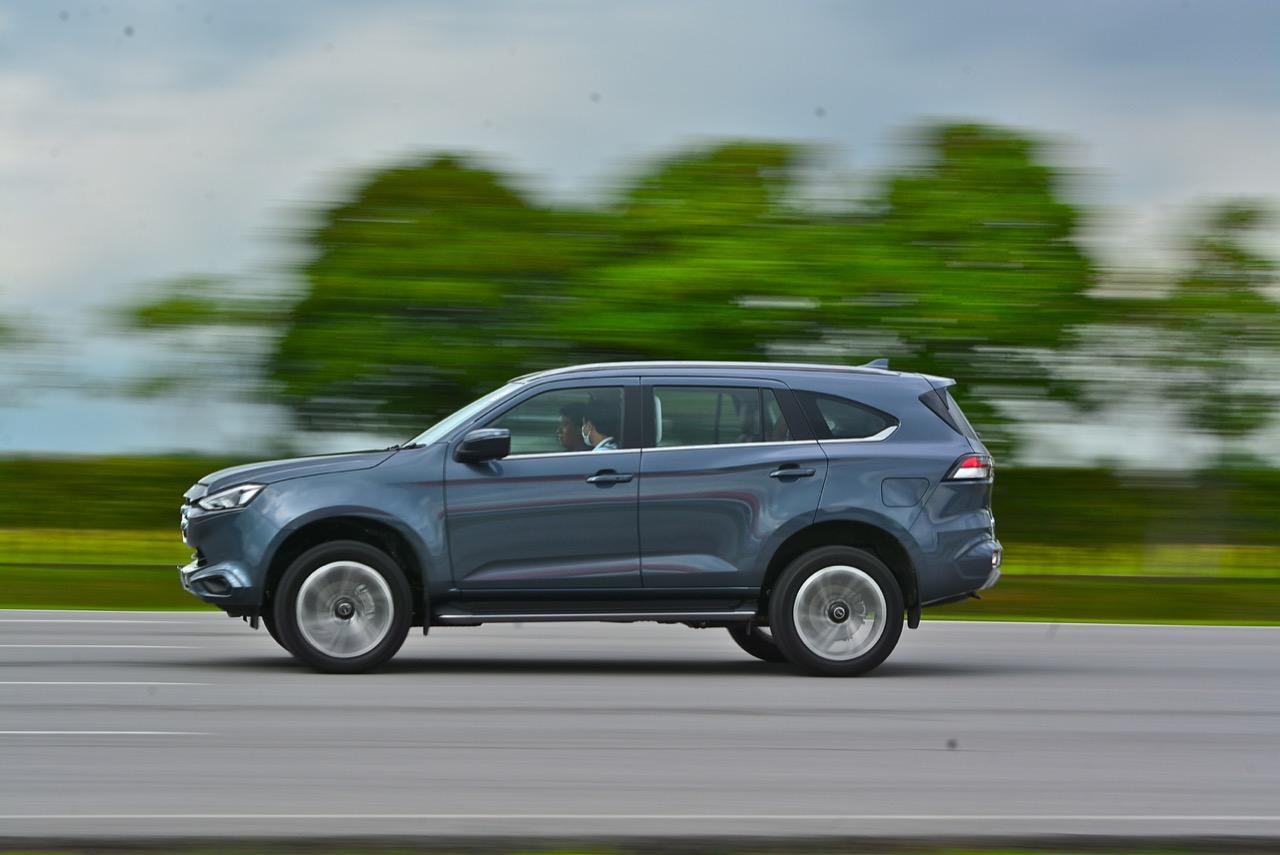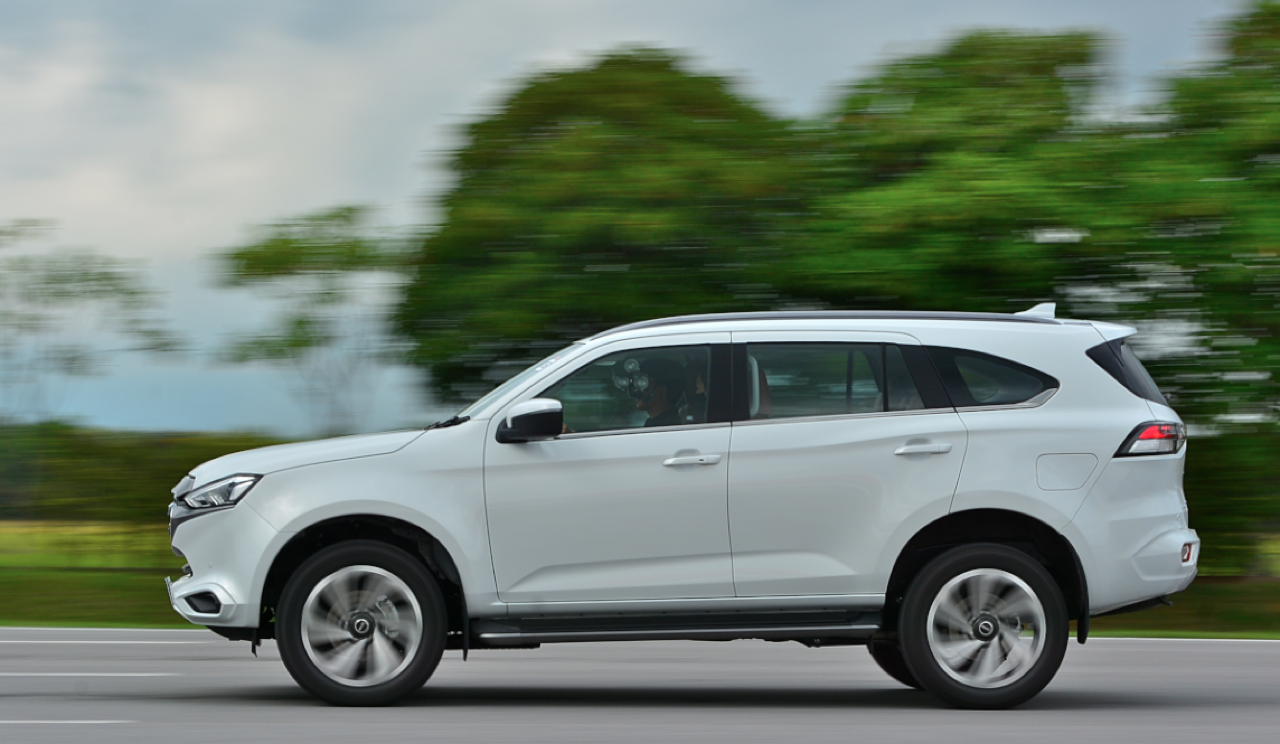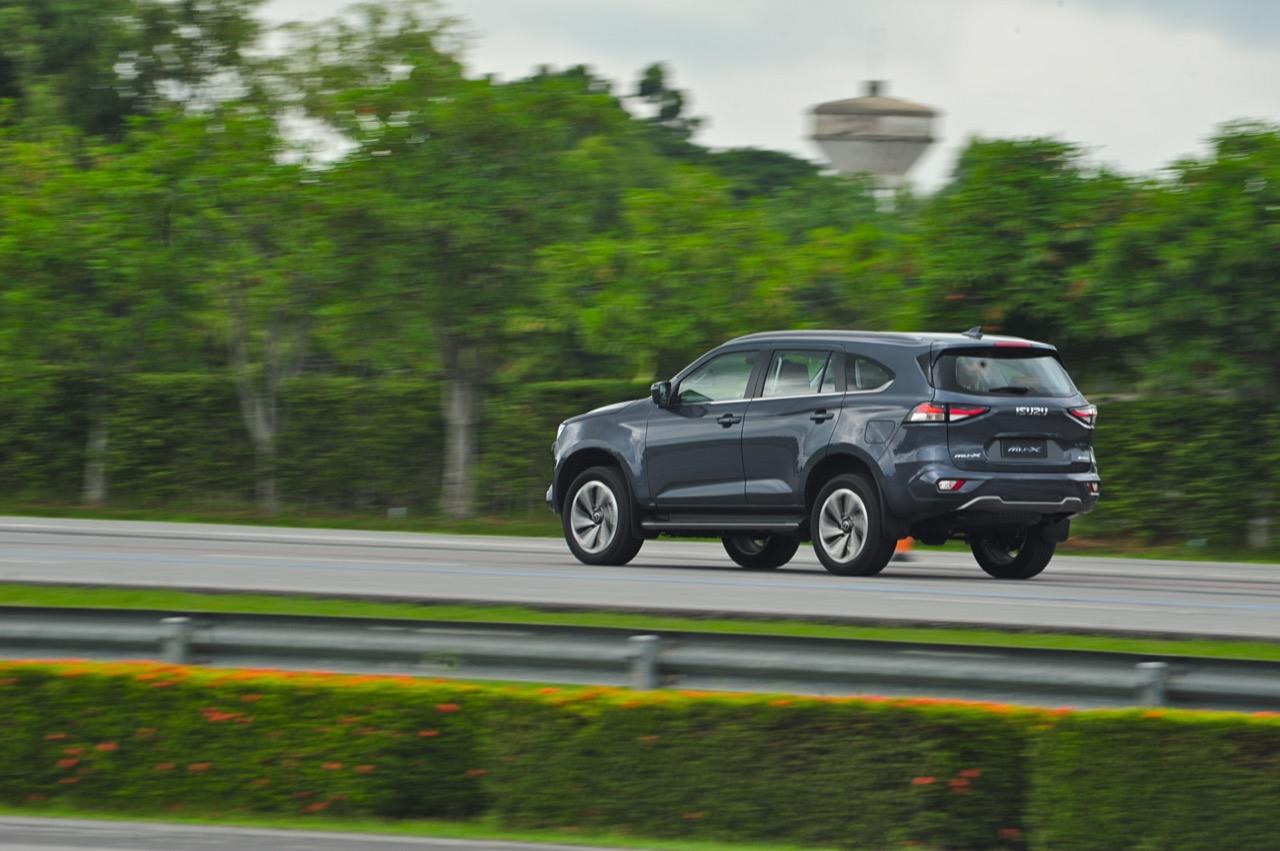 After a short test of performance, New MU-XHave a beautiful body Inside of the highest model, raising the level of luxury, more usable. Second and third row seats Helps to add capacity to carry the family out on vacation. Padded folding point design is good. Easy to use When the second and third row seats are folded, there is plenty of room for luggage. The center monitor screen is large. But the clarity is not as much as it should be. The plastic workpiece around the cabin looks better. The 3.0 DDi Blue Power engine has more than enough torque for normal use. The 6-speed automatic transmission is fluid and has a paddle shifter that allows for faster gear changes. Soft suspension The stabilizer. No chance to get into the bend quickly Or running on a gravel road To catch the symptoms In the test field, the steering wheel of the New MU-X is accurate and brakes well. It's the new PPV that makes for a great price compared to what it gets. Especially the security system Put it to your heart, just like a Volvo ever!