Toyota Hilux Revo 2020 2021 2022 2023 Facelift Toyota Hilux Revo Rocco facelift 2020 2021 2022 2023 2024 Export pictures specification
2020 Toyota Hilux REVO, power beyond definition, starting

The very first touch, the most
Being number one in Thailand's pickup sales is not an easy task. But keeping the championship in hand has turned out to be difficult. This is the event to claim the throne of the pickup truck sales champion that Toyota used to dominate for many years before being hit by Isuzu with the new D-MAX, a cool pickup truck that is fresher than the latest, the launch of the Hilux REVO, the Facelift 2020 model. The hope of the people of Toyota means challenging this position from the ever-growing pickup truck brand, Isuzu.

The new Hilux REVO pickup truck comes with a new look that's tougher and more aggressive than before. Including improving both the drive system and suspension to be able to compete with competitors. It is considered a hard work of Toyota Motor Thailand in the engineering of pickup trucks. to return to dominate the market For the main changes of the New Hilux REVO start from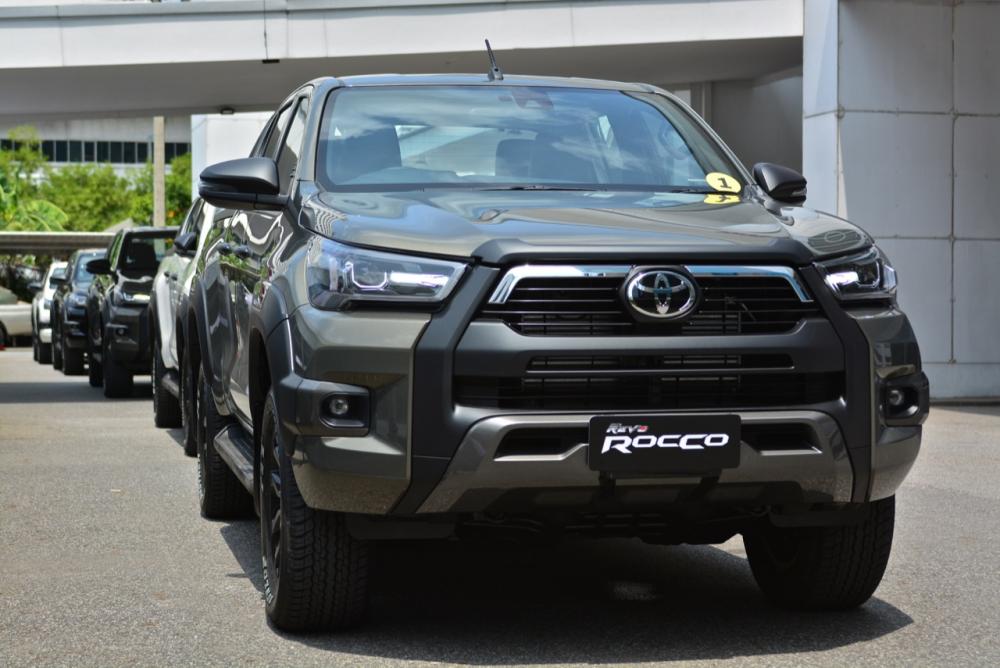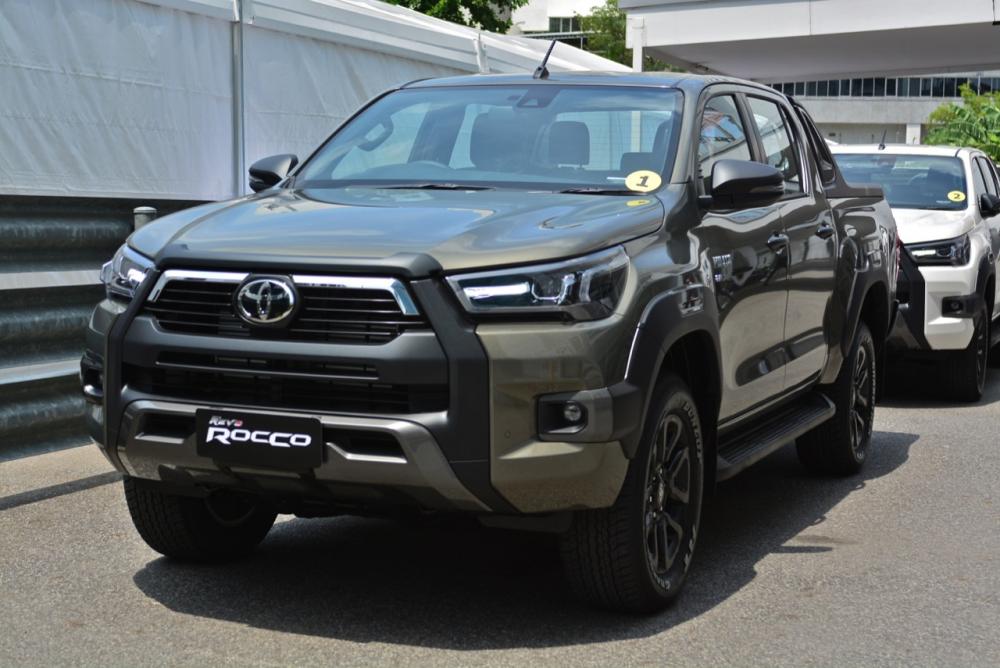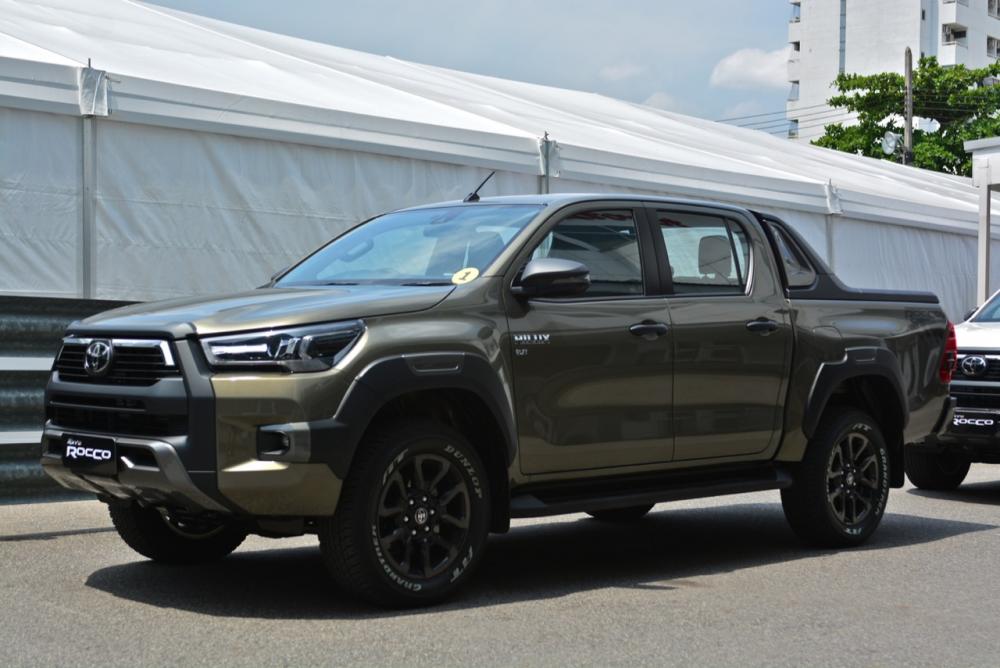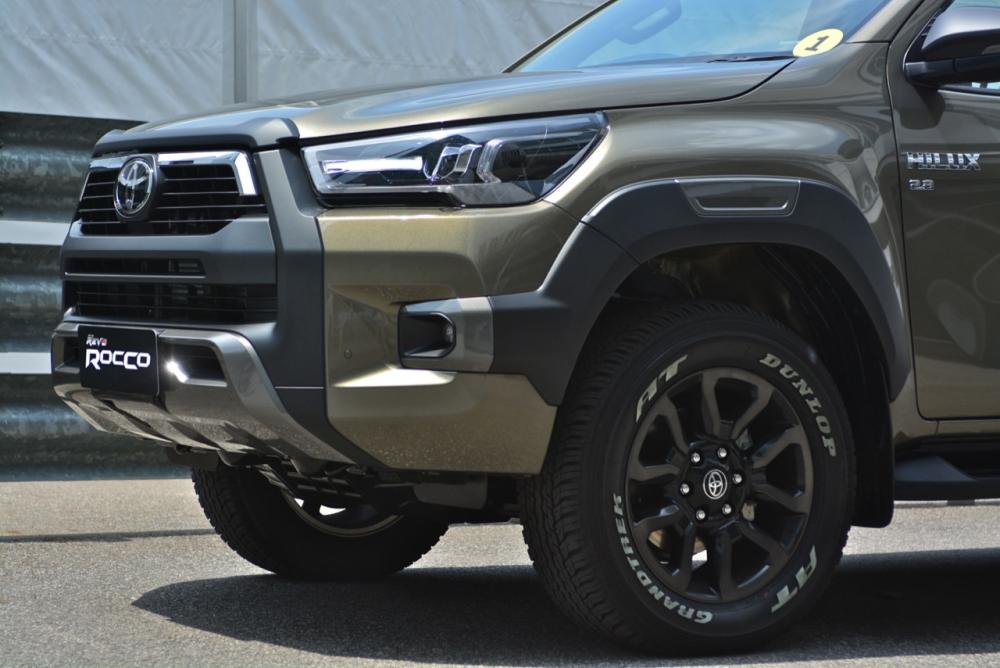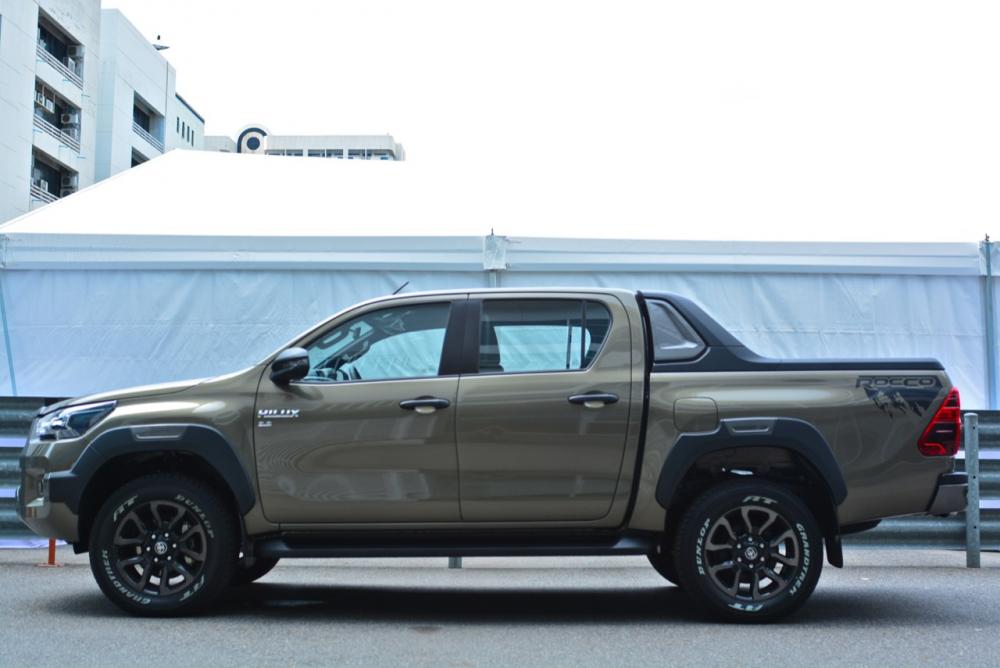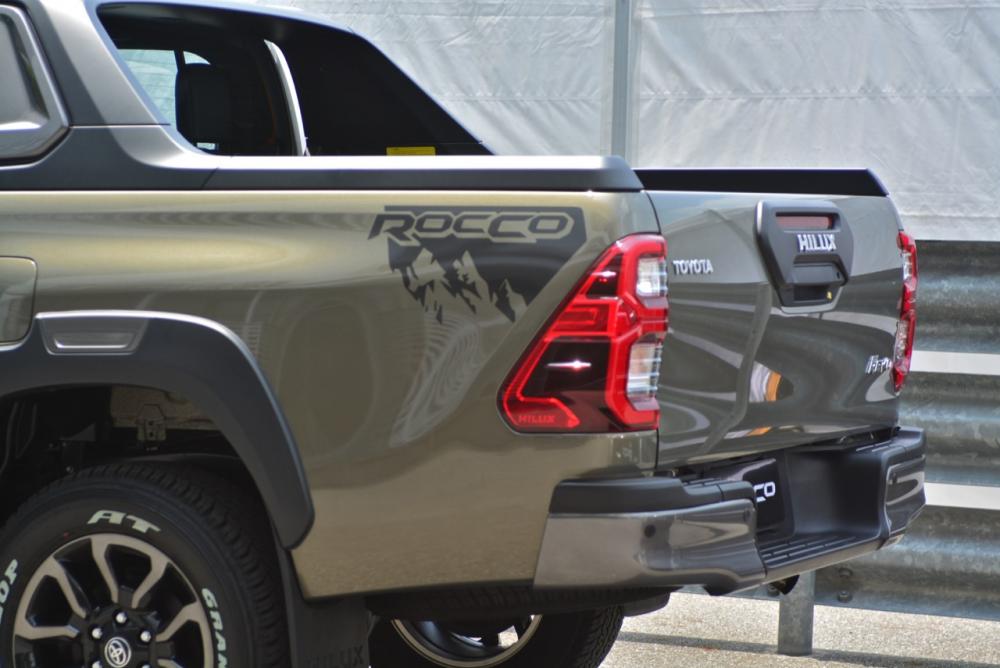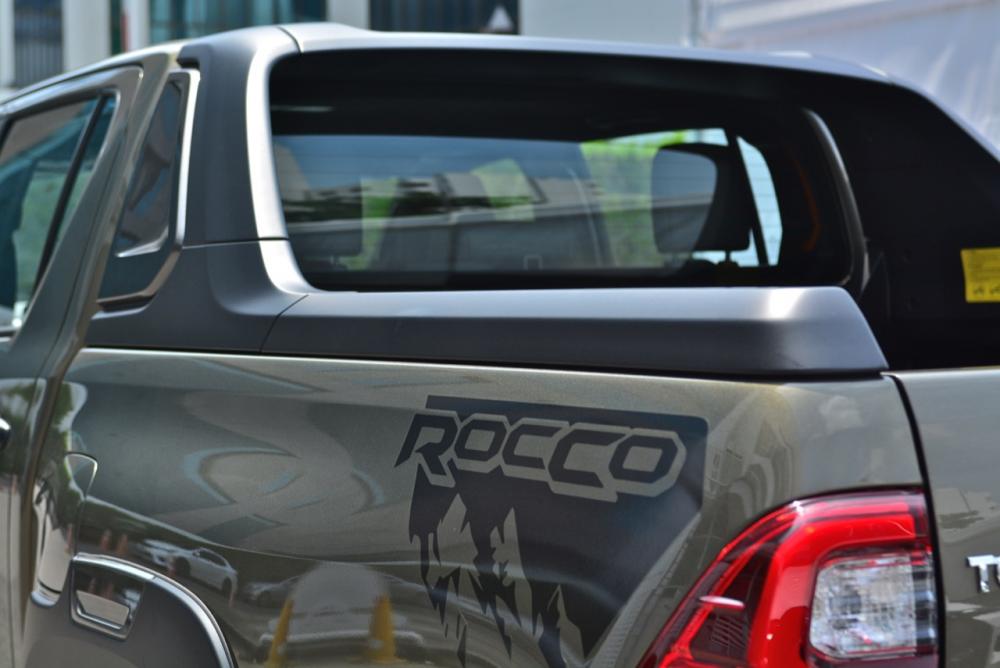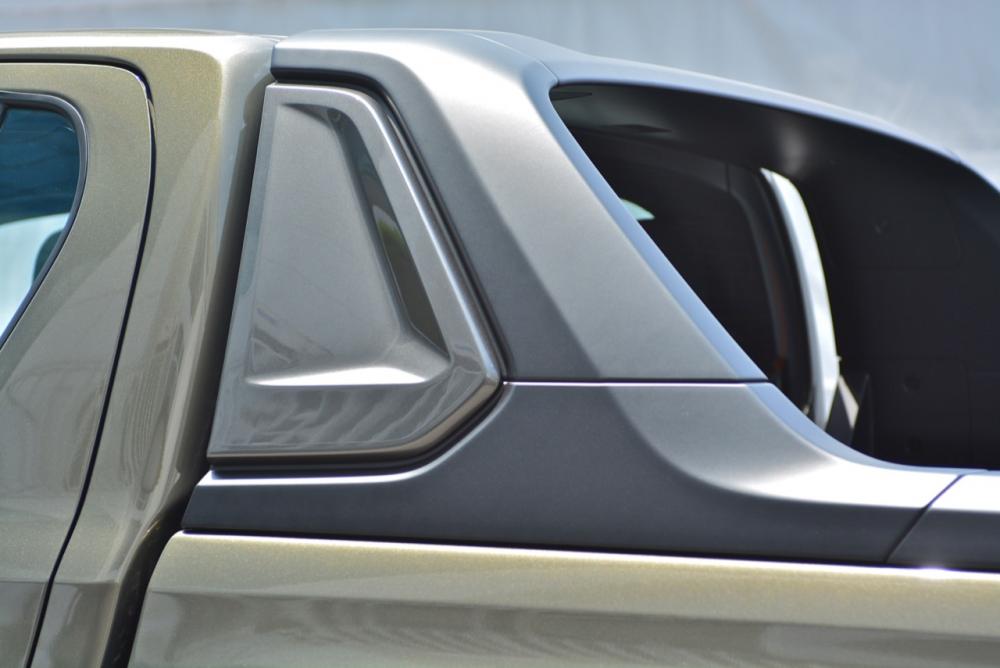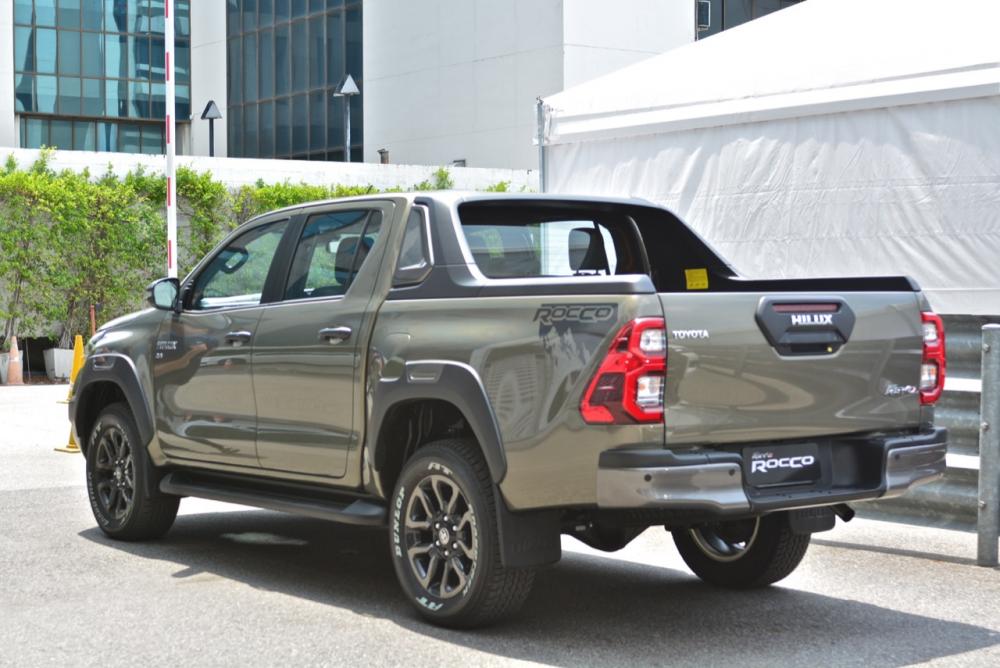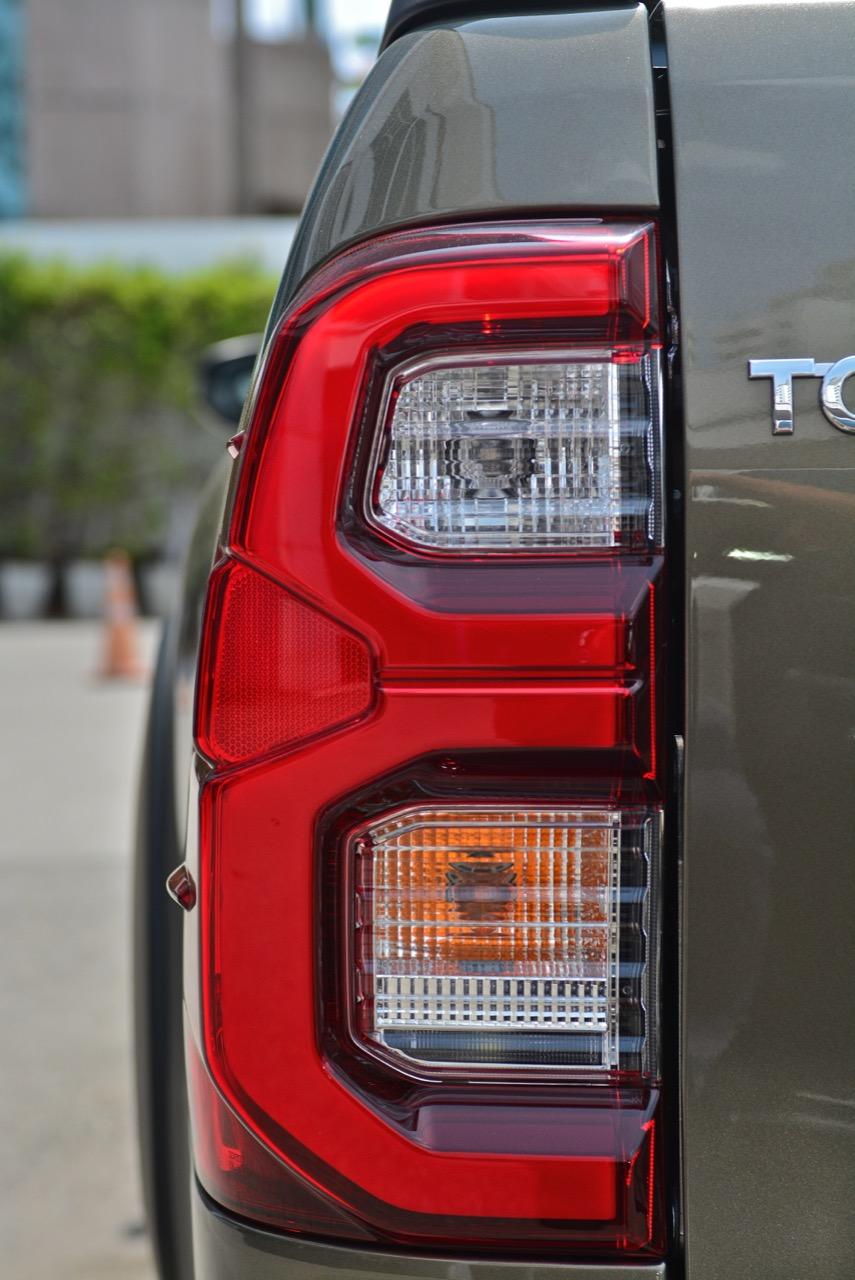 New change point in Hilux REVO Facelift Rocco 2020 model -New

Bi-Beam LED
headlights -New front grille (larger)
-New front bumper with LED fog lamps
- New wheel arch kit
- New LED tail lights
- New rear bumper
- 18-inch alloy wheel designs, the new tires A / T 265/60 R18 Letters, A to White
- Installation labor Open the tailgate.
- New glow gauge
- 8-inch monitor screen, new touch operation system, support for Apple CarPlay / Android Auto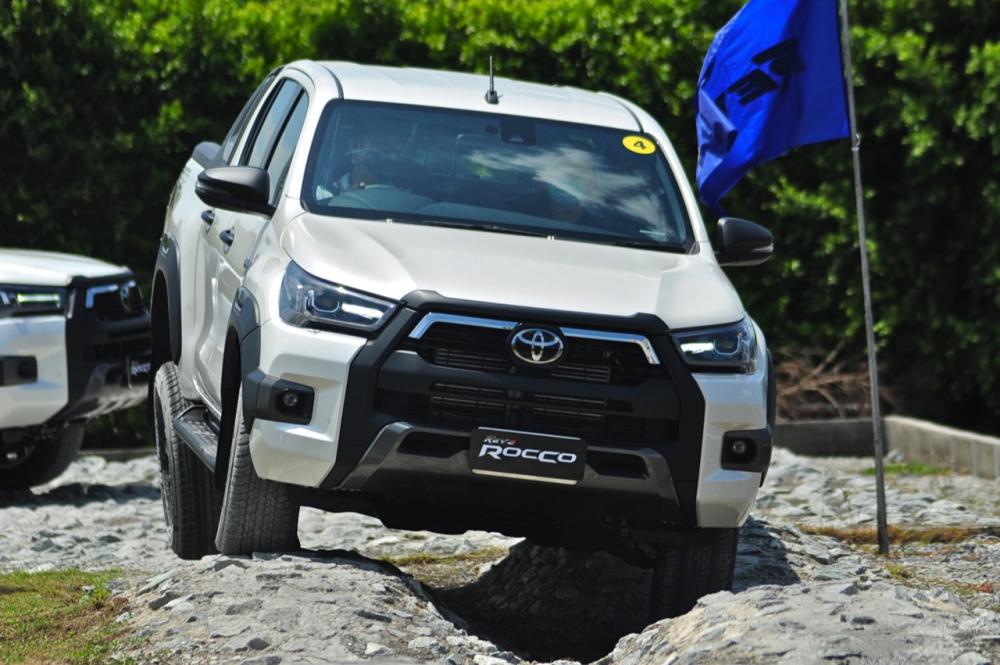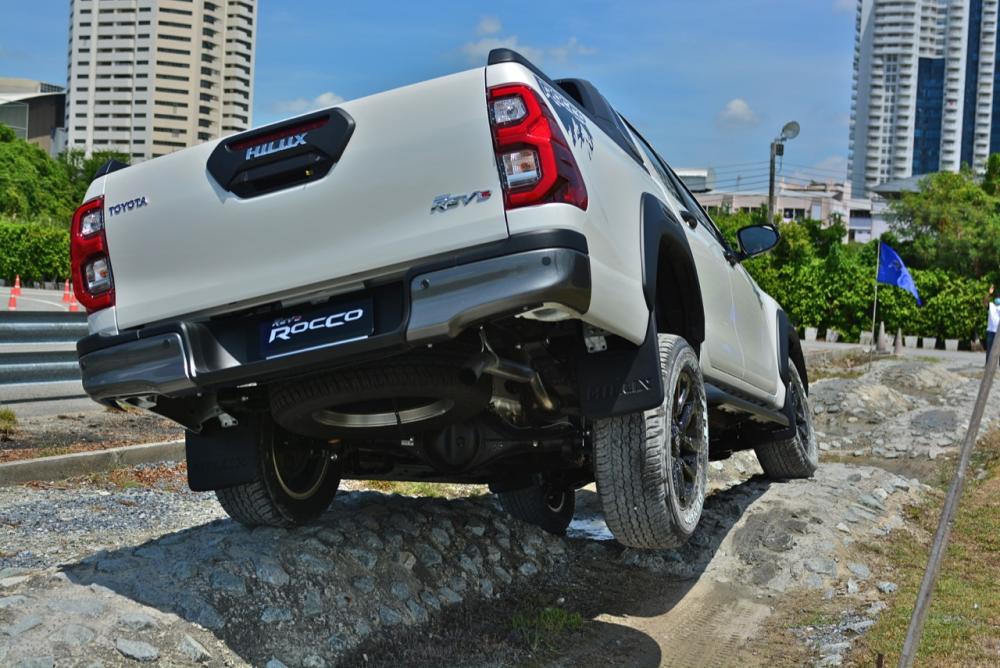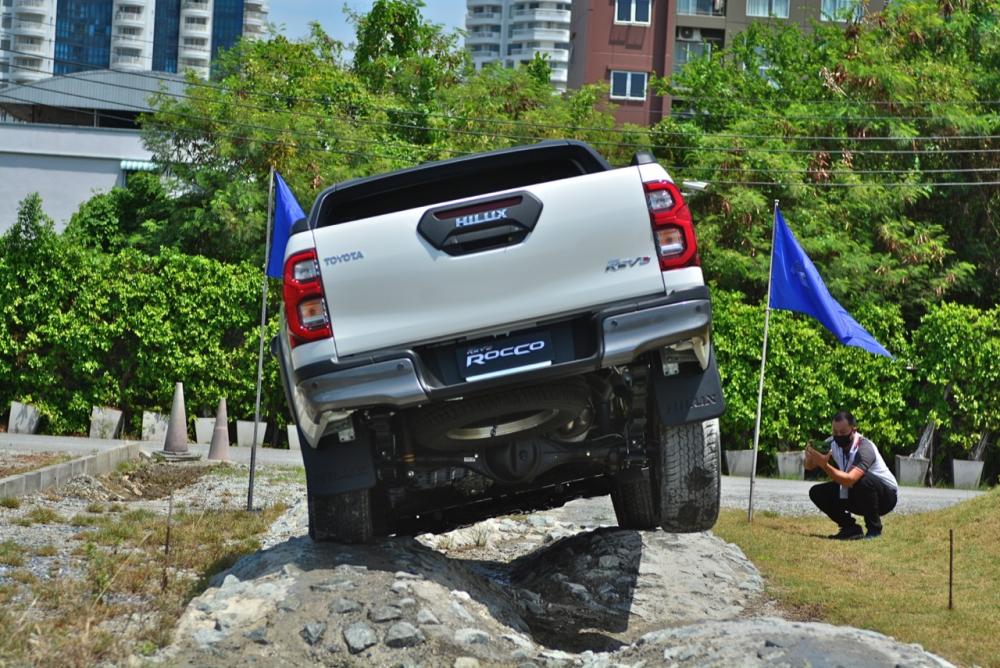 Suspension
Leaf 5 of the plate, which is the source of the symptoms Wade bounced on the dirt had been removed, leaving just 2 to 3 leaf discs Mandarin High Tensile Steel is stronger than ever. Shock absorbers have been fully tuned, stretched and collapsed. To improve shock absorption Mounting (Bush / Shackle / Cab-mount) vibration absorbing properties have been adjusted. Change the shape of the parts to reduce the friction of the mounting parts (only Hilux REVO 4-wheel drive and Prerunner 2-wheel drive).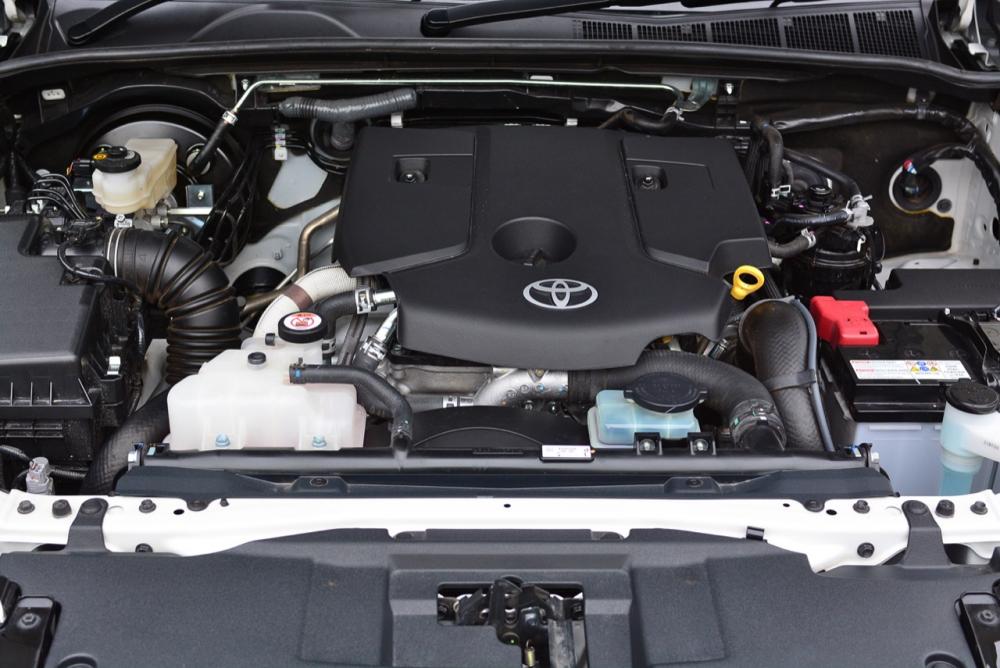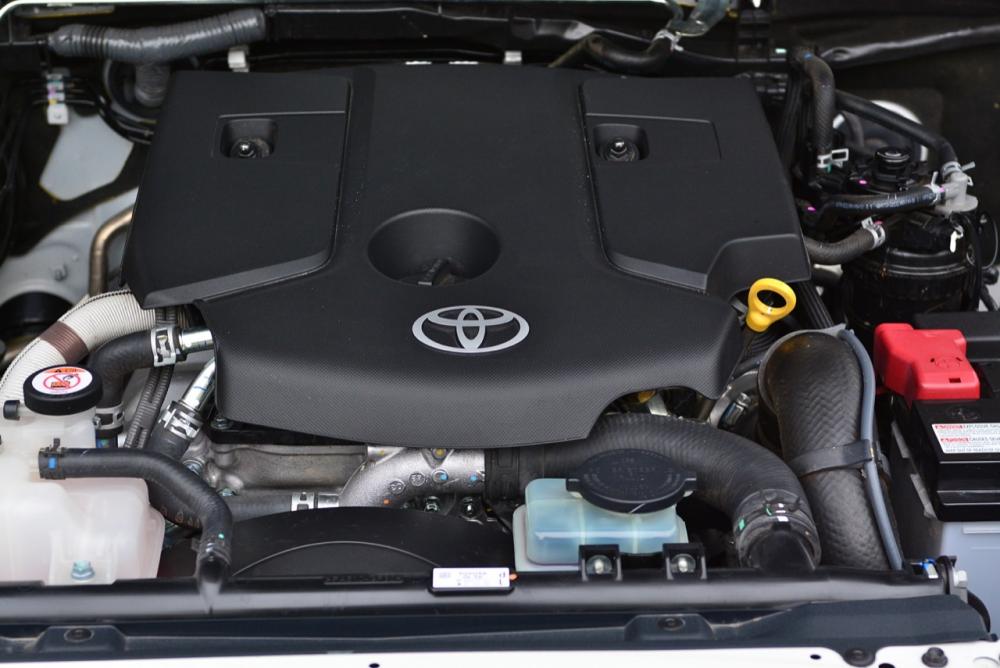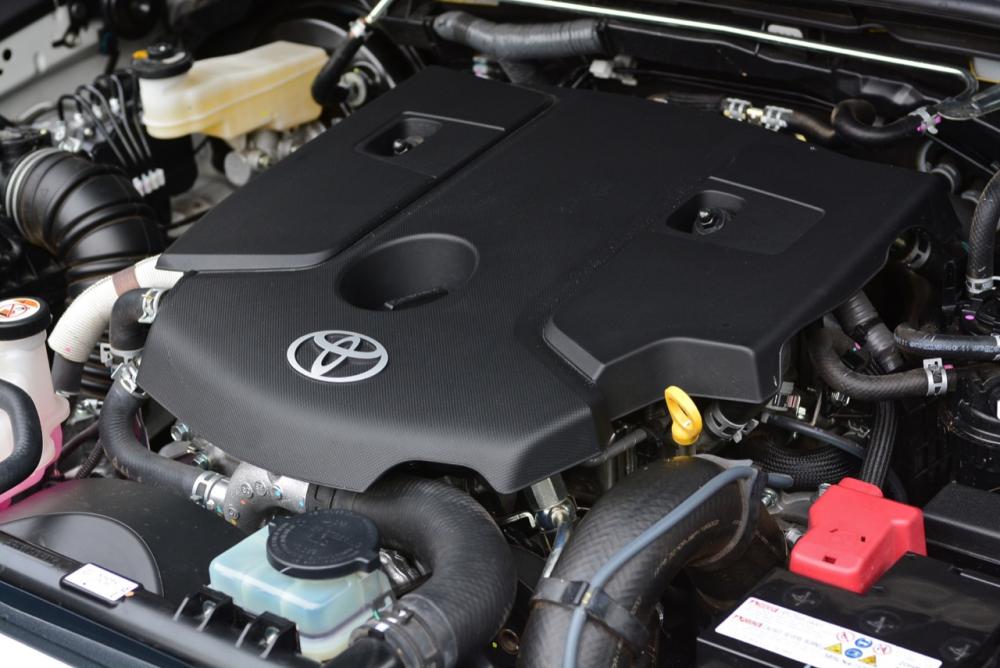 2.8-liter turbo
diesel engine The 2.8-liter GD Super Power diesel engine has increased power from 130 kW to 150 kW (177 hp to 204 hp), maximum torque from 450 Nm, increased to 500 Nm. Turbocharger compressed air system has changed the turbo to a larger one. The turbo core is equipped with Ball Bearings to reduce friction. Boost performance faster than ever coated piston Diamond-liked piston ring area to reduce friction Common rail direct injection i-ART fuel injector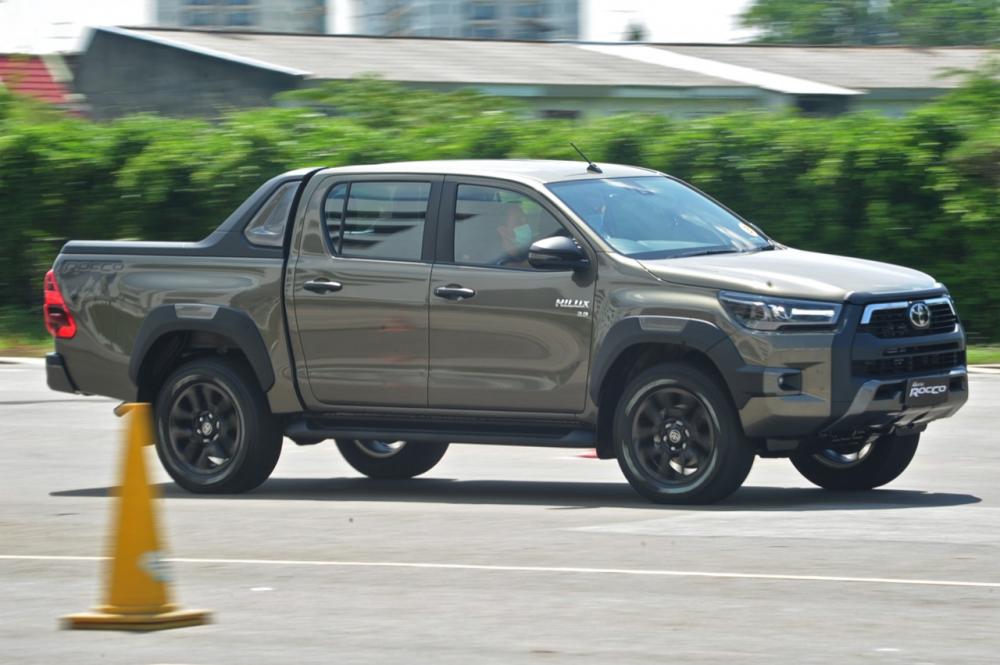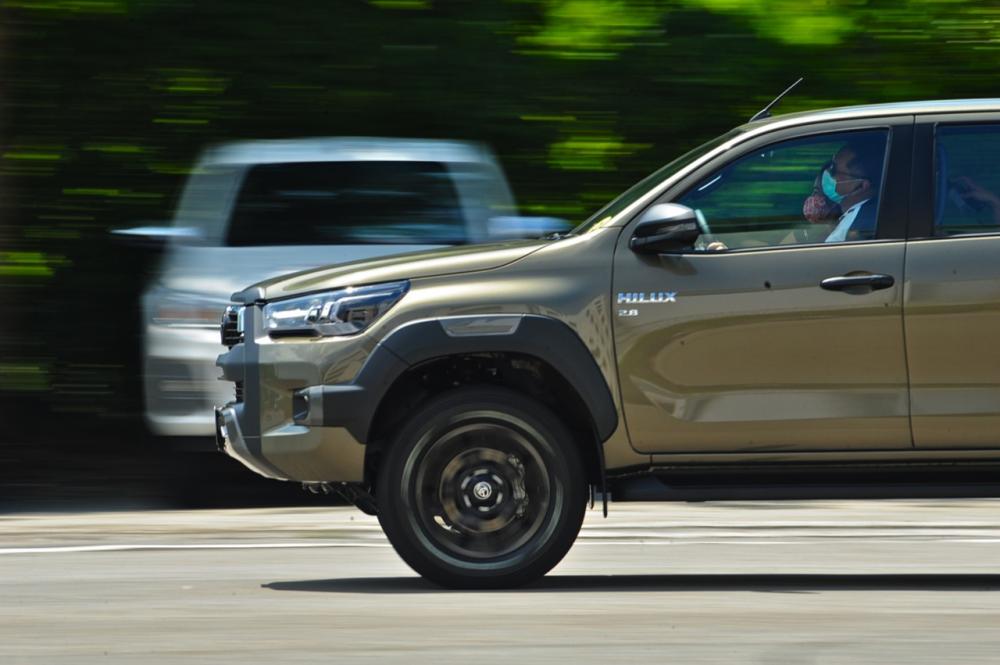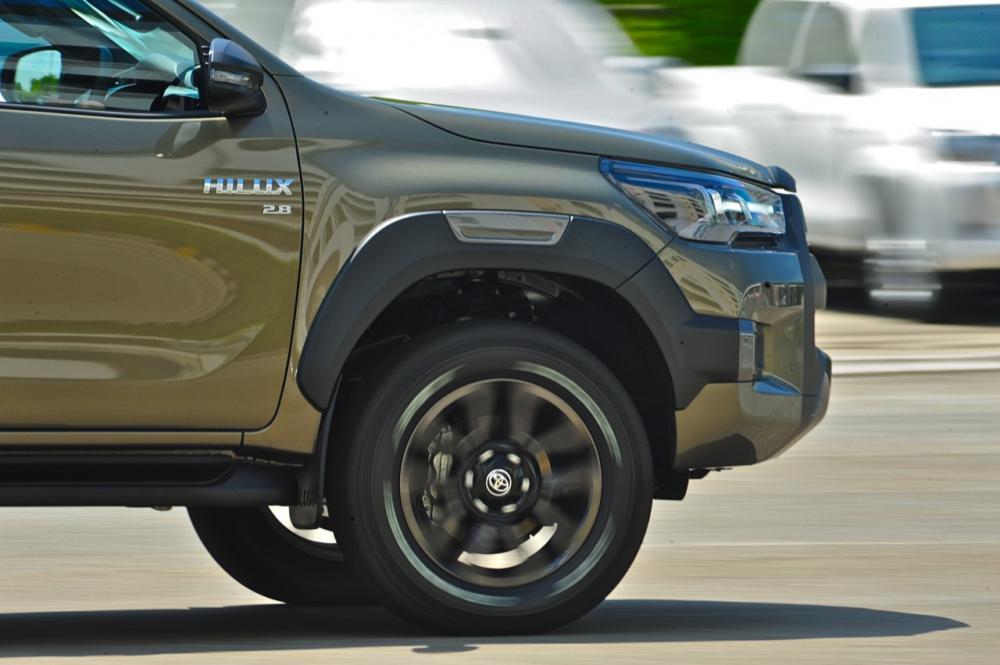 Steering system
Toyota Hilux REVO Rocco improves the new power steering. Turn to use the power to reduce the rotational force and vary the weight according to the speed VFC (Variable Flow Control) adjust the weight of the steering wheel to vary according to the speed.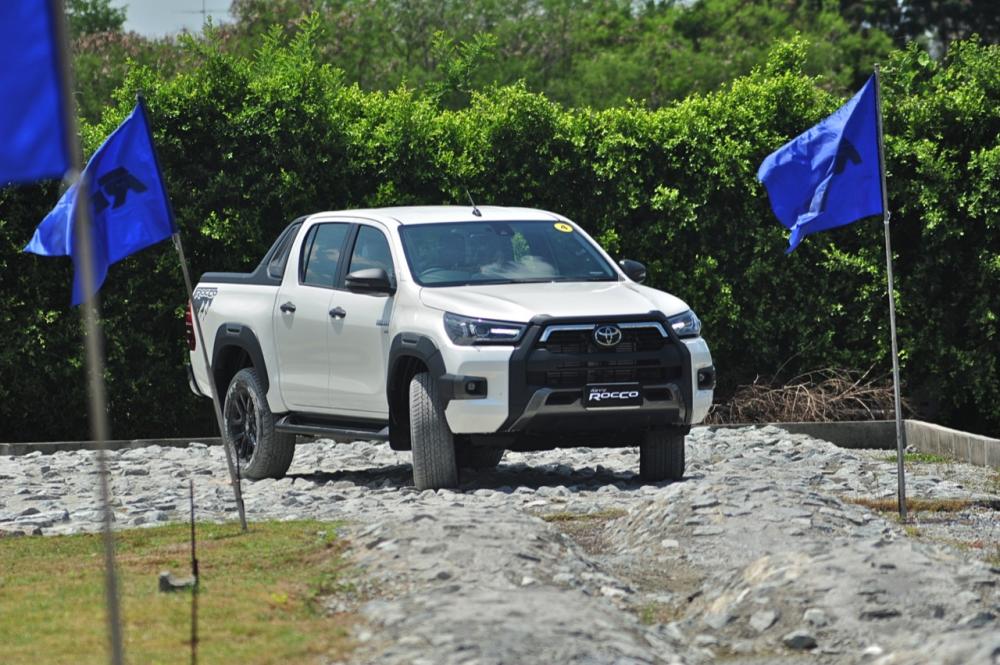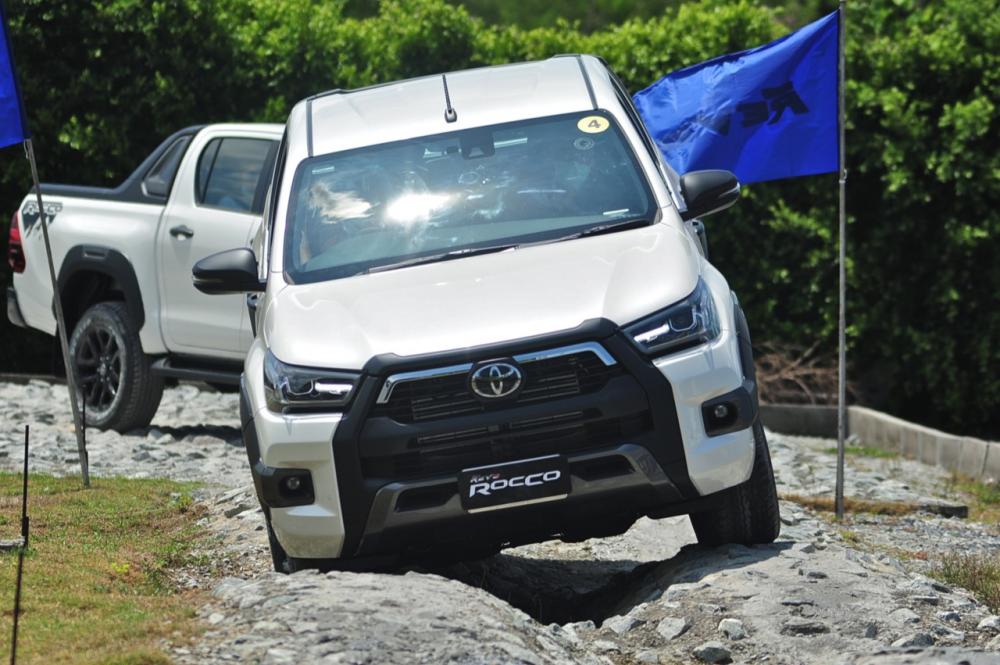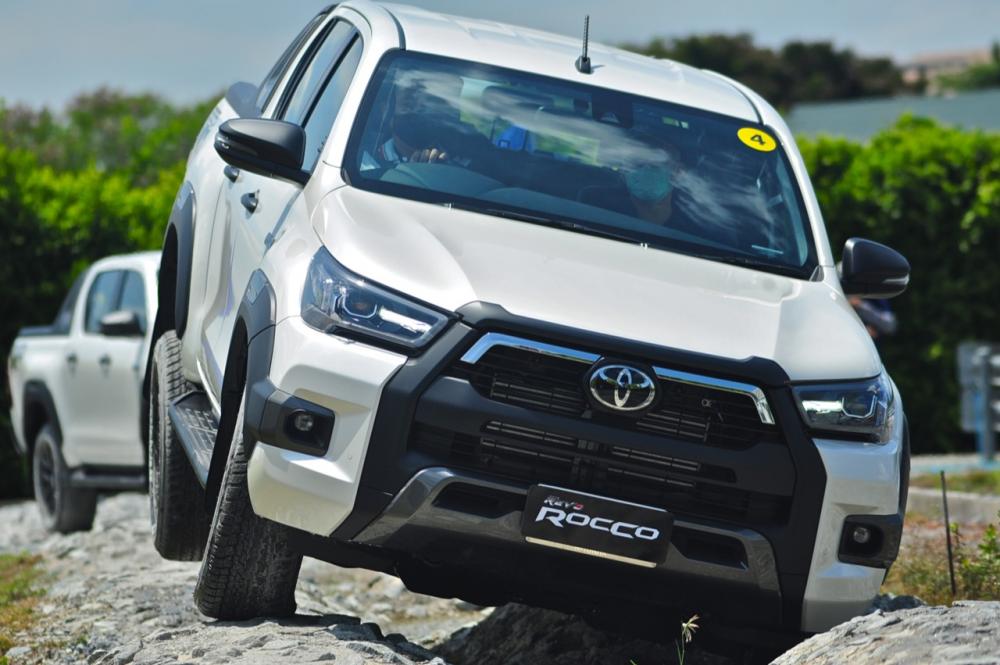 The 4 wheel drive system
has an idle speed adjustment from 850 rpm to 650 rpm to optimize the traction on the surface of the tire. Better control of speed when starting out. Adjust throttle response, improve Brake Actuator when using 4-wheel drive system, reduce system noise. Adjust the steering system function VFC (Variable Flow Control) Reduce the weight of the steering wheel when entering 4-wheel drive mode Add a function to show the position of the front wheel on the MID screen with sensors around the car to check the direction and obstacles while driving off-road road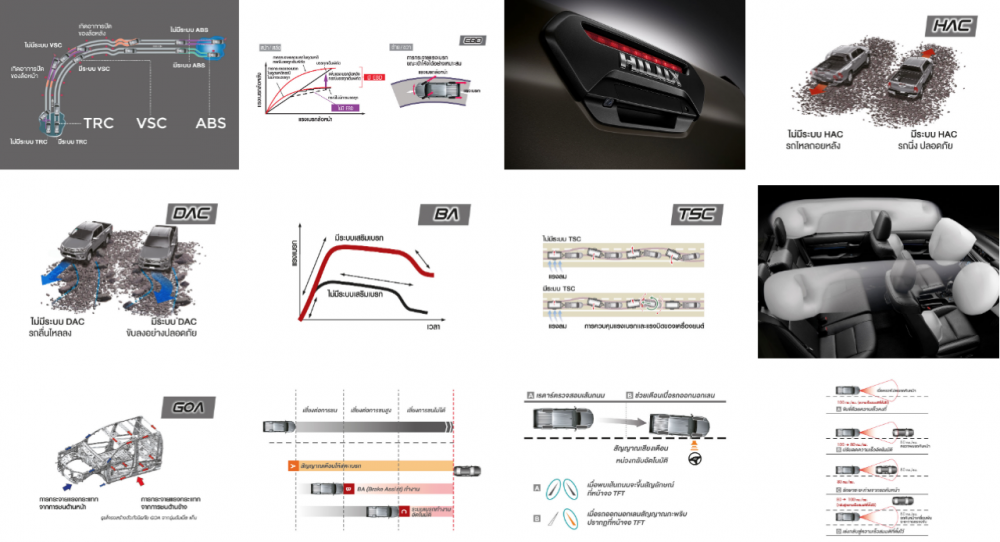 The security system is fully loaded.
Rear shift warning signal and the front bumper - rear view camera
3-point safety belts in all positions with pretensioner system and automatic tension relief for front seat Anti-lock braking system, ABS and brake force distribution EBD, brake reinforcement BA, Traction Control VSC, TRC A-TRC Traction Control System, TSC rear pannier control system, Hill Start Assist HAC system Speed ​​control while going downhill, DAC, DSC emergency start protection, Auto Limited Slip Differential, Dynamic Radar Cruise Control (Dynamic Radar Cruise Control), only for the double cab version Pre-collision safety system PCS only for double cab models Lane departure warning system with automatic delay LDA, only for double-cap models Safety Structure GOA Side Safety Steel Beams Dual SRS airbags, front/side/side curtain/driver's knee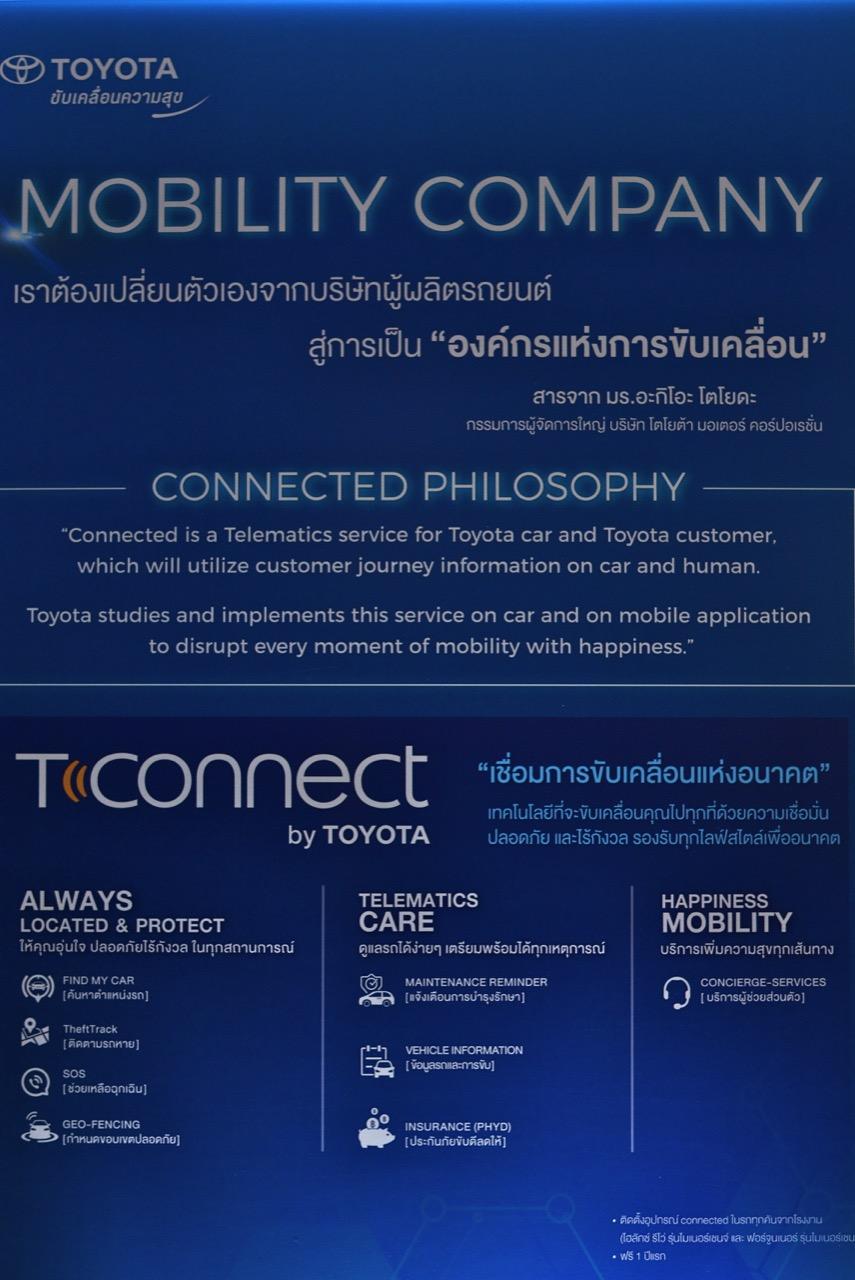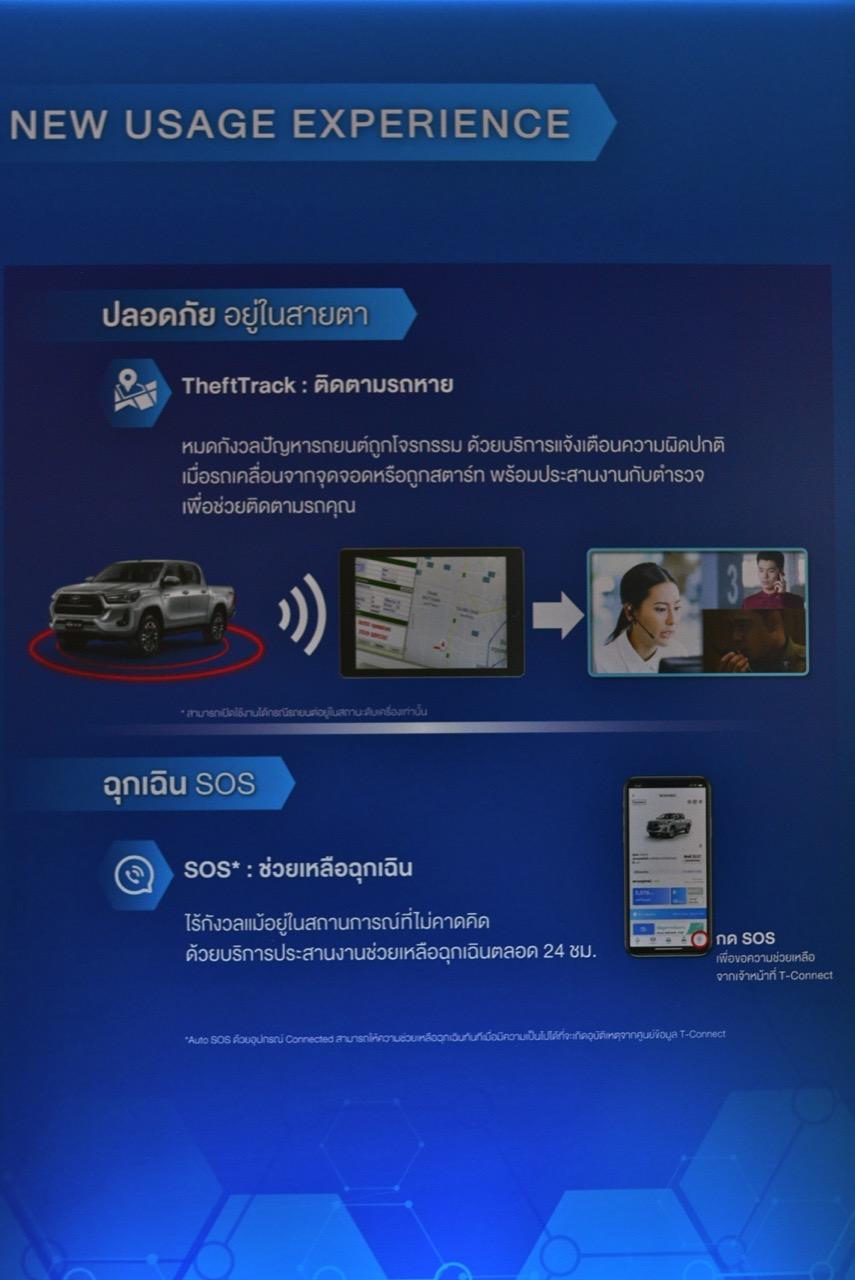 T-Connect by Toyota application to track vehicle delivery status via mobile phone Anti-theft system (Theft Track) or tracking theft Driving information display, Trip Report, checking the car's location (Find My Car), personal assistant service Help customers at all times in every route. Toyota Tube will serve as a video guide for car usage on mobile phones.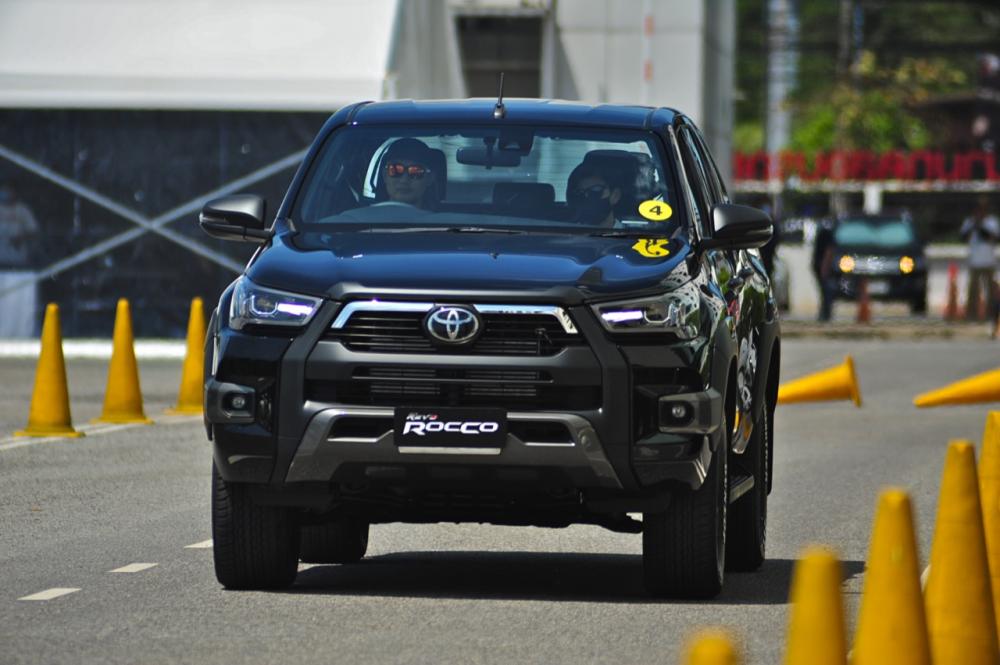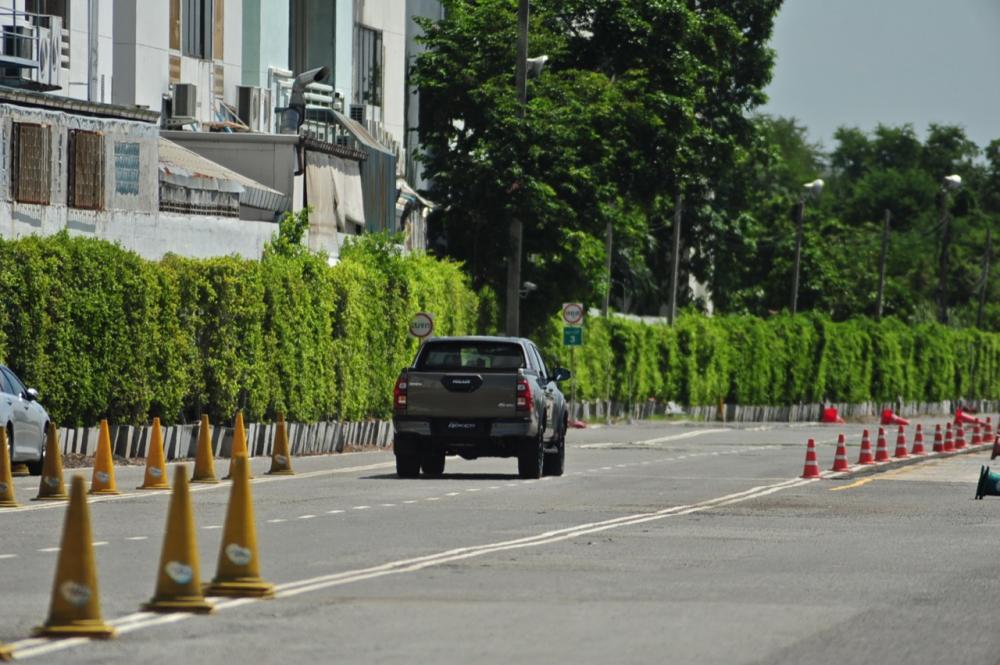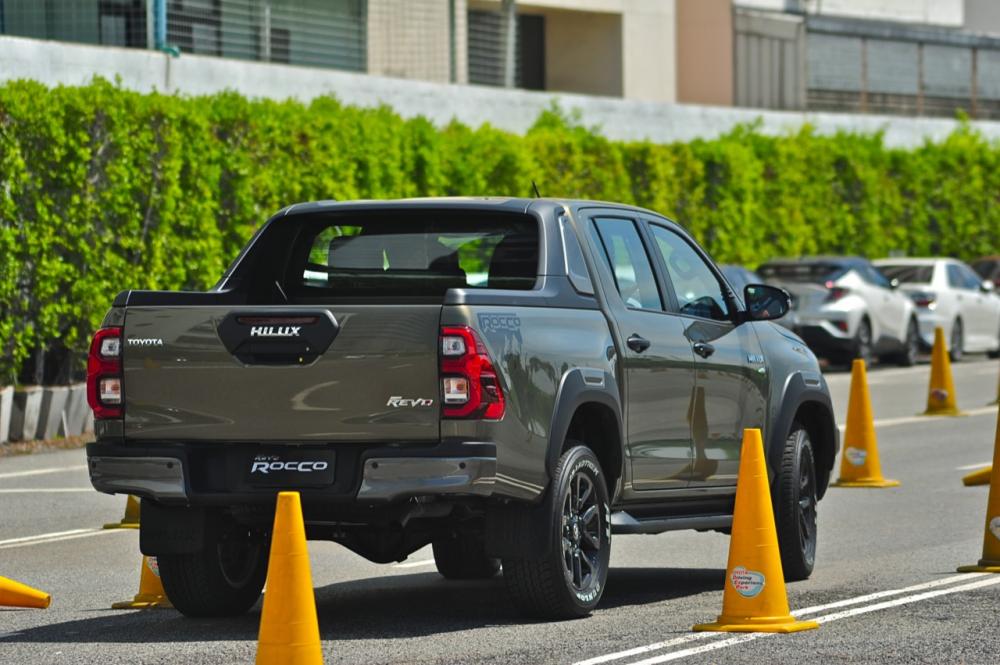 The short test drive in the press round after the launch took place at the Toyota Driving Experience Park in Bangna, starting from the test of the lane departure warning system. With automatic delay or LDA, which is installed only on the double cab version of the Rocco. This may be caused by negligence or opiates. The steering wheel will help pull the car back to its original path. including sending a sound signal to alert the driver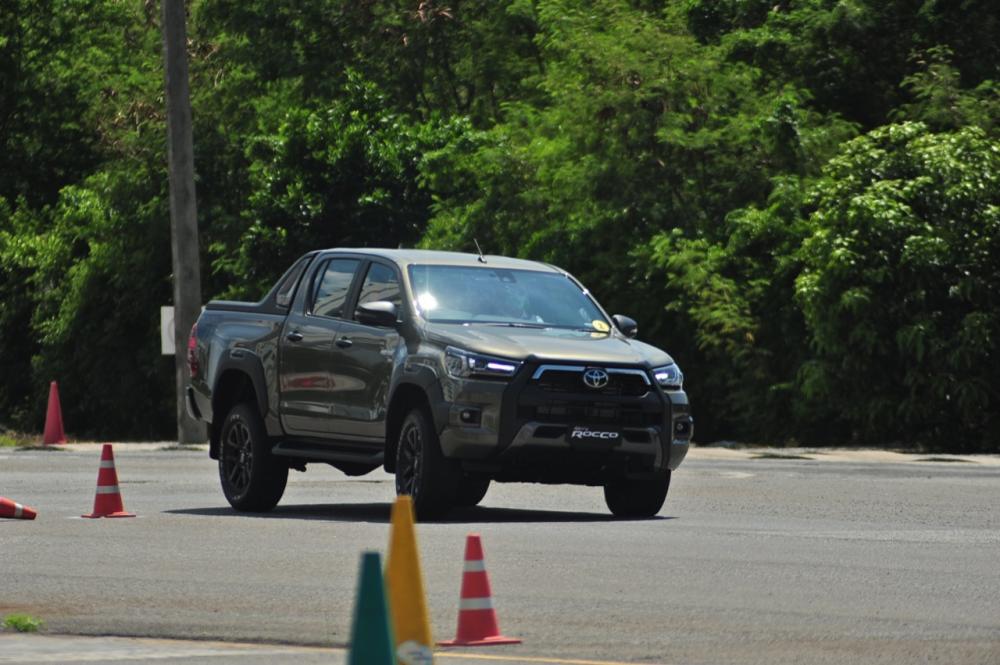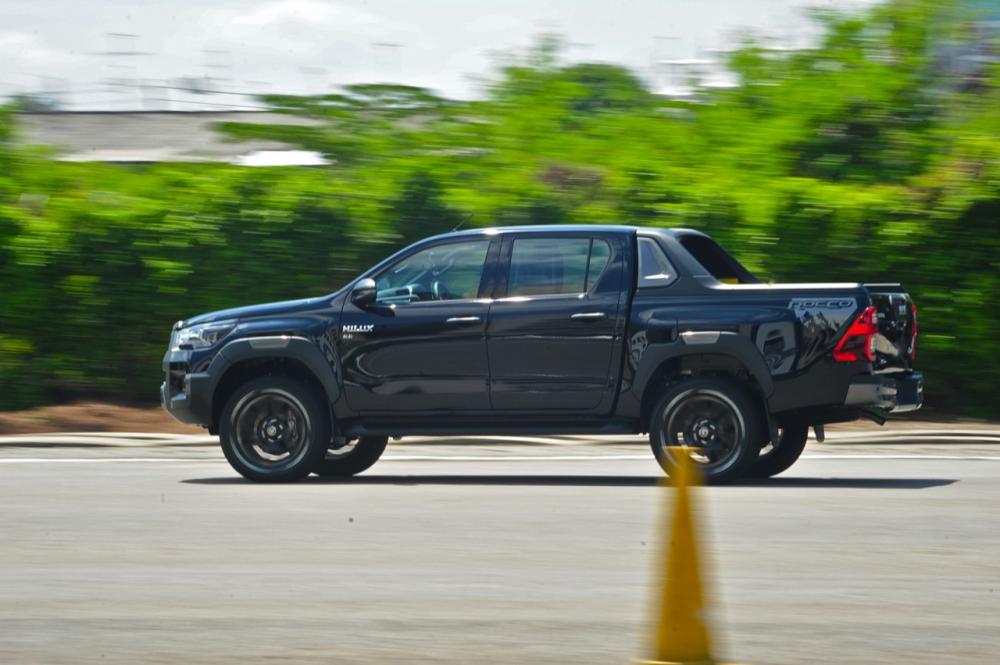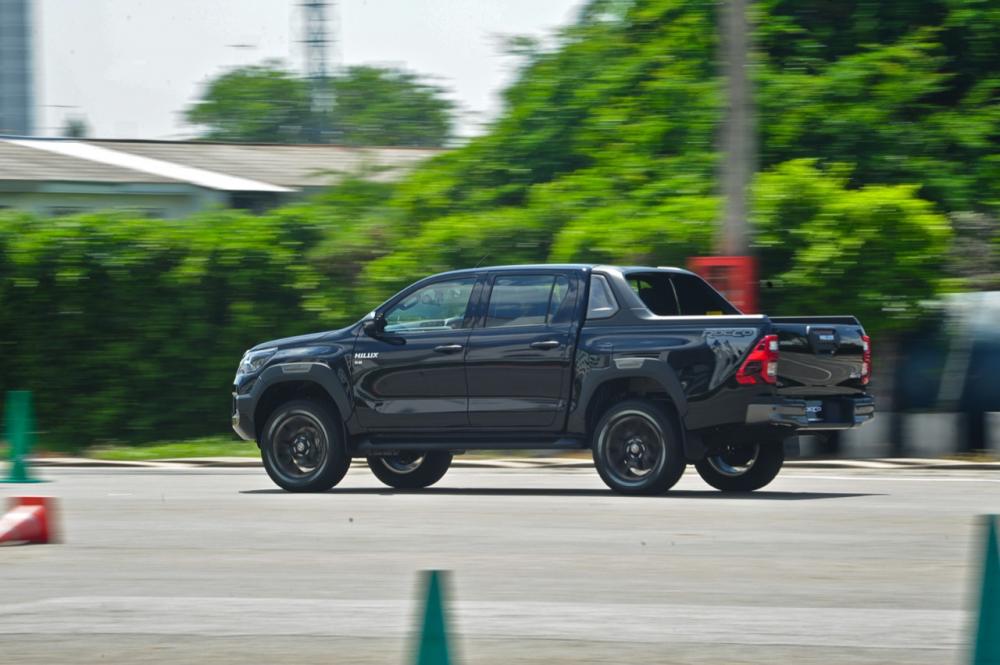 Test stability at a low speed of 50 kilometers per hour when cornering wide angles. The new support tweaks have made the sway a little lower than before. The steering wheel in 2-wheel drive mode still weighs the same. but will reduce the rotation force when adjusting the driving mode to a 4-wheel drive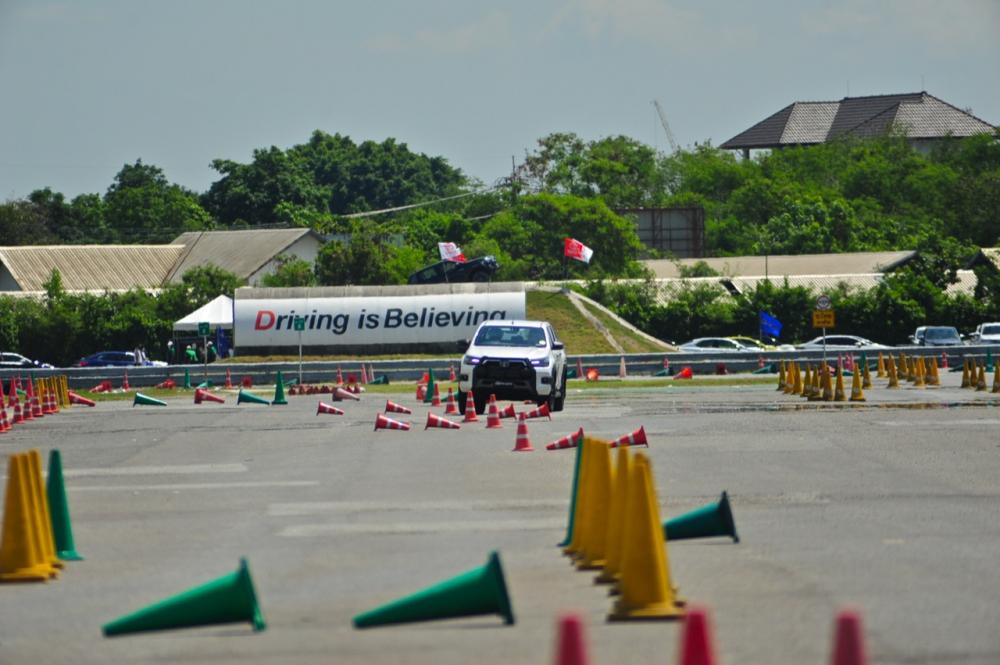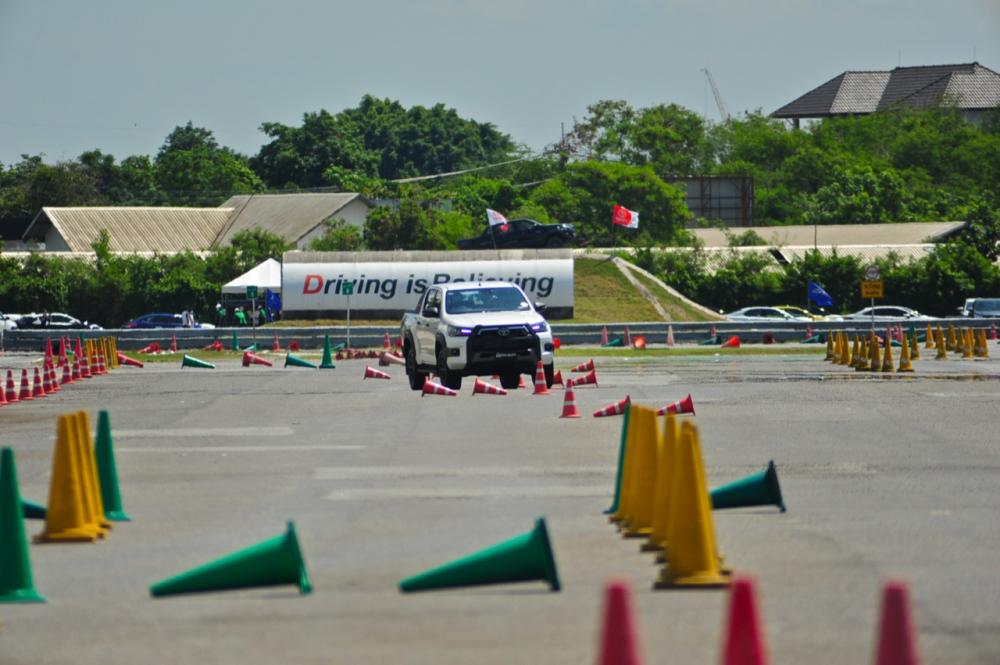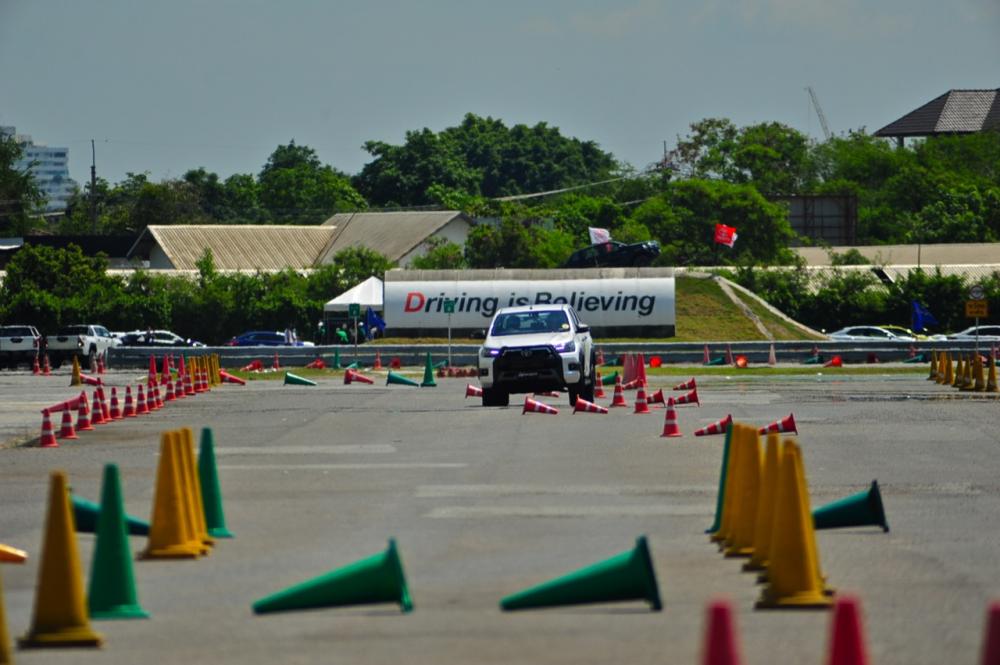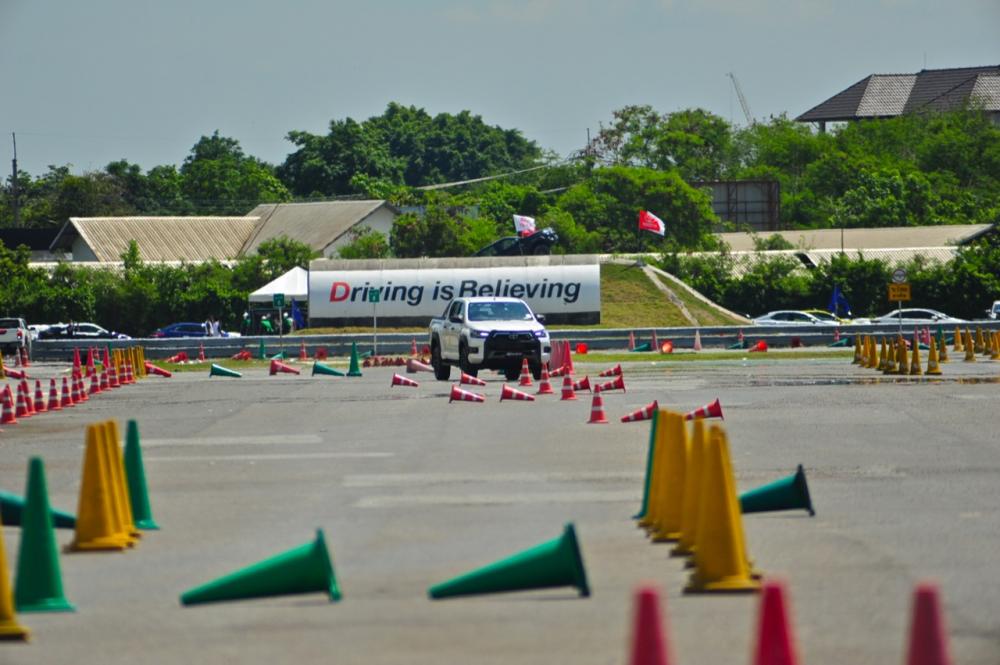 Falling from a low speed curve, it meets with a slalom with a speed of about 60 kilometers per hour. Even though the steering wheel is heavy, the slalom is accurate. The steering wheel can control the direction well. It also has a better weight transfer than before.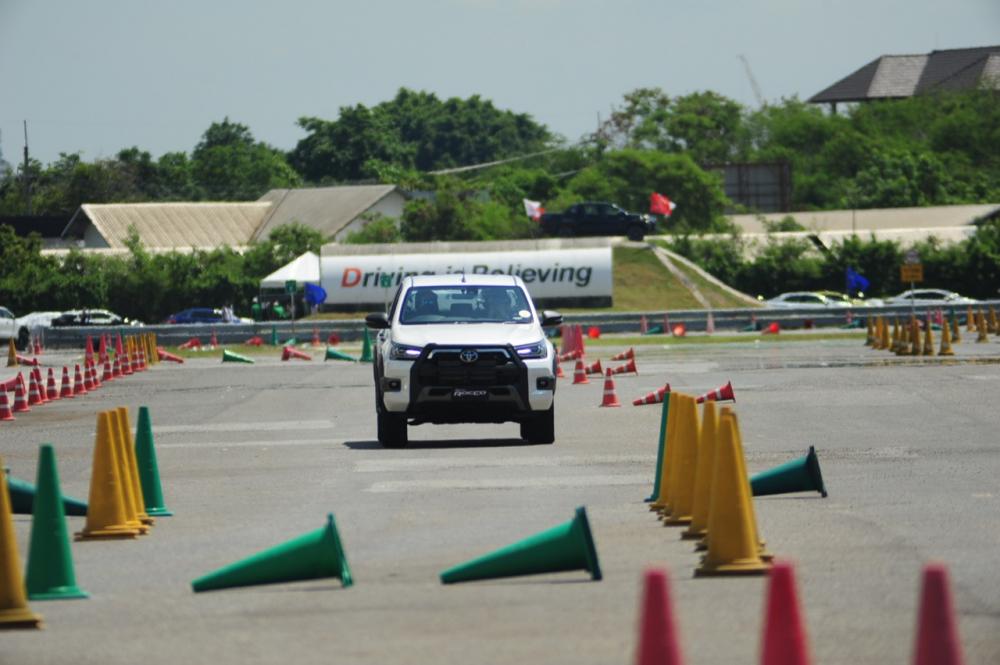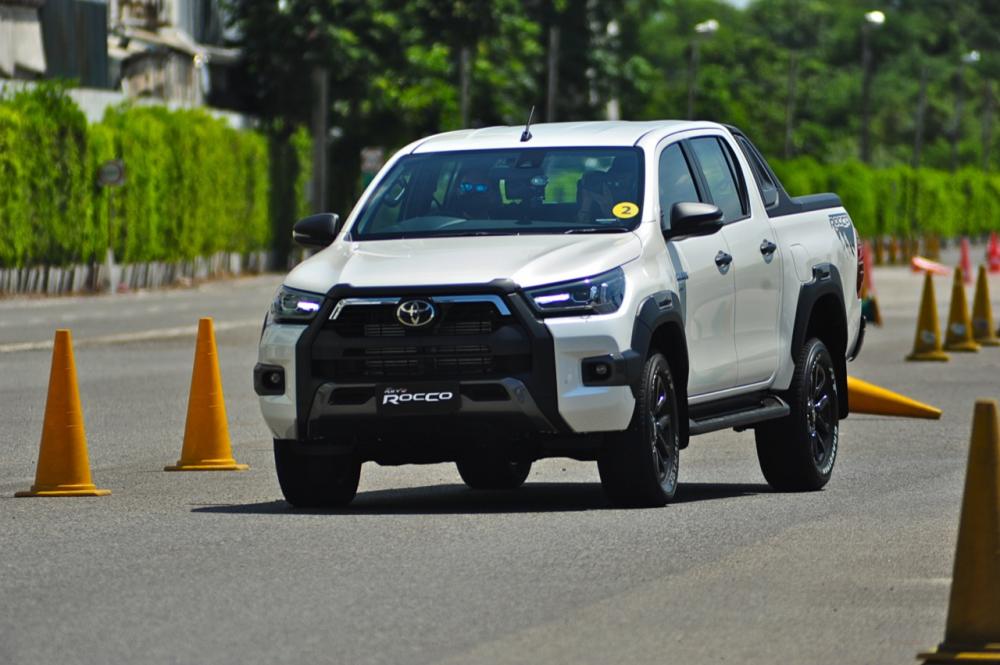 Emerging from the slalom point, it meets the Lane Change station with a speed of nearly 70 kilometers per hour. Maneuvering around obstacles at low speeds is another area where the top-of-the-range Rocco has improved. The car has few symptoms when maneuvering around obstacles while driving at speeds up to 80 kilometers per hour. Even though the belt-driven power steering with VFC is heavier than the Ford Ranger's electric steering, it controls the vehicle's direction fairly accurately.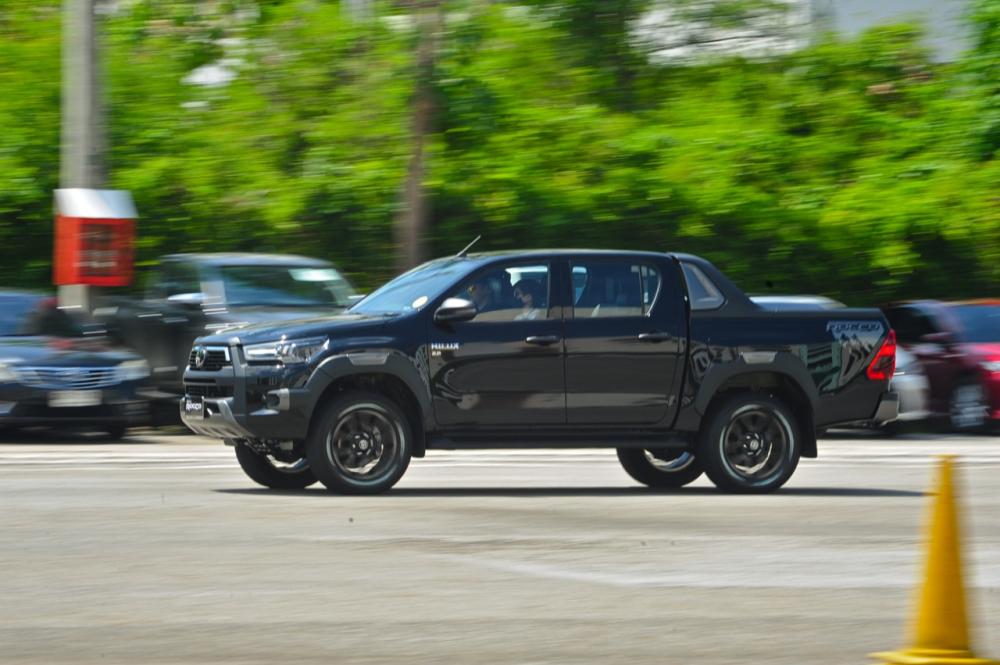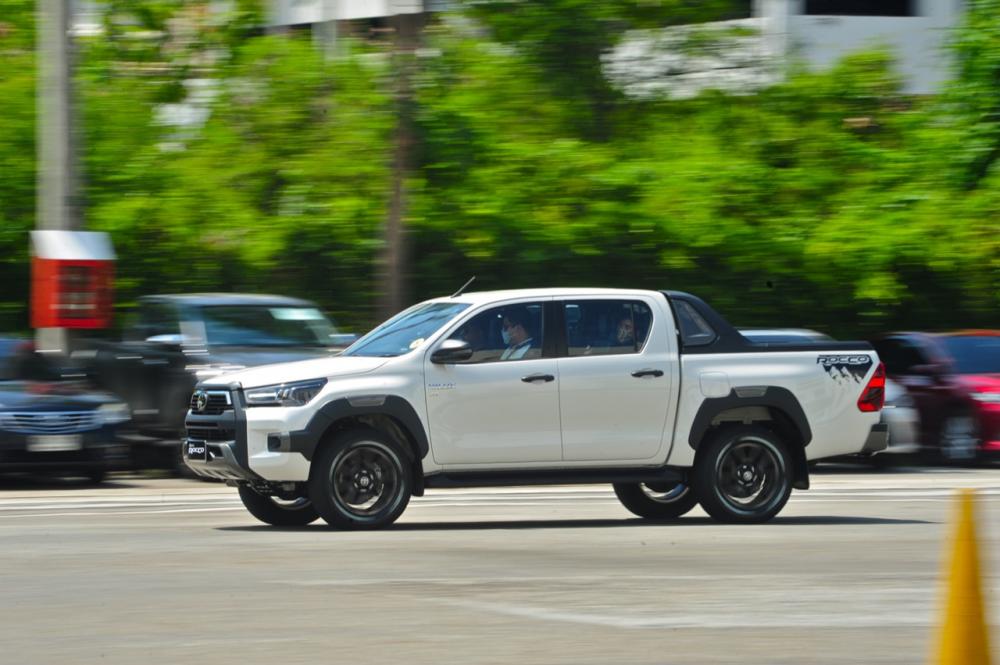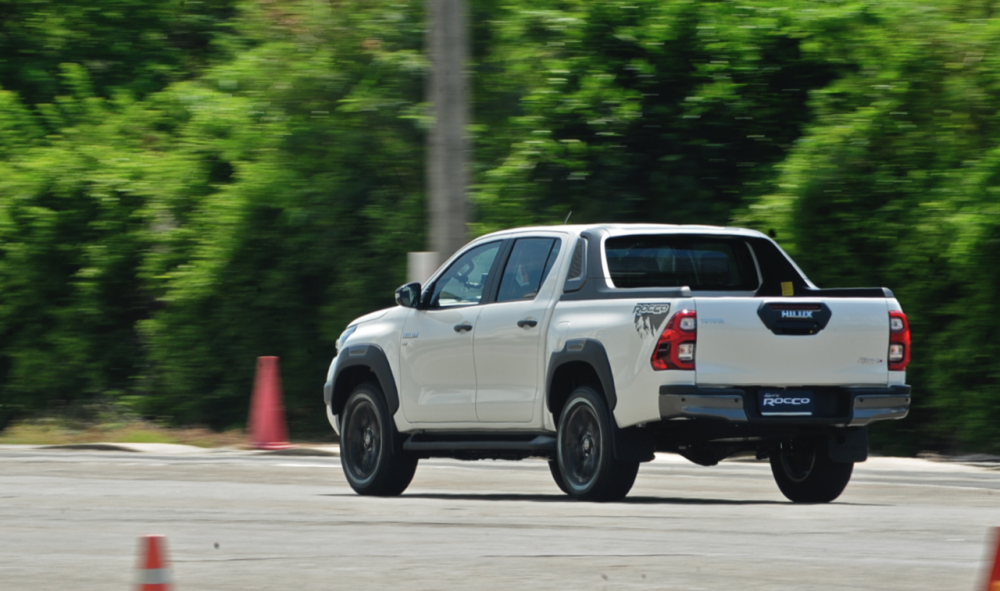 Acceleration in acceleration from 30 kilometers per hour to 100 kilometers per hour. 2.8-liter turbo diesel engine, a new turbo modification to make it bigger. stuffed turbo core with ball bearing Makes a noticeable increase in traction Along with the whistling of a new turbo while working at full power to create a boost, 500 Nm of torque, close to the Ranger, but do not forget that the Ranger uses a diesel engine capacity only. 2.0 liter with 2 turbos to help blast the air into the intake manifold As for the 2.8-liter engine with the same cylinder, but with more pressure. It creates an impressive traction from start to 100 km/h.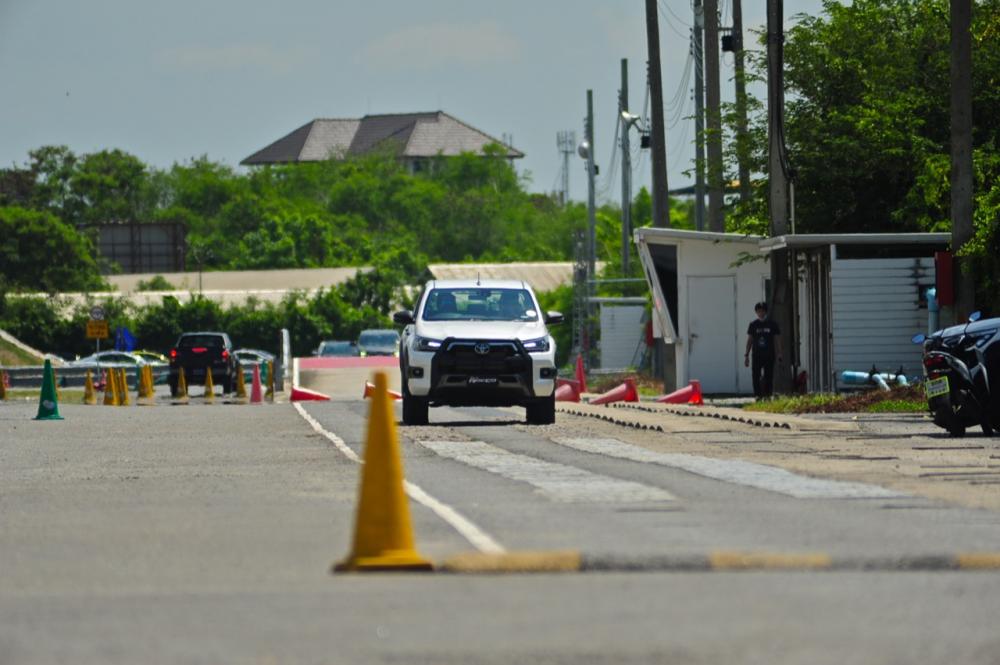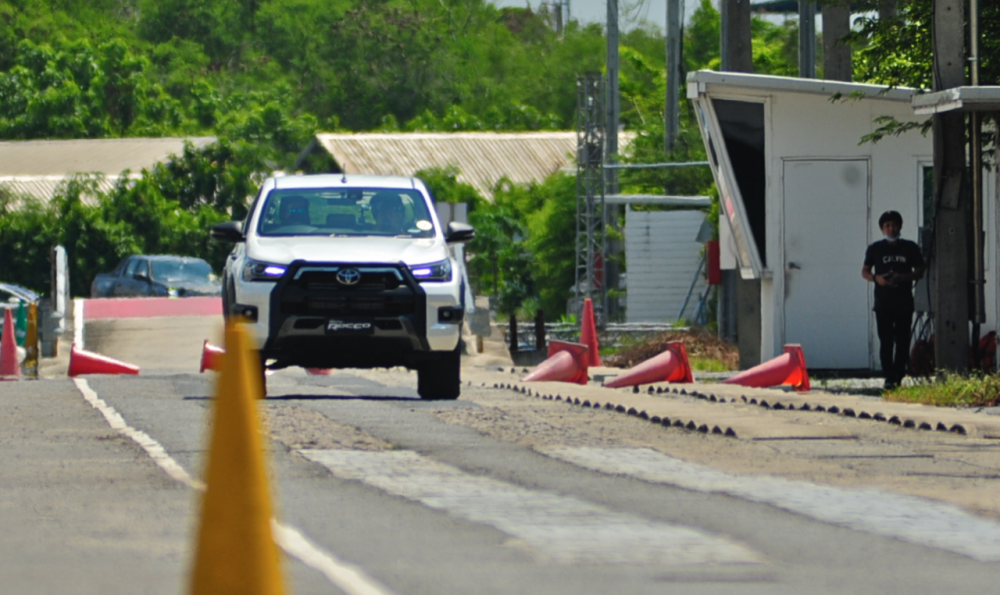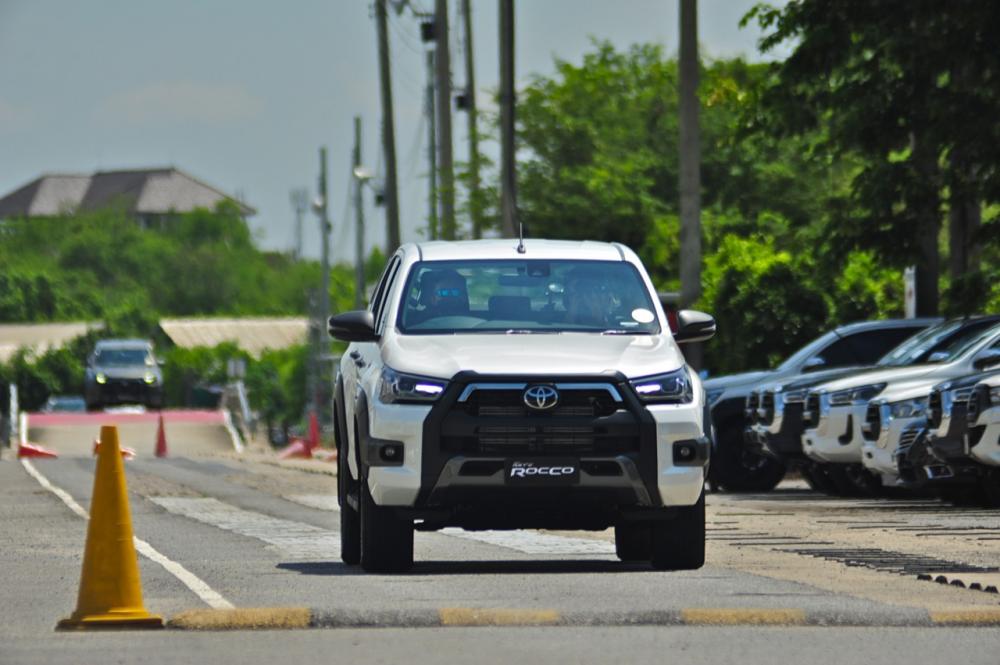 The final station of the test drive on the flat road is through the steep semis. and the rough surface is full of waves at a low speed of 10-30 kilometers per hour Chassis and suspension vibration dampening including tight internal assembly work causing the car to have reduced vibration Sit on rough roads more comfortably. Better soundproofing and less stabilizer. When driving through potholes or gravel roads Adjusting the new suspension makes the Hilux REVO Rocco run much smoother than before. But it got better until it was clearly felt.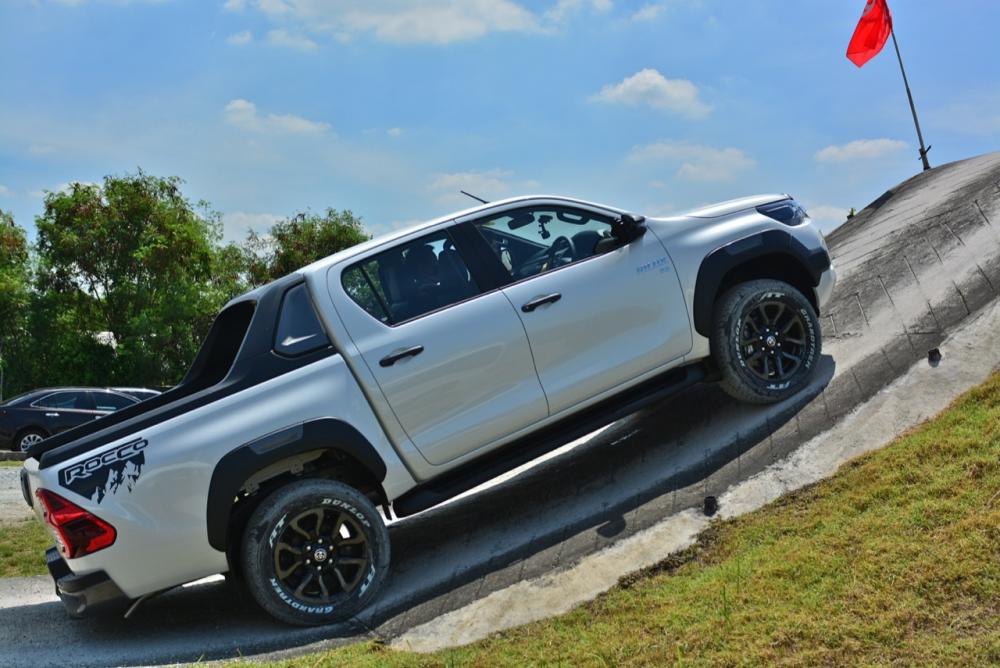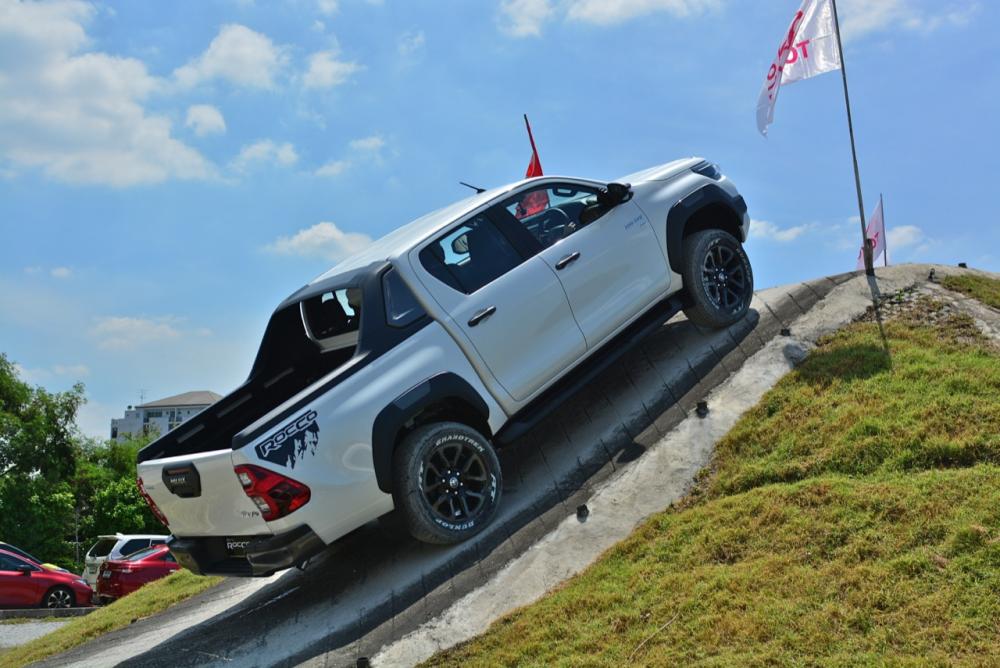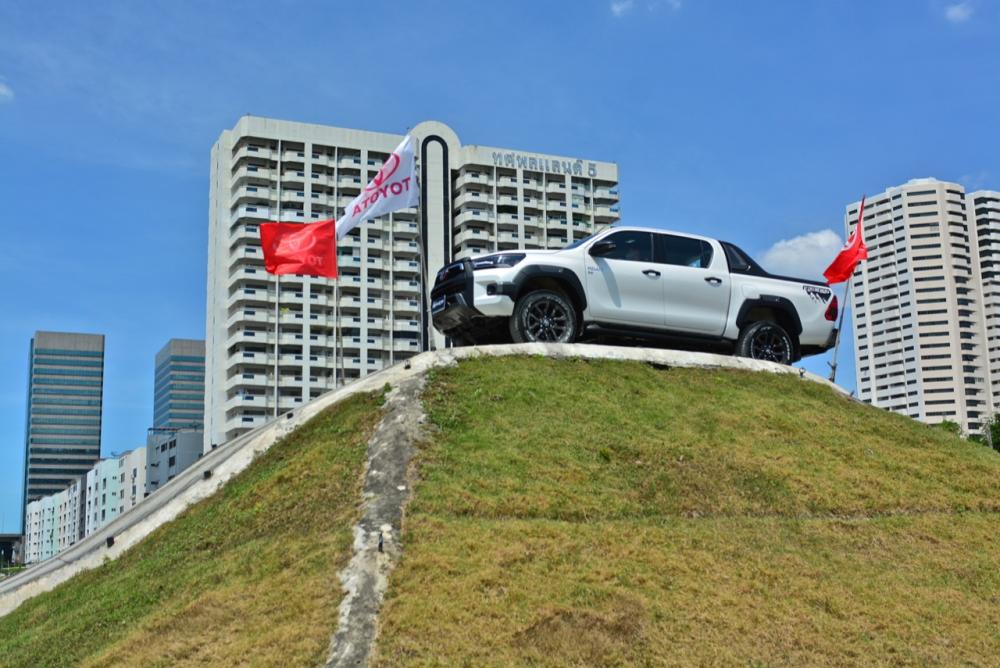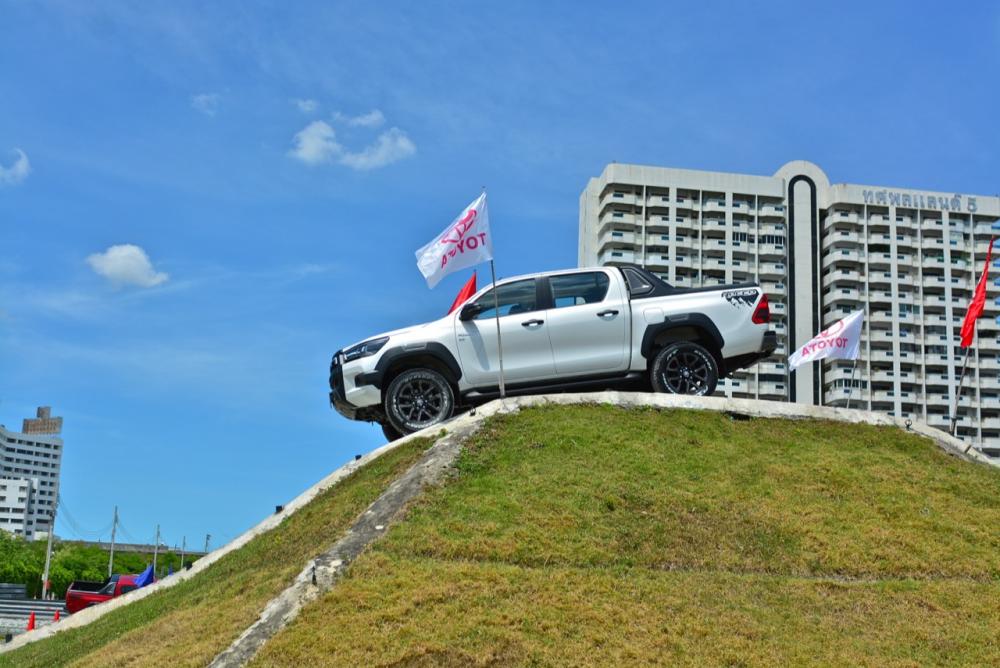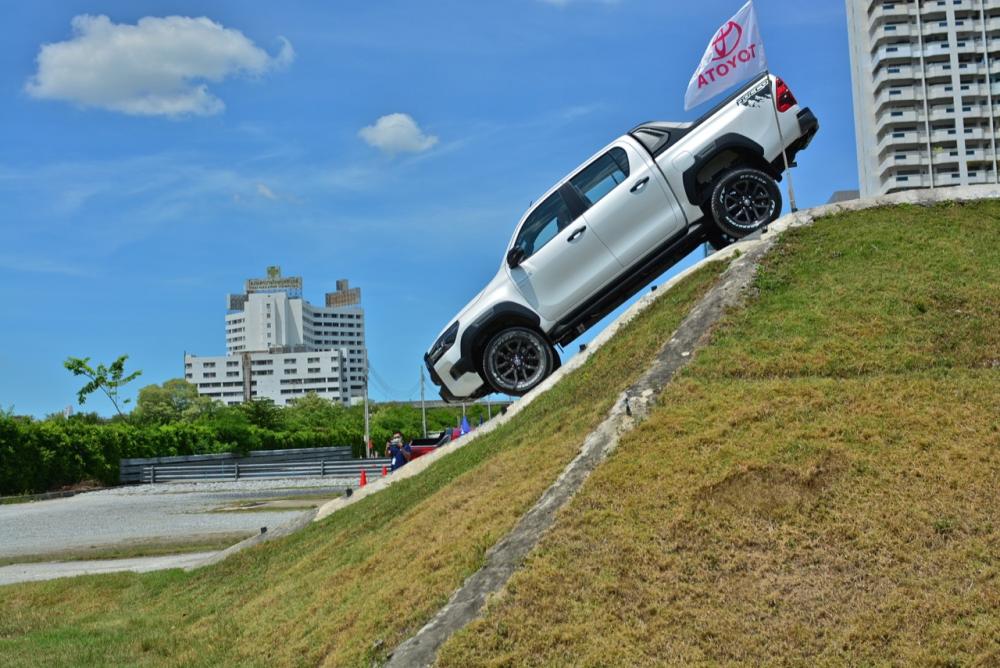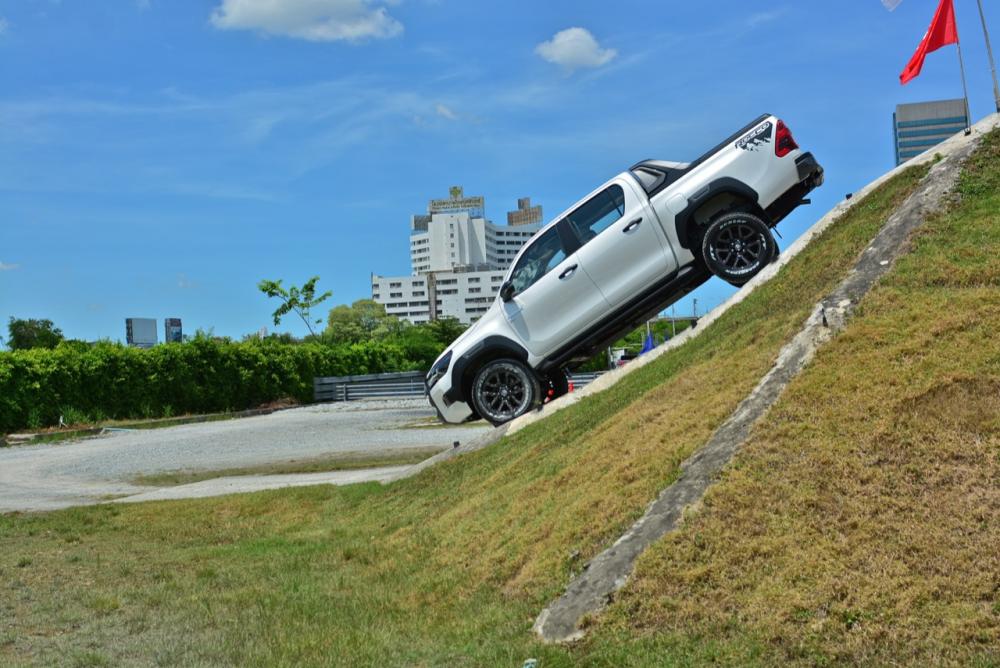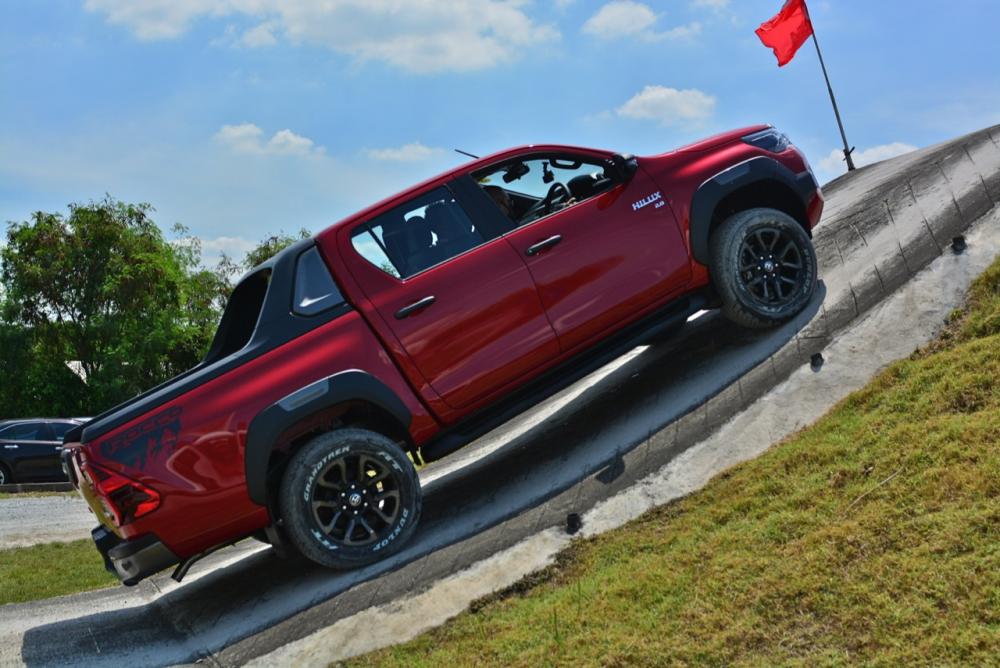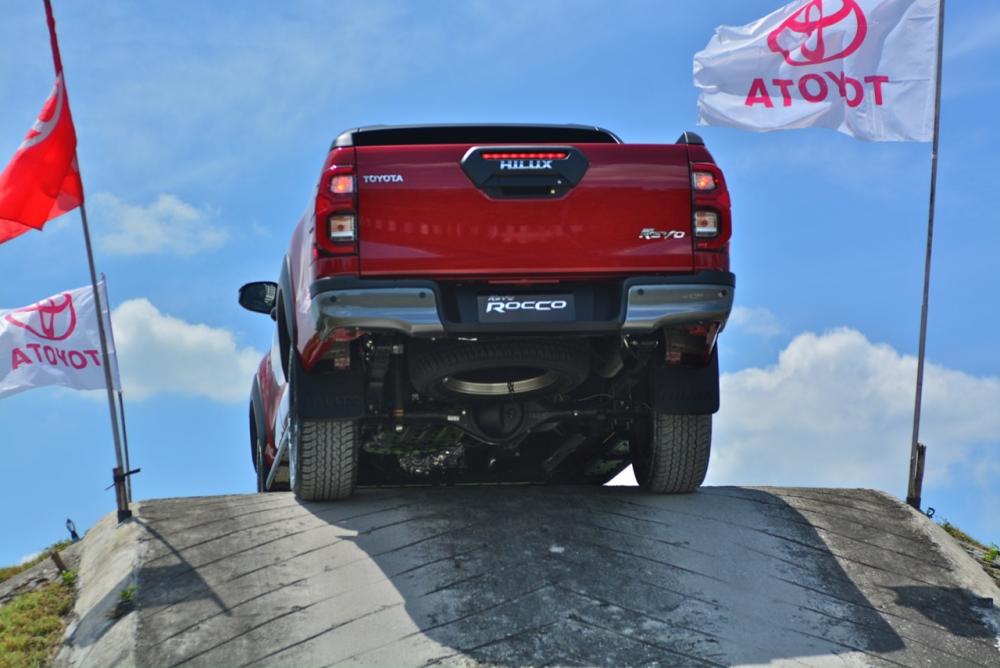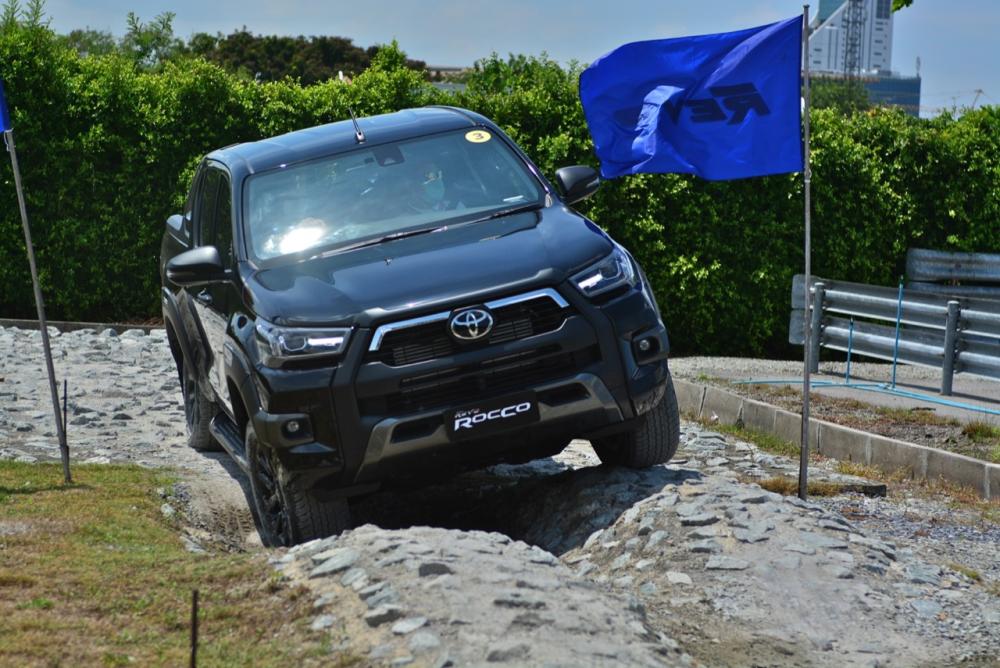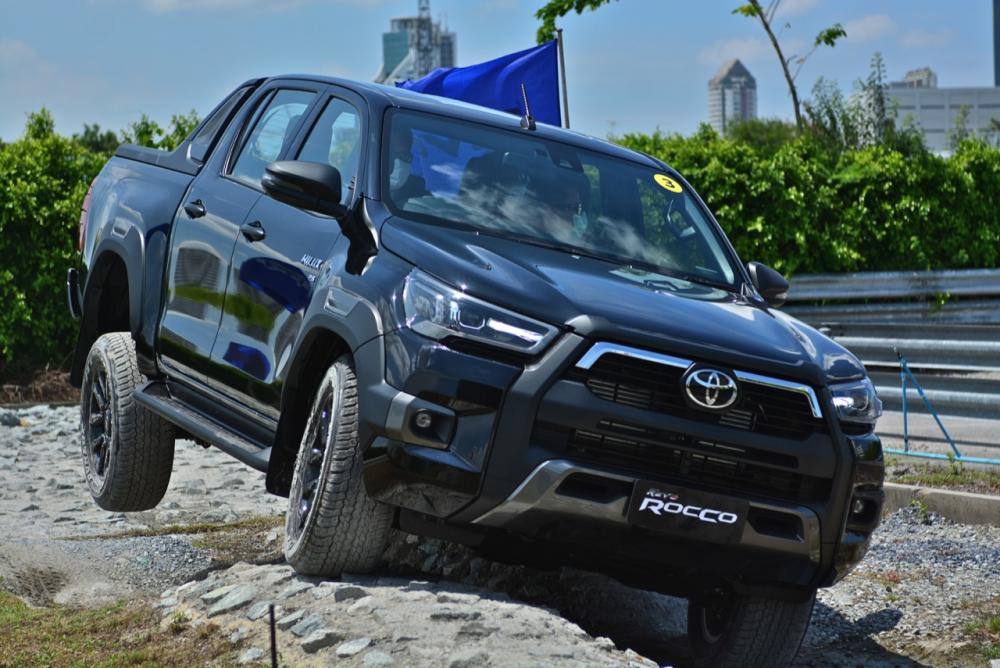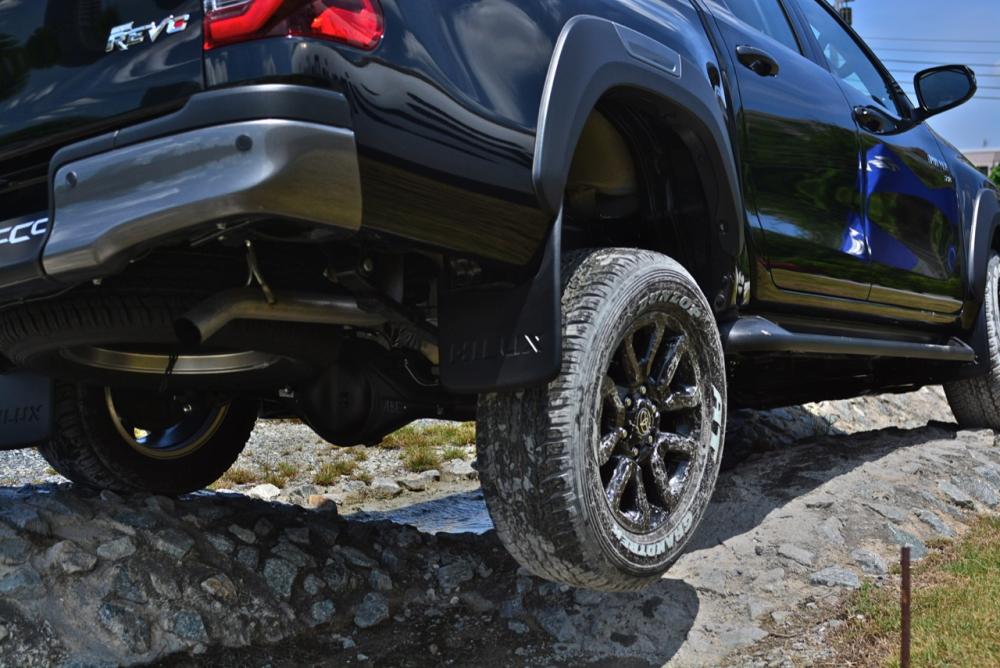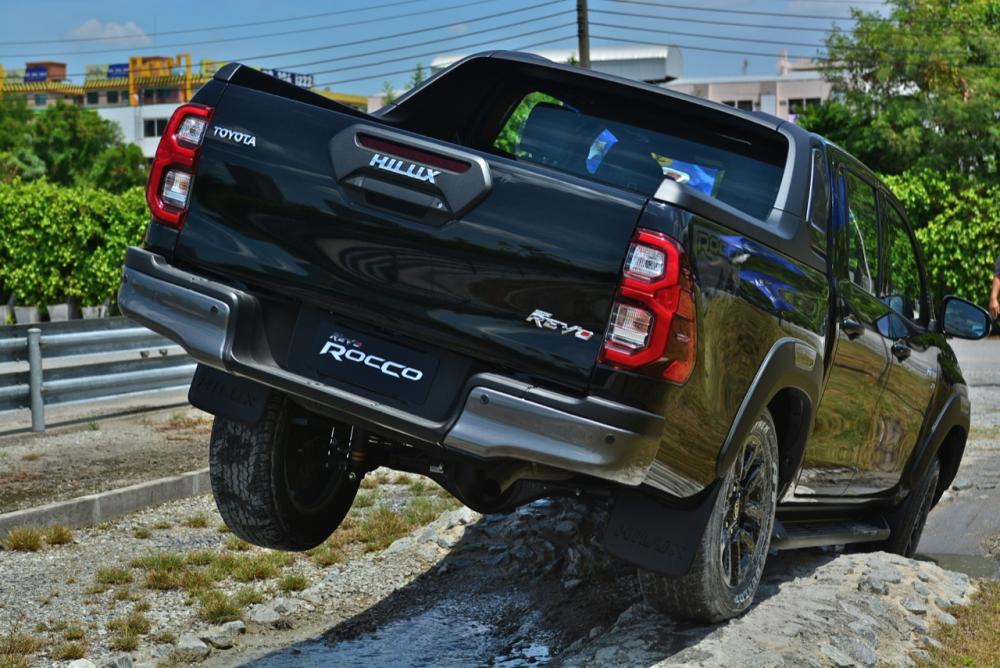 last station It is a short off-road drive. With a steep mock climb to test the A-TRC TRC Freewheel System, HAC Hill Start Assist, Descent Speed ​​Control DAC, DSC Emergency Start Prevention, Gear Control System. Rear (Auto Limited Slip Differential) The highest version of the Rocco passed the test comfortably. in my own backyard My favorite point is The idle rev limit was reduced from 850 to 650 rpm, making it much easier for off-road driving on different hills. The accelerator in 4-wheel drive mode 4 Low responds gradually. Plenty of low rev torque means that off-road driving doesn't need to touch the accelerator. The angle of climb and the angle from the car is well designed. The height of the car also means that driving through large and deep potholes is no longer a problem.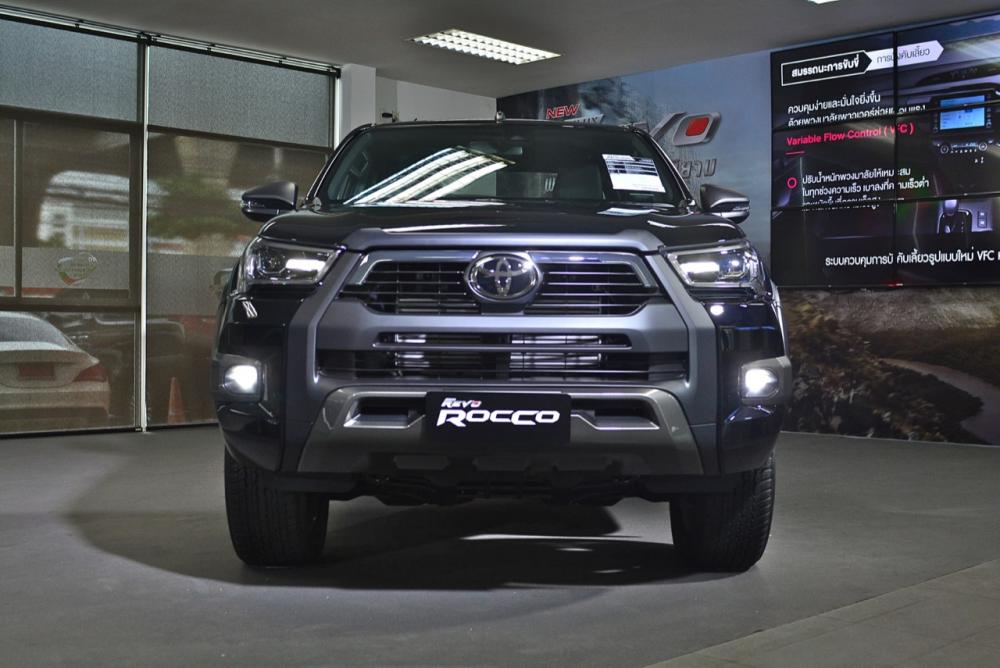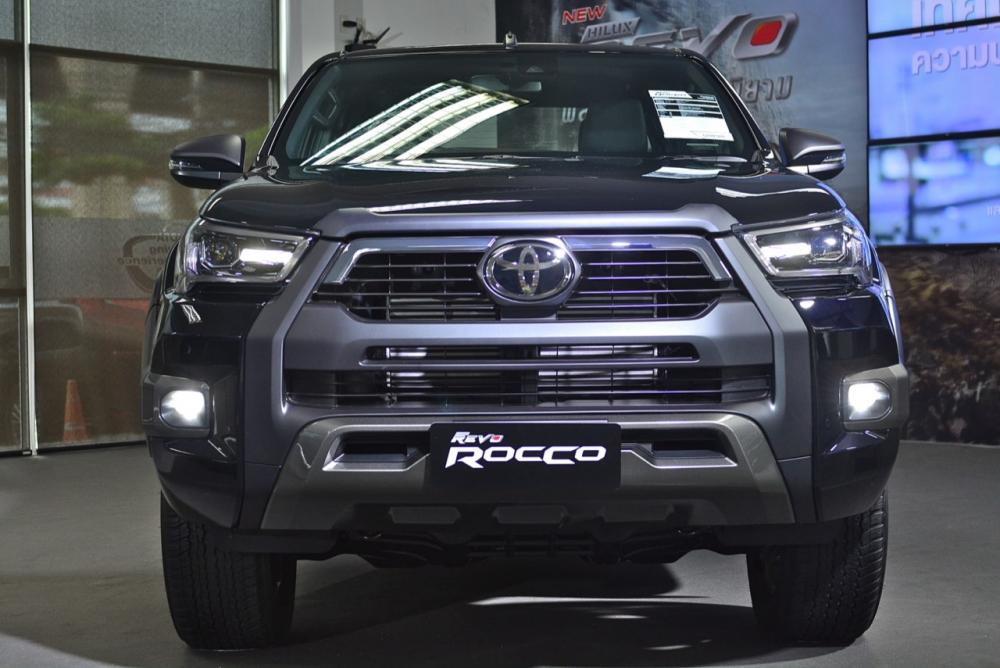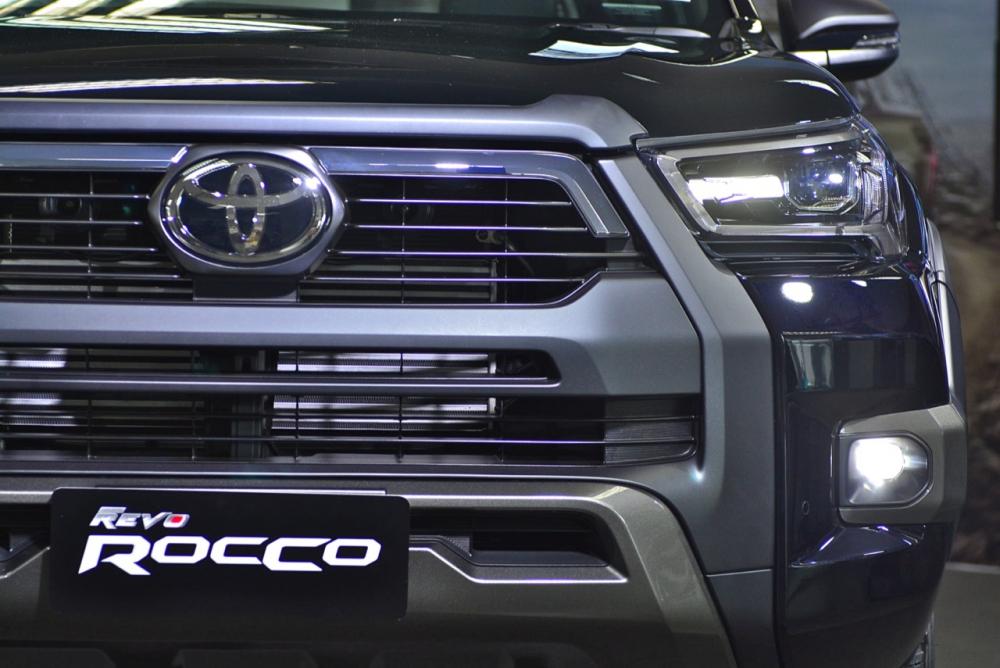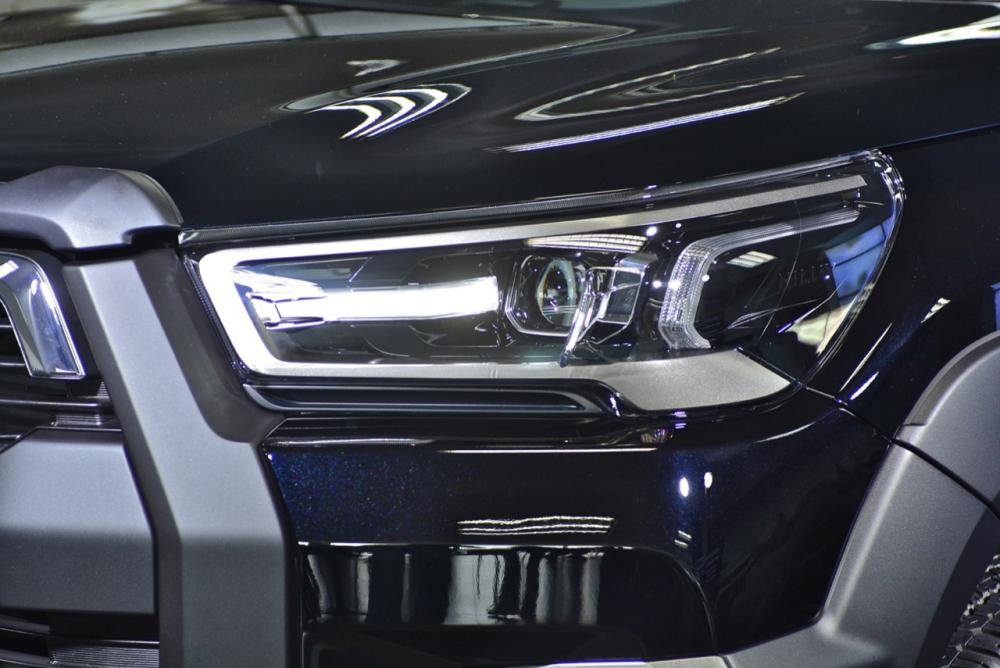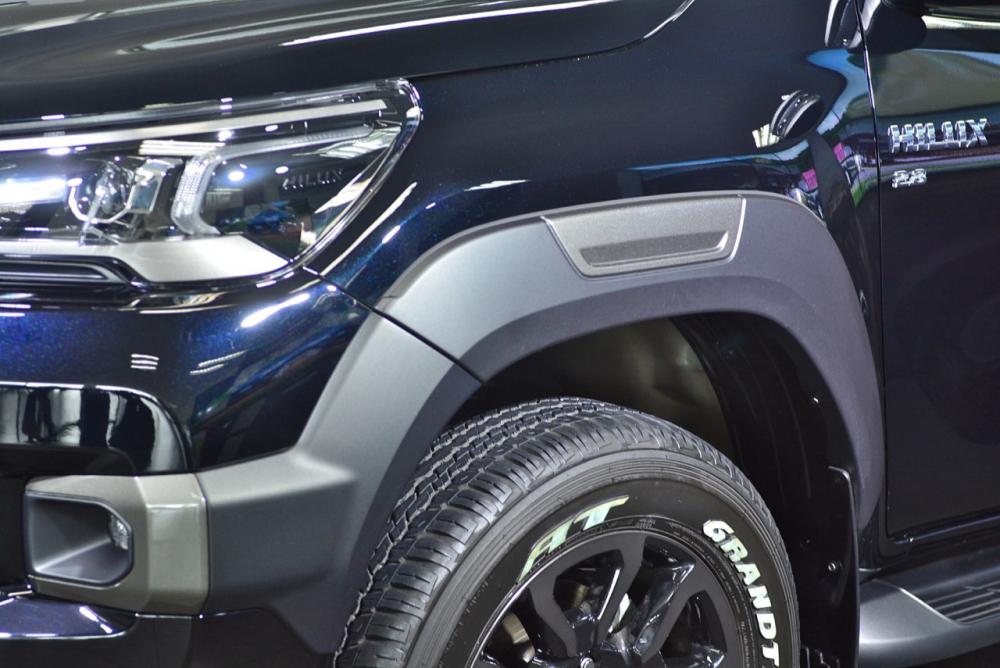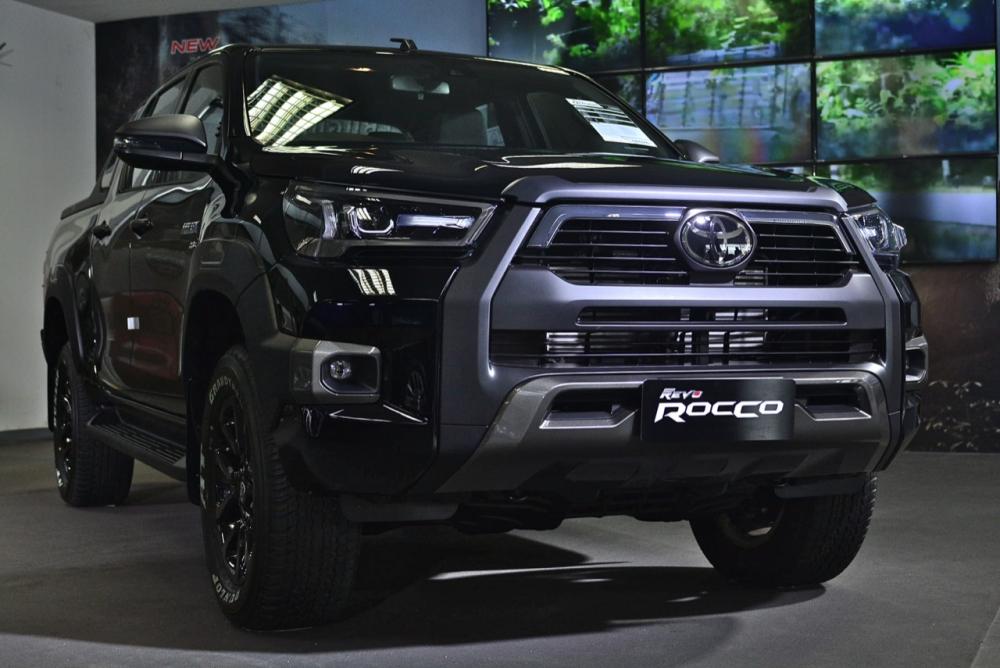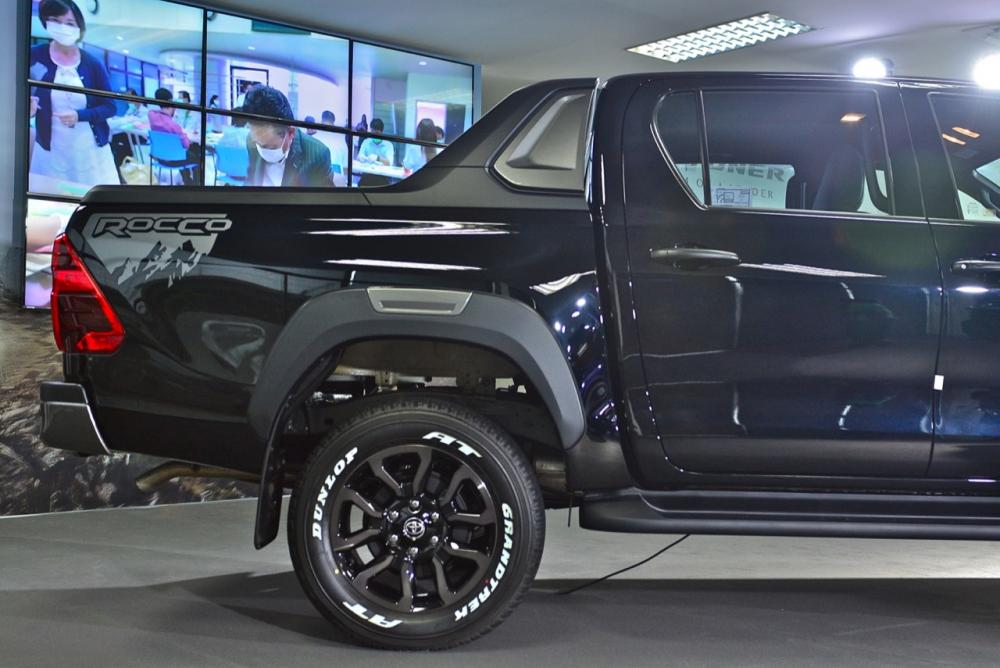 500 baht from a more aggressive appearance, especially the front grille, headlights, and front bumper that are perfect. Its better driving has been pushed out to beat its rival Isuzu New D-MAX. Stability on straight roads and curves, the driver's seat is more comfortable than before. better weight transfer The car does not sway in corners, not much. Plenty of low-revving torque makes it easy to tackle obstacles. The steering is a bit heavy in 2-wheel drive mode, and when switched to 4-wheel drive mode, the steering becomes a little lighter. It's a 4-door, 4-wheel-drive pickup truck that comes with new techniques. Both in the drive system and connected to the outside world, T-Connect by Toyota application to track the delivery status via mobile phone. Including anti-theft system (Theft Track) or tracking theft will make you sleep peacefully. No matter where they were stolen, they were able to find out quickly. Overall, it drives better.

Toyota Hilux REVO Double Cab 4x4 2.8 Rocco AT
6-speed automatic transmission with Sequential Shift,
standard price 1,210,500 baht,
special accessories price 28,500 baht,
total price 1,239,000 baht

Toyota Hilux REVO Double Cab 4x4 2.8 Rocco AT
6-speed automatic transmission system with
dimensional sequential shift Tank length 5,325 mm, width 1,900 mm, height 1810 mm
, wheelbase length 3,085 mm,
front wheel spacing 1,540 mm,
rear wheel spacing 1,550 mm
, height from the floor to the bottom of the car 216 mm,
pickup truck length 1840 mm, width 1,540 mm, height 480 mm


1GD- FTV (High)
4-cylinder, in-line, 16-valve engine, DOHC VN Turbo and Intercooler
Cylinder capacity 2,755 cc.
, bore width 92.0 mm, stroke distance 103.6 mm,
compression ratio 15.6: 1,
maximum power 150 kW (204 horsepower PS) at 3,400 rpm
, maximum torque (500 Newton-meters at 1,600- 2,800 rpm)
oil supply system Common rail direct injection (i-ART type)
fuel tank capacity 80 liters
, diesel fuel,

chassis,
4-wheel drive system with differential lock at the rear
gear, 6-speed automatic transmission with sequential shift
Gear ratio 1 3.600
Gear ratio 2 2.090
Gear ratio 3 1.488
Gear ratio 4 1.000
Gear ratio 5 0.687
Gear ratio 6 0.580
Reverse gear ratio 3.732
rear differential ratio 3.909


front suspension Independent, double wishbone with coil spring and stabilizer bar
Rear suspension, double leaf
springs, front brakes, ventilated
disc brakes, rear brakes, drum brakes,
steering system Rack and Pinion With VFC power assist, the
narrowest turning radius 6.4 meters
, White Letters 265/60R18 tires, White Letters type,
18-inch alloy wheels, ROCCO model only,
spare tire 265/60R18, 18-inch alloy wheels,

exterior equipment
, dark gray and chrome grille.
Front bumper, same color as the car With front
bumper, rear bumper, metallic gray
, black side steps,
dark gray wheel arch decorations, metallic gray decoration,
Bi-Beam LED headlights
Automatic headlight on-off control system with Follow-me-home
High-low automatic
headlight adjustment system, rear lights, LED Light Guiding,
windshield, front
windshield, stacked safety, side mirrors, dark gray, adjustable and foldable electrically with turn signals,
door handles, dark gray,
decorative set for opening the tailgate lid, black,
rubber mudguards, front and rear
, wipers with delay and adjustable time

Interior equipment and facilities
, interior color, black,
seat material Leather and synthetic leather
colors, black and gray seats,
front seats slide - Entertainment. electric adjustment on driver's side
Front seat height-adjustable Driver's side only, electric adjustment,
rear seat only, double cab version, foldable armrests with cup holder
Rear seat only for double cab models Adjust the seat lift to increase storage space, split fold 60:40,
decorate the front console, Hairline silver and black chrome
front air vent decoration black and chrome
door panel decoration Double cab version, black, synthetic leather lining with silver Hairline stripes, black chrome and decorative lights,
metallic black electric window dashboard
trim
, chrome interior door handle trim , driver side sun visor. with business card holder
sun visor on passenger side with glass and cover,
handles, double- cap version, 8 positions
, steering wheel level adjustment, height-low adjustment and in-out (Tilt & Telescopic),
materials / steering wheel decoration, leather cover / metallic black color,
audio control switch, phone and color TFT screen,
material / gear head decoration, leather cover / metallic black
Metallic black gear base, black
handbrake, chrome decoration
Smart start system and intelligent door opening system (Push Start and Smart Entry),
remote key, Smart Key, only ROCCO
model, Optitron glow meter, blue, only ROCCO model
, driving information display (MID), color TFT display
, lighting in the cabin with personal lights
Anti-glare rearview mirror
Automatic electric windows up and down with anti-clamping system
Automatic electric windows up and down With anti-pinch
central locking Speed Auto Lock
switch driving modes (Eco / Power)
, air conditioning, adjustable wind 5 automatic
channel conditioning, rear limited edition double caps decorated with strips of black metal elements.
Top compartment with lid, Cool Box with Hilux logo,
Bottom compartment with lid and lock, Retardant,
Storage box with lid synthetic leather cover
Storage compartment on the door panel with water bottle holder.
Storage compartment on the door panel with water bottle holder.
eyeglass holder
Cup holder in the front console
Document storage compartment behind the front seats
Luggage hanger behind the front seats
multipurpose hanger Double-cap version only
Electrical connectors DC 12V DC 2 positions
Electrical connectors AC 220V only double cab models 1 position

Audio system and connection
AM/FM radio with USB connection, 8-inch capacitive touch screen, Apple CarPlay support
Bluetooth connection system supports phone calls And playing music
T-Connect system,
6 speakers
, short antenna,
anti-theft alarm system
Theft Deterrent System TDS (Theft Deterrent System)
Immobilizer lock system

Special accessories
Sports bar with LED lighting and pickup truck floor
Device to relieve force to open and close the tailgate
Sticker on the side of the pickup truck, special edition, ROCCO
Toyota Motor Thailand Co., Ltd. launches a world-class pickup truck , the new Toyota Hilux Revo. That has been improved and developed to meet the needs of the driver to a whole new level
With an external appearance that reflects strength in every dimension With hidden lateness With a new bi-beam design headlights, LED Daytime Running Light and LED Light Guiding taillights add a distinctive night.
ด้านภายใน เพิ่มความล้ำสมัยด้วยหน้าจอสัมผัสขนาด 8 นิ้ว ที่รองรับ Apple CarPlay เชื่อมต่อทุกความบันเทิงได้อย่างอิสระ พร้อม T-Connect ระบบเชื่อมต่อรถและผู้ใช้รถให้เป็นหนึ่งเดียว เป็นอุปกรณ์มาตรฐานในทุกรุ่นย่อย และมาตรวัดดีไซน์ใหม่ นอกเหนือจากนี้ ภายในห้องโดยสาร ได้รับการตกแต่งให้สอดรับกับการออกแบบภายนอกด้วยวัสดุตกแต่งภายในห้องโดยสารแบบพิเศษ และไฟส่องสว่างภายใน
สำหรับขุมพลัง มีรายละเอียดดังนี้
1. ทำการปรับปรุงสมรรถนะเครื่องยนต์ใหม่ในรุ่น 2.8 ลิตร ให้กำลังสูงสุดถึง 204 แรงม้า (PS) แรงบิด 500 นิวตันเมตร (Nm) ในช่วงความเร็วรอบเครื่องยนต์ที่กว้างตั้งแต่ 1,600-2,800 รอบต่อนาที ตอบรับทุกการขับขี่ได้อย่างเต็มสมรรถนะ และประหยัดน้ำมันมากขึ้น
2. For those who like to drive off-road, has been improved as follows
เครื่องยนต์มีการปรับลดความเร็วรอบเดินเบา (จาก 850 รอบต่อนาที เป็น 680 รอบต่อนาที) ลุยเส้นทาง Off-Road ได้อย่างมั่นคง ราบรื่น ไม่สะดุด
หน้าจอ TFT แสดงข้อมูลตำแหน่งองศาของล้อ และติดตั้งสัญญาณเตือนกะระยะด้านท้าย และมุมกันชนหน้า-หลัง เพื่อช่วยตรวจสอบสิ่งกีดขวางรอบข้างในขณะขับขี่
3. ปรับปรุงประสิทธิภาพในการใช้น้ำมันเชื้อเพลิงทั้งในเครื่องยนต์ 2.8 และ 2.4 ลิตร มอบความประหยัดเป็นเลิศ
4. ระบบบังคับเลี้ยวแบบ VFC (Variable Flow Control) ปรับน้ำหนักพวงมาลัยให้เหมาะสมในทุกช่วงความเร็ว ช่วยลดความเหนื่อยล้าของผู้ขับขี่
ช่วงล่าง Super Flex Suspension ได้รับการปรับปรุงและพัฒนาขึ้นใหม่ โดยเฉพาะในส่วนของการดูดซับแรงกระแทกโช๊คอัพและเปลี่ยนวัสดุของแหนบ ที่ช่วยมอบความนุ่มสบายให้มากกว่าเดิม เสมือนนั่งรถ SUV ระดับหรู โดยที่ยังคงรักษาความเป็นผู้นำในด้านความแกร่งทนทาน และอัตราการรับนํ้าหนักได้ดีเช่นเดิม
ครั้งแรกกับการติดตั้งระบบความปลอดภัยมาตรฐานระดับโลกของรถโตโยต้า (Toyota Safety Sense) มาไว้ในรถโตโยต้า ไฮลักซ์ รีโว่ ที่เพียบพร้อมไปด้วยเทคโนโลยีด้านความปลอดภัยขั้นสูงสุดไว้มากมาย เช่น ระบบความปลอดภัยก่อนการชน (Pre-Collision System) ระบบควบคุมและปรับลดความเร็วอัตโนมัติ (Dynamic Radar Cruise Control) และระบบเตือนเมื่อออกนอกเลน พร้อมหน่วงกลับอัตโนมัติ (Lane Departure Alert)
รายละเอียด Toyota Hilux REVO รุ่นต่าง ๆ
โตโยต้า ไฮลักซ์ รีโว่ รุ่นมาตรฐาน (B-Cab) เหมาะสำหรับใช้งานบรรทุกหนักเป็นหลัก เช่น กลุ่มธุรกิจที่เพื่อการขนส่ง (Logistics) และเกษตรกรขนผลิตผล ด้วยเครื่องยนต์พละกำลังสูง 204 แรงม้า และประหยัดน้ำมัน รวมถึงระบบช่วงล่างที่แข็งแกร่งรองรับน้ำหนักบรรทุกได้อย่างดีเยี่ยม ตอบโจทย์ความต้องการของลูกค้ากลุ่มธุรกิจได้ในทุกมิติจากผลิตภัณฑ์ที่มีให้เลือกหลากหลายรูปแบบ ครอบคลุมทุกประเภทการใช้งาน ทั้งแบบขับเคลื่อนสองล้อ แบบขับเคลื่อนสี่ล้อ และแบบหัวเดี่ยว (Cab & Chassis) สำหรับต่อเติมตู้แห้ง-ตู้เย็น ต่อคอก
โดยลูกค้า สามารถจบทุกความต้องการได้ด้วยการบริการทางการเงินที่ครอบคลุมแบบ One Stop Service พร้อมกันนี้ยังติดตั้งอุปกรณ์เชื่อมโยงเครือข่าย T-Connect และ Fleet Telematics Service ระบบบริหารยานพาหนะและการขนส่งครบวงจร ช่วยให้การจัดการและการดำเนินธุรกิจขนส่ง มีประสิทธิภาพมากยิ่งขึ้น ทั้งด้านเวลา ต้นทุน และคุณภาพสินค้า อีกทั้งยังให้บริการทางด้านการเงิน Full Service Lease ในการเช่าซื้อแบบครบวงจร เพื่อช่วยในการบริหารสภาพคล่องทางการเงินในยุคเศรษฐกิจเช่นนี้ ทำให้ลูกค้าสามารถประกอบธุรกิจได้อย่างสบายใจ ไร้กังวล
โตโยต้า ไฮลักซ์ รีโว่ รุ่น Z-edition สำหรับรถกระบะตัวเตี้ยที่มีความหลากหลายในการใช้งาน ทั้งใช้ในชีวิตประจำวัน หรือทำธุรกิจ งานบรรทุก การค้าขายปลีก-ส่ง ซึ่งสามารถตอบโจทย์การใช้งานได้ครบถ้วน ซึ่งได้รับการพัฒนารูปลักษณ์ใหม่ที่เท่ห์สะดุดตา ทันสมัย สวยเร้าใจในทุกมุมมอง รองรับการตกแต่งเพิ่มได้ตามความต้องการจากร้านรถแต่งชั้นนำ ด้านสมรรถนะมีขุมพลังจากเครื่องยนต์ GD Super Power 2.4 ลิตร ประหยัดน้ำมันมากยิ่งขึ้น เพียบพร้อมด้วยอุปกรณ์ความบันเทิงในรถ แบบหน้าจอสัมผัส Touchscreen ที่รองรับการใช้งาน Apple CarPlay โดยมีให้เลือกทั้งรุ่นเกียร์ธรรมดา และเกียร์อัตโนมัติ
เพื่อเป็นการสร้างประสบการณ์การซื้อรูปแบบใหม่ (New Buying Experience) ได้มีการจัดแต่งรถในโชว์รูม เพื่อเป็นตัวอย่างแนวทางการใช้งานและไอเดียในการแต่งรถ จากแพ็กเกจชุดแต่งหลากหลายทางเลือกแบบ One Stop Service
และพร้อมเป็นเจ้าของได้ง่ายขึ้น ด้วยระบบ Connected Auto Loan หรือ CAL และบริการ Sabuy 😀 ที่ฉีกมิติใหม่ในการเช่าซื้อ ด้วยการผ่อนต่ำลง 18% เมื่อเทียบกับโปรแกรมเช่าซื้อปกติ แต่รวมแพคเกจเช็กระยะ 23,000 กม.พร้อมรับประกันราคาขายต่อในอนาคต และระบบ Theft Track หรือการติดตามการโจรกรรม ที่เสมือนรถอยู่ในสายตาให้ความปลอดภัยจากการโจรกรรมตลอดเวลา
โตโยต้า ไฮลักซ์ รีโว่ รุ่นยกสูง (Pre-runner) รถกระบะยอดนิยมของคนไทย สามารถตอบโจทย์การใช้งานที่อเนกประสงค์ ทันสมัยสมบูรณ์แบบ และสะดวกสบายเช่นเดียวกับรถยนต์นั่ง โดยรุ่นใหม่นี้ ได้รับการพัฒนาไปอีกขั้นในทุกมิติ ด้วยดีไซน์ภายนอกที่ดูบึกบึน ทันสมัย ไฟหน้าดีไซน์ใหม่ โฉบเฉี่ยวและส่องสว่างได้ดียิ่งขึ้น ขุมพลังจากเครื่องยนต์ GD Super Power ใหม่ ที่ตอบโจทย์ทั้งเรื่องพละกำลังและความประหยัดสูงสุด
ระบบช่วงล่างใหม่ "Super Flex Suspension" ที่ทำให้การขับขี่นุ่มนวลเช่นเดียวกับรถยนต์นั่ง พร้อมเพิ่มระบบบังคับเลี้ยวแบบ VFC ที่ช่วยในการควบคุมพวงมาลัย ลดความเหนื่อยล้าในการขับขี่สำหรับผู้ที่ต้องขับรถในระยะทางไกลๆ และระบบ VSC ที่ติดตั้งในรุ่นกลางเป็นต้นไป
รวมถึงยังได้สำเสนออุปกรณ์ตกแต่งของแท้จากโตโยต้า TGA (Toyota Genuine Accessories) ที่ออกแบบใหม่ให้ตรงกับความต้องการใช้งานของลูกค้ามากขึ้น
พร้อมนำเสนอบริการทางเลือกใช้รถรูปแบบใหม่ "KINTO" บริการออนไลน์รูปแบบใหม่สำหรับลูกค้าบุคคลเช่ารถระยะยาว ที่พร้อมให้บริการออนไลน์อย่างเต็มรูปแบบ ตั้งแต่การจอง การอนุมัติสินเชื่อ ตอบโจทย์ทุกความต้องการใช้รถที่สอดรับรูปแบบการเดินทางใหม่ โดยลูกค้าสามารถเลือกรุ่น สี และระยะเวลาในการใช้งานได้ตรงตามไลฟ์สไตล์ คลายความกังวลเรื่องค่าใช้จ่ายต่างๆ รวมถึงราคาขายต่อ
และประกันภัยรูปแบบใหม่ ประกันภัยขับดีลดให้ Toyota Care PHYD (Pay How You Drive) ที่จะทำให้ประหยัดได้มากกว่า ด้วยส่วนลดจากการวิเคราะห์ข้อมูลการขับขี่ ขับรถดี ขับปลอดภัย และส่วนลดค่าเบี้ยประกันต่ออายุ สูงสุดถึง 45% สามารถซ่อมได้ที่ศูนย์บริการมาตรฐานโตโยต้า ได้นานสูงสุด 8 ปี
โตโยต้า ไฮลักซ์ รีโว่ รุ่นพิเศษ Rocco และรุ่นขับเคลื่อน 4 ล้อ รถที่มีสมรรถนะการขับขี่ และความสะดวกสบายดีเยี่ยม รวมถึงเทคโนโลยีความปลอดภัยระดับสูงตอบโจทย์ทั้งการใช้งานในเมืองและสันทนาการ โดยปัจจุบัน Hilux Revo รุ่นขับเคลื่อน 4 ล้อ และรุ่น Rocco ได้รับความนิยมและครองใจแฟนๆ จากสิงห์รถกระบะอย่างหนักแน่น ตอกย้ำฉายา "King of Off-Road"
โดยรุ่นพิเศษ Rocco นี้มาพร้อมชุดตกแต่งพิเศษ อาทิ สปอร์ตบาร์, ล้ออัลลอยดีไซน์พิเศษ, ยางแบบ White Letters เพิ่มความแข็งแกร่ง ดุดัน และความพรีเมียมแล้ว ยังเพิ่มความสุด Exclusive ให้มากยิ่งขึ้นด้วย การออกแบบกระจังหน้าและกันชนหน้าที่เป็นเอกลักษณ์เฉพาะรุ่น Rocco ที่แตกต่างจากรุ่นมาตรฐานอย่างชัดเจน
Toyota Hilux REVO ใหม่ มีสีภายนอกให้เลือก 8 สี (สีใหม่ 3 สี)
Dark Blue Mica (ใหม่) (เฉพาะรุ่นยกสูง แบบขับเคลื่อน 2 ล้อ / ขับเคลื่อน 4 ล้อ)
Emotional Red (ใหม่) * (เฉพาะรุ่น Rocco)
Oxide Bronze Metallic (ใหม่) *(เฉพาะรุ่น Rocco)
White Pearl CS* (เฉพาะรุ่น Rocco / ขับเคลื่อน 4 ล้อ เกรด High / ยกสูง แบบขับเคลื่อน 2 ล้อ)
Silver Metallic (ยกเว้นรุ่น Rocco)
Dark Grey Metallic (ยกเว้นรุ่น Rocco / Cab & Chasis)
Attitude Black Mica (ยกเว้นรุ่นมาตรฐาน)
Super White** (ยกเว้นรุ่น Rocco / ขับเคลื่อน 4 ล้อ / ยกสูง ขับเคลื่อน 2 ล้อ Pre-Runner เกรด High)
ราคาจำหน่าย โตโยต้า ไฮลักซ์ รีโว่
Hilux Revo Rocco: There are 4 models, price
Hilux Revo 4 wheel drive: There are 5 models, price
Hilux Revo 2-wheel drive high-lift Pre-Runner: There are 12 models, price
Hilux Revo Z-Edition: There are 12 models, price
Hilux Revo, standard model: 7 models available, (* Emotional Red and White Pearl CS add 1/ ** Super White discount
Meet the new Toyota Hilux Revo ... strong power beyond definition and the new Toyota Fortuner ... a symbol of success At the showroom of Toyota dealers nationwide From 12 June onwards and join the test drive at Toyota Driving Experience